Energy Stocks: Where You Can Earn Double-Digit Returns Right Now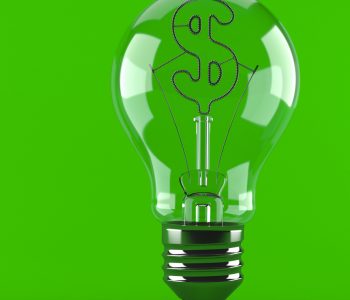 iStock.com/Talaj
The Last Time This Happened, Energy Stocks Soared 230%
Over the next few years, you could make triple-digit gains in the world's most beaten-down industry via energy stocks.
The last time this setup happened, energy stocks soared 240%. Over the following months, they beat the broader market three-to-one.
Now the same thing could play out again. In the meantime, shares now trade at some of their lowest valuations in decades. Investors can scoop up safe yields from 12% to as high as 21%.
Let me explain.
All About Energy Stocks
While investors cheered the 10-year anniversary of the equity bull market this month, energy stockholders had little to celebrate. Analysts have called the period a "lost decade" for the sector, with shares generating almost no real return over that time frame.
You can point to a number of reasons to explain the industry's lackluster returns. Shale drilling unlocked huge swaths of energy reserves across the country, which sent prices plunging. The Organization of the Petroleum Exporting Countries (OPEC) tried to push U.S. drillers into bankruptcy by flooding the market with supply.
Further downstream, owners of energy infrastructure assets haven't fared much better. Regulators changed a number of tax rules on pipeline ownership, making these properties much less profitable. That was the last straw for many investors, and it seems that Wall Street has thrown in the towel on the industry.
That pessimism, however, may have created an opportunity—at least for investors willing to go where others fear to tread.
Right now, the energy sector as a whole trades at 1.7-times book value. For context, the average stock in the S&P 500 trades at more than twice this multiple.
It's not unusual for investors to value energy stocks at a lower multiple compared to other industries. But what is unusual is the sheer size of this discount. Energy stocks haven't traded this cheap compared to the broader market since the late 1990s.
You can see the same discount when evaluating distributions. The Energy Select Sector SPDR (NYSEARCA:XLE), which holds a basket of large-cap energy stocks, currently yields 3.1%. That's almost twice the payout from the broader S&P 500. For investors willing to do more digging, it's not uncommon to find safe, reliable yields in the double-digits.
Bargain hunters should take notice. And maybe get their shopping list ready, too.
You have to go back to the dotcom bubble to find a period when energy stocks traded for such a big discount. At the time, investors believed that oil and gas represented old-fashioned businesses with little upside potential. Traders dumped their oil shares to chase faster returns in the technology sector.
In the chart below, I've highlighted how that period played out. Over the following six years, the New York Stock Exchange Energy Index (black line) crushed the S&P 500 (blue line). Investors in well-chosen individual stocks did even better.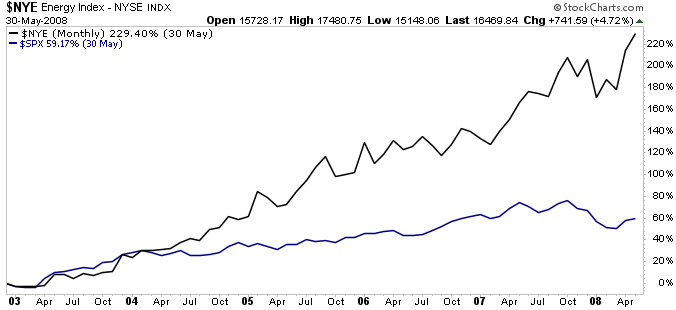 Chart courtesy of StockCharts.com
Should You Consider the Energy Sector?
I'm not the only one bullish on energy stocks.
As I highlighted in a column earlier this year, billionaire investor T. Boone Pickens has been scooping up trusts that pay 12%+ dividend yields. Other well-known money managers, including Warren Buffett and George Soros, have also plowed millions of dollars into the industry.
What could have these smart money investors so excited about oil and gas stocks? Based on my research, it's that they see a lot more upside ahead.