George Soros Just Bought Canadian Natural Resources Ltd: Should You Too?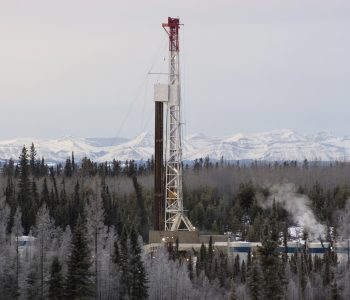 iStock.com/photofellow
Billionaire George Soros Is Quietly Buying This Top Dividend Stock
You can make a lot of money riding the coattails of hedge funds. And right now, a deep-pocketed investor has quietly started accumulating shares in one top dividend stock.
Billionaire George Soros ranks as one of the most successful hedge fund managers on the planet. During a four-decade tenure as head of the Quantum Fund, he delivered a 19% compounded annual return. That puts Soros on the list of all-time great investors like Warren Buffett, Peter Lynch, and Carl Icahn.
Over the past few months, Soros has started making big bets on the energy industry. In recent quarters, he has bought stakes in names like Phillips 66 (NYSE:PSX) and Marathon Petroleum Corp (NYSE:MPC). U.S. Securities and Exchange Commission (SEC) filings have also revealed positions in Encana Corp (NYSE:ECA), Suncor Energy Inc (NYSE:SU), and Magellan Midstream Partners, L.P. (NYSE:MMP).
And Soros has just started buying another stock. Last month, an SEC filing revealed his hedge fund has accumulated shares in Canadian Natural Resources Ltd (NYSE:CNQ). At the time of the report, the firm's position in the Alberta oil giant topped 200,000 shares. (Source: "Form 13F," U.S. Securities and Exchange Commission, February 14, 2019.)
"Smart Money" Buying This Stock
Canadian Natural Resources is one of the largest energy producers north of the border. The company owns over six billion barrels of crude reserves in the Alberta oil sands. Management has also built a sprawling empire of energy assets elsewhere, with operations in the North Sea and off the coast of Africa. (Source: "Corporate Profile," Canadian Natural Resources Ltd, last accessed March 2, 2019.)
That business has struggled in recent years. Oil sands production has far outstripped available pipeline capacity. As a result, Alberta crude trades at a $20.00-per-barrel discount to the same barrels of oil elsewhere.
Throw in higher taxes, hostile left-wing governments, and a worldwide energy supply glut, and you can see why Wall Street has soured on CNQ stock. Over the past eight months, shares of Canadian Natural Resources have plunged 20% in value. On a price-to-free-cash-flow basis, the stock trades at a 15% discount to its U.S. peers.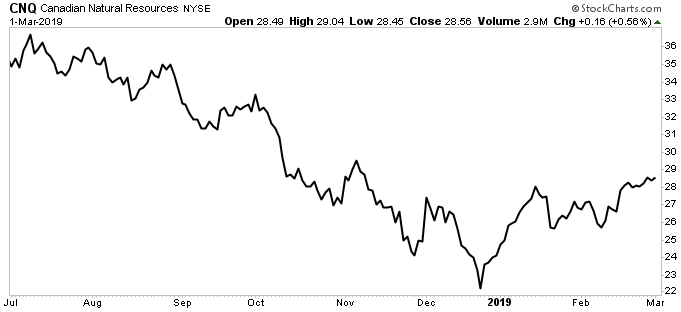 Chart courtesy of StockCharts.com
However, the industry's prospects have started to brighten in recent months.
Thanks to falling production of heavy crude from Venezuela and Mexico, U.S. refiners have started buying more oil from north of the border. That has put a bid underneath prices, boosting Canadian Natural Resources Ltd's profit margins.
Producers have also found new ways to get their product to market. Over the past few weeks, oil sand miners have started shipping barrels by rail. While this method costs more than traditional pipelines, it has cleared inventories at Alberta terminals.
Analysts also see a wave of new pipeline capacity coming online soon. Enbridge Inc (NYSE:ENB), for example, is nearing completion of its Line 3 expansion. Once up and running, the project will add an extra 350,000 barrels per day of export room—a big relief for energy producers.
Canadian Natural Resources, meanwhile, has quietly become a cash machine.
Over the past few years, management has focused on squeezing efficiencies out of existing operations. In industry lingo, analysts call this "debottlenecking," the process of identifying specific areas in operations that limit production and optimizing them to boost overall capacity.
These small efforts can really pay off over time. Today, Canadian Natural Resources spends $15.50 in operating costs to get a barrel of crude out of the ground, down from $18.00 per barrel in 2013. As a result, management projects that its free cash flow could hit a record CA$4.6 billion next year. (Source: "Corporate Presentation – February 2019," Canadian Natural Resources Ltd, last accessed March 4, 2019.)
What will management do with all of that money? Reward shareholders.
Since the completion of Canadian Natural Resources' mammoth "Horizon" oil sands project, shares have become a dividend machine. Management has boosted the distribution nearly sevenfold over the past decade. Executives have also ramped up expenditures on share buybacks in addition to paring down the company's debt load.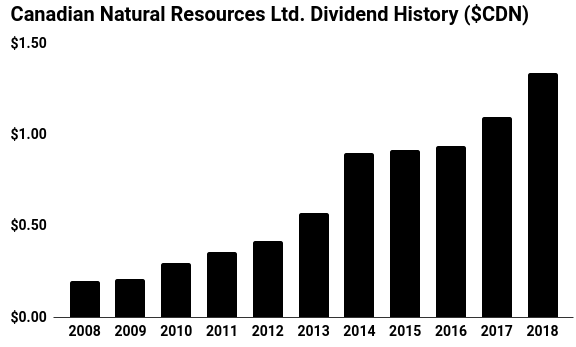 (Source: "Canadian Natural Resources Limited (CNQ)," Yahoo! Finance, last accessed March 4, 2019.)

That tradition of higher payouts will likely continue. On Wall Street, analysts project another double-digit distribution increase when the company reports earnings on March 7. If that plays out as expected, it could lift the yield on shares to nearly four percent, putting a big floor underneath the stock price.
Financial Insiders Gushing Over These Dividend Stocks
And George Soros isn't the only one bullish on the Canadian oil sands. As I highlighted in a column last month, billionaire Warren Buffett recently purchased a $351.0-million stake in Suncor. Other hedge fund managers, including Steve Cohen, Ray Dalio, and Jean-Marie Eveillard, have also taken an interest in the industry. (Source: "Canadian Natural Resources Ltd (CNQ) – Hedge Fund Holdings," Insider Monkey, last accessed March 2, 2019.)
What could have these financial insiders so excited? Oil sand stocks trade at rock-bottom prices. Several catalysts could lift shares in the upcoming months. And these companies now gush dividends.
Income investors should take notice.