Recession-Proof Stock: Earn 5.6% from TIS Stock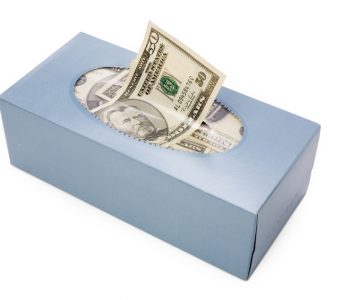 TIS Stock: A Boon to Dividend Investors?
When it comes to recession-proof businesses, the names that dividend investors tend to find are large-cap, blue-chip companies. However, such names being picked is usually part of a herd mentally, with people investing in the same companies as other dividend investors.
However, after a little bit of hard work, I've found a company that would be considered a small-cap company that is recession-proof. It would be considered part of the conversation of blue-chip companies.
The company is Orchids Paper Products Company (NYSEMKT:TIS). Operating in the manufacturing of tissue products, which are considered recession-proof, TIS stock's market cap is $255.66 million.
Shareholders Have Been Rewarded
Over the past five years, shares of TIS stock have moved higher by approximately 64%, while sales revenue has increased by approximately 73%. With higher sales revenue, gross income, the revenue after factoring out the cost of goods sold, has seen an increase of 81% over this period as well. (Source: "Orchids Paper Products Inc.," MarketWatch, last accessed November 17, 2016.)
Dividend investors that held the stock over this period saw an increase of 75% to their payout. Currently, TIS stock is considered to be a high-dividend stock, with a current yield of 5.59%. This is based on a quarterly dividend of $0.35 and the shares trading at $25.04.
With Orchids Paper Products classified as a recession-proof company, the volatility will keep dividend investors sleeping well at night. The beta, which is the day-to-day movement used to measure the volatility, is 0.95. The overall market is considered having a beta of one, meaning that if the overall market fell by one percent, then TIS stock would fall by an average of 0.95%.
A major reason for the lower volatility when compared to the market is because of the sector that TIS stock operates in. Its products, such as tissues, are considered to be part of the consumer staples segment. This segment consists of essential everyday products that are always needed.
Acquisition Target
With all this going for TIS stock, there is the possibility of the company being an acquisition target. The largest companies in the tissue business are Kimberly Clark Corp (NYSE:KMB) and Procter & Gamble Co (NYSE:PG), which have market caps of $40.8 billion and $223.4 billion, respectively. Therefore, TIS stock would be a small, tuck-in acquisition for both companies.
On a valuation basis, Orchids Paper Products is currently not expensive. The current price-earnings (P/E) ratio of TIS stock is 18.69 times, which is cheaper than the S&P 500's P/E ratio of 25.09 times. The company has $4.36 million in cash and cash equivalents and its debt is currently sitting at $3.88 million. This, too, makes Orchids Paper Products more attractive as an acquisition target. (Source: Ibid.)
Final Thoughts on TIS Stock
Owning companies for 10, 20, or even 100 years can be difficult with the day-to-day movements in the market. However, history does show that patient long-term investors have been rewarded when holding quality companies that continue to grow their bottom lines.
For dividend investors, Orchids Paper Products Company could be a potentially a great stock to own. Being classified as a recession-proof stock, and one that is a high-dividend payer to boot, makes it a unique company.
Also Read:
3 Top Recession-Proof Dividend Stocks
Top 10 Safe Dividend Stocks for Retirees in 2017