Boeing Co.: Consider Owning BA Stock for the Next 20 Years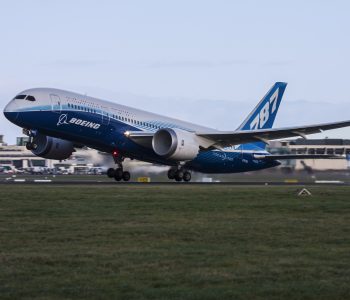 iStock.com/garylestrangephotography
Is There Upside Ahead in BA Stock?
The advantage of diversification in an investment is that there are multiple streams of income and it opens new opportunities. One example of a company benefiting from a global presence is Boeing Co (NYSE:BA) stock.
You see, Boeing works with airlines in both developed and emerging countries which are growing at very steady, if not exceptional, rates. Therefore, when Boeing does come across a high-growth opportunity, it could easily accommodate that country's needs for current and future orders.
One reason to be bullish on the diversification of Boeing is the outlook for China, which is forecasted to order over 7,200 commercial airplanes over the next 20 years, which would amount to more than $1 trillion. While the amount could change, the current number represents a dollar amount that is seven times its current market cap value. (Source: "Boeing Raises Forecast for New Airplane Demand in China," Boeing Co, September 6, 2017.)
To get a better understanding of how large this forecast is, the current backlog of orders from around the world would amount to about 5,700 commercial airplanes, valued at $424.0 billion. Therefore, there is a great opportunity to grow the pipeline of orders even further, since China is only one country of many. Of course, it will take years to account for all that expected growth. (Source: "Boeing Reports Strong Second-Quarter Results; Raises EPS and Cash Flow Guidance," Boeing Co, July 26, 2017.) 
Get Paid to Wait
It takes time to sign a deal and then deliver the airplane, and both Boeing and its customers are aware of this. The subsequent increases income will take time to appear, meaning investors need to be patient. That said, in the meantime, there is a way to earn a piece of the revenue as orders get delivered: the dividend.
Also Read:
Will Boeing Stock Split in 2017?
Consider BA Stock for Its Dividend Growth and Strong Pipeline
BA stock pays out a quarterly dividend of $1.42 per share. At the current stock price of $235.75, the resulting dividend yield is 2.4%. Since 2012, Boeing has increased its dividend at least once a year, thanks to its growing revenue. The large pipeline of orders also boosts the probability of the dividend continuing to grow, as does Boeing only paying slightly more than half of each dollar earned.
There is also a share buyback program in place, which has also seen an annual increase in the amount allocated towards it. Share buybacks mean continued buying of the shares, which limits the downside risk of the price falling. Also, the increased ownership percentage is reflected in investors' total net worth.
Final Thoughts About BA Stock
It is easy to forecast how the next few quarters or years will look for investors, but accessing two decades of earnings is much more difficult. However, this is not the case with BA stock thanks to the anticipated growth from China.
Also, as more time is spent in the stock, and as long as the dividend growth is able to continue, a higher dividend yield will be available to investors.