Boeing Co: Consider BA Stock for Its Dividend Growth and Strong Pipeline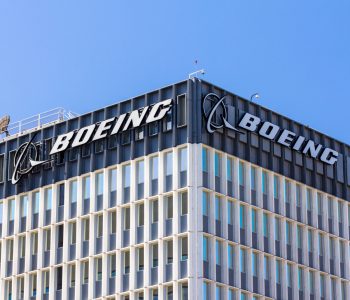 iStock.com/Wolterk
Is There More Upside Ahead for BA Stock? 
Since Donald Trump took office, the Dow Jones Industrial Average (DJIA) has hit another record 22,000 points. You may be wondering if it is possible for the DJIA to continue this trend. Rather than asking this, I would rather focus on the 30 different companies across various sectors that make up the index and see if any are particularly worthwhile.
One of those 30 stocks worth mentioning is Boeing Co (NYSE:BA). Let me explain in more detail why BA stock is one of the dividend stocks worth further research.
Future Outlook
Boeing is an airplane manufacturer and one of the largest exporters in the U.S. Its final products take some time to complete, given their size and complexity, so the majority of its deals are long-term and for large sums, primarily with airline companies and governments around the world. Over the past five years, BA stock has gone up 291%, as the company's net income has grown by 25%. (Source: "Boeing Co," MarketWatch, last accessed August 2, 2017.)
There are currently more than 5,700 orders in the company's backlog, equal to $482.0 billion in profits. To understand how large this backlog is, it's 2.4 times larger than the market cap size of Boeing itself and 4.12 times larger than the company's total revenue for 2016. (Source: "Boeing Reports Strong Second-Quarter Results; Raises EPS and Cash Flow Guidance," Boeing Co, July 26, 2017.)
But the company isn't stopping there, continuing to add orders and giving investors even more reason to be bullish on on BA stock. For instance, according to the latest quarterly report, 183 airplane deliveries and 366 new orders were recently added to the pipeline. (Source: "Second-Quarter 2017 Performance Review," Boeing Co, July 26, 2017.)
The concern from those outside looking in is that Boeing's revenue line is increasing, and with it, its operating costs. This would eventually compress margins and lower reported net income. However, the company is aware of this possibility, having introduced a cost reduction plan and increasing the efficiency of the business. For proof, look no further than the forecasted earnings per share, operating cash flow, and lowered capital spending.
Get Paid Part of the Growing Profits
Boeing stock pays a quarterly of $1.42 per share, with a dividend yield of 2.38%. Over the past five years, this payment has increased by 222%.
Based on the large pipeline, continuous new deals, and control over costs, the potential for further dividend growth is there. Adding more support to this notion is the payout ratio, which is a very conservative 57%. In other words, for every $1.00 of revenue, $0.57 goes to shareholders.
Also Read:
5 Top Dividend Growth Stocks for 2017
7 Best Growth and Income Stocks for 2017
Bottom Line on BA Stock
Even though the DJIA hit another record, it is best to move past the noise and look for opportunities such as BA stock. Every aspect of the business is scrutinized to ensure that shareholders are rewarded.
A growing dividend will attract long-term investors, reducing volatility in Boeing stock. Still, further research is warranted with this or any other stock.