STORE Capital Corp (NYSE:STOR): Warren Buffett Bought $377 Million of This Dividend Stock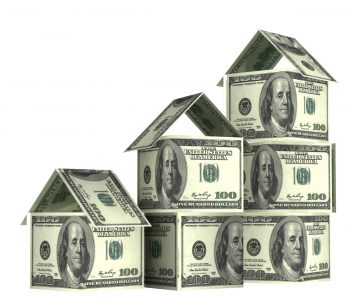 Warren Buffett Locks In a 5.7% Yield
Last week, Warren Buffett quietly bought a stake in a little-known real estate company.
Thanks to an obscure tax loophole, the "Oracle of Omaha" will lock in a tidy 5.7% yield. He'll collect $2,500 per hour in distributions.
Small investors still have time to get in, though I suspect this firm won't remain an undiscovered gem for long. The company recently reported blowout earnings, so it will likely get a lot more media coverage in the months ahead.
Let me explain…
As regular readers know, I love real estate investment trusts, or REITs. Investors prize these assets for their oversized distributions, resulting in big income streams.
And apparently, Warren Buffett agrees with me. On Monday, corporate filings revealed the billionaire invested $337.1 million in STORE Capital Corp (NYSE:STOR). The company issued 18.6-million units in a private placement at $20.25 apiece. (Source: "STORE Capital Announces Investment from Berkshire Hathaway," Store Capital Corp, June 26, 2017.)
I doubt you've heard of the firm before. Income investors, though, should take note. The business represents a true cash cow and is worth a look.
As for why, let's start with how this trust owns an tidy collection of assets. Store Capital buys real estate, collects the rent from tenants, and passes the on income to owners. The partnership owns some 1,750 properties across the country, totaling over 44,000 square feet. (Source: "2017 First Quarter Investor Presentation," Store Capital Corp, February 3, 2017.)
But unlike your typical mom and pop operation, Store Capital doesn't buy houses or apartment buildings. Instead, management specializes in commercial and manufacturing facilities. This represents a lucrative section of the real estate market, typically off-limits to small investors.
Store leases out this real estate to a number of businesses I'm sure you've heard of, including Applebees, Ashley Furniture Industries, Inc., and AMC Entertainment Holdings Inc (NYSE:AMC). Needless to say, these tenants have way more "rent money" than Jim and Jane answering an ad for a one-bedroom apartment. And while most landlords jump for joy if a renter commits to a one-year lease (and actually pays on time), this firm often locks in tenants for decades.
Better still, these deals crank out profits. Since going public in 2014, Store Capital has bought $3.7 billion of real estate at a high-single-digit cap rate. The average lease term on these deals has averaged 15 years.
In real estate, we use the term "cap rate" as a shorthand to measure returns. Essentially, you take the operating profits and divide this number by the building's value. Most landlords happily earn cap rates between five and six percent, so the numbers from STORE top the charts.
Furthermore, the trust pays no corporate taxes. Most companies have to send one-third of their profits to Washington, but because of how management has legally structured the business, STOR stock doesn't pay one red cent to "Uncle Sam."
For owners, this has created a great source of dividends. Since going public, management has increased the trust's distribution more than twofold. Last September, they raised the quarterly payout to $0.29 per unit. Based on the current market price, that comes out to an annual yield of 5.1%.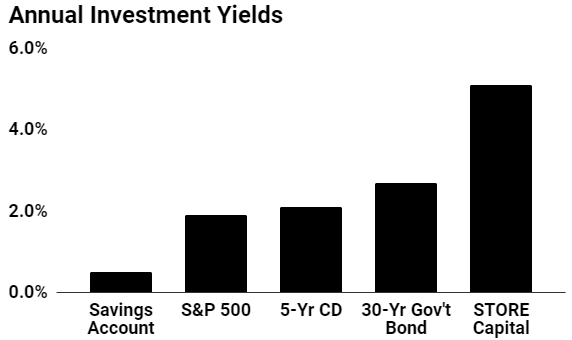 (Source: "Store Capital Corp," Google Finance, last accessed June 27, 2107.)

I expect that payout to soar in the years to come. Executives continue to grow profits through acquisitions, rent hikes, and renovations to existing properties. Most of that income should get passed on to unitholders.
Bottom line, it's not hard to see why Buffett jumped at this deal. Based on the corporate filing, he'll get paid $21.5 million per year in distributions. That comes out to $58,800 per day. It's clear the Oracle of Omaha just picked up a true cash cow.
Also Read:
Warren Buffett Portfolio Holdings in 2017
5 of Warren Buffett's Best-Performing Stocks