5 of Warren Buffett's Best-Performing Stocks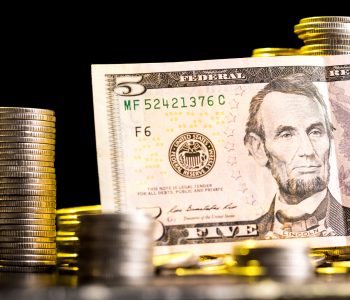 iStock.com/rzoze19
Warren Buffett Best Stocks 2017
For the past 50 years or so, Warren Buffet's Berkshire Hathaway Inc. (NYSE:BRK.B) has delivered unrivaled returns to its investors. While the "Oracle of Omaha" has given some power to his lieutenants in recent years, he is still making the important decisions at Berkshire. Ever wonder what stocks Warren Buffett has never sold? Or what his best performing stocks for 2017 are? That's what we are going to find out in this article.
According to Berkshire's most recent 13-F filing to the Securities and Exchange Commission (SEC), the company's portfolio currently consists of 46 stocks. Due to the fact that Buffett favors large, established businesses, you won't find tech unicorns that are making double-digit moves every other day. Still, his portfolio has produced some solid gainers in 2017.
List of Warren Buffett's Best-Performing Dividend Stocks
#1 Moody's Corporation
Moody's Corporation (NYSE:MCO) needs no introduction. The company is known for its bond credit rating business, Moody's Investor Service. However, while we hear about the company's name in the news a lot, it's often about rating changes of other companies. Not many actually considered Moody's stock as an investment.
Warren Buffett is one of the few investors who actually owns quite a bit of Moody's shares. By March 31, Berkshire owned 24.67-million shares of the rating agency, with a value of $3.29 billion at today's price. (Source: "Form 13F," United States Securities and Exchange Commission, last accessed July 26, 2017.)
Moody's operates in an industry with limited competition. Other than itself, the bond credit rating market has just two other players: Fitch Ratings Inc. and Standard & Poor's Financial Services LLC. The oligopoly nature of the credit rating business means companies in the industry can earn higher profits than in a perfectly competitive environment.
Moody's is by far Berkshire Hathaway's best-performing stock in 2017. Year to date, it has surged a 41.5%.
#2 Apple Inc.
Berkshire's stake in Apple Inc. (NASDAQ:AAPL) was first revealed in May 2016. It came as surprise because Buffett was not known as a tech investor and at that time, Apple stock was deep in the doldrums.
Since then, Berkshire has bought many more shares of the Cupertino, California-based tech giant. And the stock did not disappoint; in just 2017 alone, Apple shares have climbed 32.5%. This is particularly impressive given that Apple is the world's largest company, with a market cap of over $800.0 billion.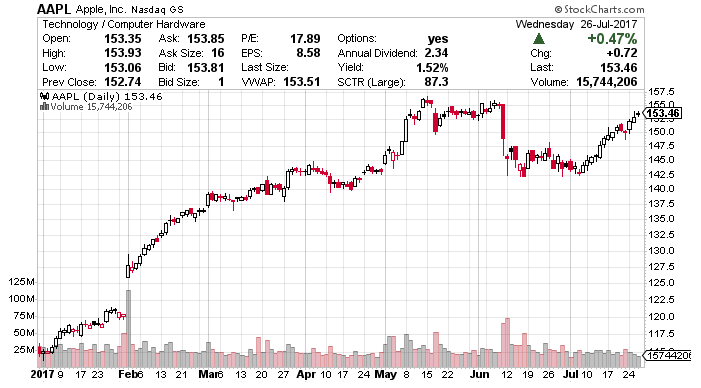 Chart courtesy of StockCharts.com
Apple is a dividend-paying stock. While its 1.64% yield may not seem like much, note that there is a lot of room for growth. The company earned a net income of $5.46 per diluted share in the first half of its fiscal 2017. During this period, it declared $1.14 in dividends per share. That translates to a payout ratio of just over 20%. Combining that with the fact that Apple accumulated a huge pile of cash over the years, I'd say the best could be yet to come for investors who own Apple stock for dividends. (Source: "Apple Inc. Condensed Consolidated Statements of Operations," Apple Inc., last accessed July 26, 2017.)
#3 Visa Inc
Warren Buffett coined the term "economic moat," referring to a company's competitive advantage that can protect its profits from other companies in the industry. And when it comes to economic moats, few companies have a wider one than Visa Inc (NYSE:V).
Visa is in the payment processing business and is known for its "Visa"-branded credit cards. The credit card industry has high barriers to entry because connecting with millions of customers and businesses takes a lot of time and money. That's why in the entire world, the industry has just four main players: Visa, Mastercard Inc (NYSE:MA), American Express Company (NYSE:AXP), and Discover Financial Services (NYSE:DFS).
Visa is by far the most dominant one in the business. By the end of 2016, Visa had 335 million cards in circulation. That's more than what MasterCard (200 million), American Express (47.5 million), and Discover (51.4 million) had combined. Visa also ranked number one in terms of network purchase volume. (Source: "Market Share by Credit Card Network," Wallet Hub, March 7, 2017.)
The company is doing well financially. Visa's most recent earnings report showed that the company's net operating revenue increased 26% year-over-year to $4.6 billion. This was mostly driven by the acquisition of Visa Europe. Payment volume grew 38% year-over-year on a constant dollar basis. The bottom line improved as well; excluding one-time items, Visa's net income and earnings per share both increased 26% from the year-ago period. (Source: "Visa Inc. Reports Strong Fiscal Third Quarter 2017 Results," Visa Inc, July 20, 2017.)
The solid earnings report was the latest catalyst for Visa stock. Year-to-date, the stock has climbed 28.4%. Buffett's company owned 10.56 million shares of the credit card behemoth. At today's price, the position has a value of $1.06 billion.
#4 Southwest Airlines Co
Buffett's outlook for the airline industry hasn't always been bullish. But in 2016, the Oracle of Omaha decided to pour billions of dollars into airline stocks. One of them was Southwest Airlines Co (NYSE:LUV).
Earlier this year, Buffett revealed that he had increased his position in Southwest Airlines by about 10%. By the end of the first quarter, Berkshire owned 47.66-million shares of LUV stock, which is about eight percent of the company.
The reason why Buffett decided to reconsider airline stocks was industry consolidation. Over the past decade, the number of major airlines in the U.S. has been reduced from nine to four. With less competition, each existing player has a good chance of making higher profits.
Southwest Airlines' share price has increased 19.3% since the beginning of this year. The company has an annual dividend yield of 0.84%.
#5 American Express Company
While American Express is not as dominant as Visa in the credit card world, Buffett still likes it. In fact, with 151.61 million shares worth approximately $12.97 billion, American Express Company (NYSE:AXP) is currently Buffett's fifth-largest holding by market value.
One thing that makes American Express stock worth considering for income investors is dividends. The company currently pays quarterly dividends of $0.32 per share. That translates to an annual dividend yield of 1.5%, which is higher than both Visa and Mastercard stocks.
American Express also did well in share price performance. Year-to-date, it's up 15.2%.
Other Solid Performers
Note that the table above only includes the best performers that are also dividend stocks. And while dividend-paying companies make up the bulk of Warren Buffett's portfolio, there are non-dividend-paying stocks owned by Berkshire that also did well in 2017.
One of them was Verisign, Inc. (NASDAQ:VRSN), a network infrastructure company that provides domain name registry and Internet security services. Berkshire owned $12.94-million shares of Verisign stock by the end of the first quarter, with a current market value of $1.31 billion. The stock has gone up 33% since the beginning of 2017.
Another solid gainer in Buffett's portfolio was Charter Communications, Inc. (NASDAQ:CHTR). Charter Communications is a broadband communications company that provides TV, Internet, voice, and business services under the "Spectrum" brand. Buffett's company owned 9.44 million shares of CHTR stock by the end of first quarter. The stake is currently worth $3.28 billion. While Charter Communications does not pay a dividend, it has returned 21.6% year to date through share price appreciation.
Also Read:
Warren Buffett Portfolio Holdings in 2017
The Warren Buffett Guide to Investing in Dividend Stocks
What Are Warren Buffett's Favorite Stocks?
The latest Warren Buffett favorite stock has to be Apple. Buffett said that his lieutenants were responsible for Berkshire's first purchase of AAPL stock last year. But later on, Buffett himself decided to buy a lot more of it. In fact, Buffett bought so many Apple shares that the "iPhone" maker is now Berkshire's third-largest holding by market value.
While the Oracle of Omaha does not own an iPhone himself, he is aware of the company's strengths. In an interview with CNBC in February, Buffett said, "Apple strikes me as having quite a sticky product, and an enormously useful product to people that use it." (Source: "Billionaire Warren Buffett more than doubled his holdings in Apple in 2017," CNBC, February 27, 2017.)
Of course, discussion of Warren Buffett's favorite stocks would not be complete without The Coca-Cola Co (NYSE: KO). Buffett once said that he is "about one-quarter Coca-Cola" and that he consumers about 700 calories of Coke a day. (Source: "Buffett defends Berkshire's big Coke stake," CNBC, May 2, 2016.)
The company's competitive advantage is obvious. Coca Cola has an unrivaled brand name and a huge distribution network. Every day, people around the world consume 1.9-billion servings of Coca-Cola's beverages.
Buffett started buying Coca-Cola stock back in 1988, and by early 1989, his position has accumulated to over $1.0 billion. Many people like to take profit at some point, but Buffett was patient. In fact, Coca-Cola has become one of Warren Buffett's longest-held stocks.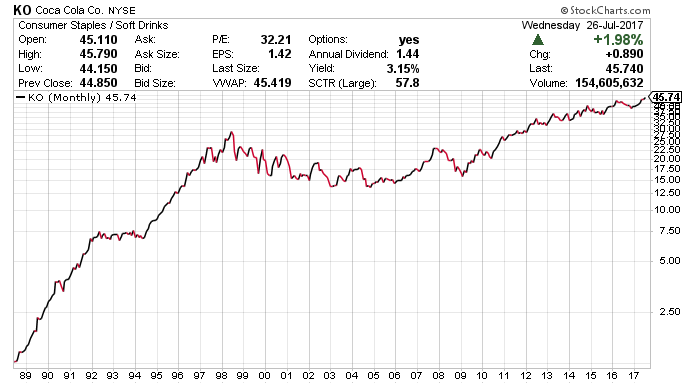 Chart Courtesy of StockCharts.com
As the stock chart shows, Coca-Cola turns out to be one of Warren Buffett's best stock picks in his career. It is also a stock that Warren Buffett has never sold.
Don't forget: when it comes to Warren Buffett's long-term stocks, there is an often-ignored pick: the S&P 500 Index fund. As I discussed in my column on the Warren Buffett investing guide, the billionaire investor is fond of the seemingly boring index funds, despite being one of the greatest stock pickers of all time.
In this year's Berkshire shareholder letter, Buffett even said that because of the high fees charged by Wall Street money managers, investors both large and small should consider low-cost index funds. (Source: "2016," Berkshire Hathaway Inc, last accessed July 26, 2017.)