UNP Stock: Union Pacific Corporation is 1 Stock for the Next 100 Years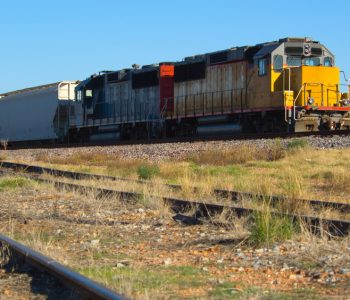 1 Dividend Stock to Own Forever?
Union Pacific Corporation (NYSE:UNP) stock is one name to own forever.
The company has been in business since 1862. Longtime shareholders have been collecting dividends for years.
No wonder some of the smartest money managers in the world own this stock. Billionaire Steve Cohen has been quietly building a position in UNP stock. Other Wall Street titans, including Ken Griffin, Ken Fisher, and Bruce Silver, also own large stakes in the business.
Let me explain.
The Ultimate Legacy Asset
I started investing during the height of the tech bubble.
At the time, most folks were trying to strike it rich on the next hot dot-com stock. Even up until recently, anyone buying dependable dividend payers were seen as stodgy.
Boy, have things ever changed. Today, people are dumping junior miners and junk bonds—some of the more speculative investments. Dividend aristocrats like McDonald's Corporation (NYSE:MCD), Johnson & Johnson (NYSE:JNJ), and Archer Daniels Midland Company (NYSE:ADM) have held up just fine. In fact, reliable income stocks are some of the hottest investments around.
It's about time. As us dividend investors have known for years, income investing is the best way to build wealth in the stock market. If there is one skill every investor needs to know, it would be how to pick out wonderful, dividend-paying stocks.

Let's use Union Pacific stock as a case study.

The first sign of a top dividend name is a timeless product or service. Do you think people will be using this company's product or service 20, 50, even 100 years from now? You can't predict what type of smartphone people will be using five years from now. I'm reasonably certain, though, people will still need cleaning products for their houses (Clorox Co), drinking sweet beverages (The Coca-Cola Co), and snacking on chocolates (Hershey Co).
Union Pacific falls into a similar category. Rail is the most efficient method of moving freight over long distances. So as long as we're moving stuff around the country, this industry will get a piece of the action.
Even if you wanted to compete against this company, chances are you couldn't break in. Union Pacific's rail lines were laid back when land was cheap over a century ago. You would have to spend hundreds of billions of dollars to raze the cities and towns that have been built around these tracks. This barrier to entry allows Union Pacific to crank out profits decade after decade.
Also Read:
These Dividend Stocks You Shouldn't Miss in 2017
5 Dividend Stocks for the Next 100 Years
The second sign of a great dividend stock is efficiency. As business owners, we want our managers to run lean, mean, operating machines. The less waste in a business, the more money can be returned to shareholders.
In the railroad business, we have a handy metric to measure managers: the operating ratio. The number divides operating expenses by the company's total revenue. The lower the number, the better.

Once again, Union Pacific stands out. In 2015, the company spent $0.63 for every dollar generated in revenue. This was much better than most of it industry peers, and one of the lowest operating ratios in the industry.

The third sign of a top dividend stock is a strong balance sheet. Debt is like kissing your sister…and liking it. Borrowing to the hilt limits our options, increasing the chances of being wiped out in a downturn. Union Pacific's balance sheet is rock solid. The company has only $15.1 billion in debt—modest for a business of this size. And given how much cash the business generates, the firm could pay off all of its liabilities in a few years if executives wanted to.
This conservative position is especially important for cyclical businesses like railroads. We don't want our investment wiped out the next time there is a minor downturn. Wonderful businesses like Union Pacific are built to survive almost anything.
Finally, great dividend stocks have shareholder friendly management teams. Once again, UNP stock is a standout. The company has been a consistent dividend payer, sending out checks to shareholders (and the occasional special dividend) every quarter since 2000.

More importantly, this payout has kept pace with inflation. Over the past 10 years, UNP stock has been hiked its dividend 586%. Even through the financial crisis of 2008, executives managed to pass on a small payout bump.
Of course, Union Pacific is no slam dunk. In recent quarters, a sharp drop in coal shipments crimped volumes. The railroad has also seen a sharp drop in its industrial and intermodal businesses. If the economy doesn't rebound soon, then Union Pacific could see another year of mediocre weak numbers.
The yield on UNP stock also won't knock your socks off. Shares have rallied 37% from their February lows. As a result, Union Pacific stock only spots a modest 2.3% payout.
I'm not too worried about these problems, though. Union Pacific is a cyclical business, and there will always be ups and downs. But when you start thinking about stock ownership over a timescale of a century or longer, today's problems seem trivial.
Union Pacific's modest yield also doesn't provide a full picture of just how much cash the company returns to investors. In addition to a tidy dividend, Union Pacific also has a ravenous buyback program. If you were to include both of these programs together, UNP stock's total shareholder yield jumps to a tidy 5.6%.
The Last Word on UNP Stock

Bottom line, the rest of the world is finally starting to catch on to dividend investing. If you can spot the traits of a wonderful business, they can be incredibly lucrative. And in the case of UNP stock, these traits have allowed the company to produce stellar returns over the last 15 years, and probably the next 100 years too.