Microsoft Stock (NASDAQ:MSFT) Has Soared 110%, With More Upside Ahead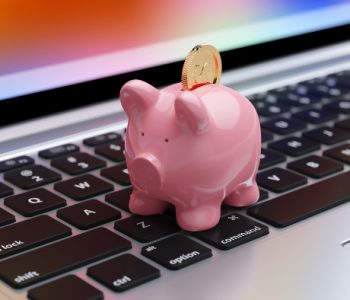 1 Top Dividend Stock for the Next 10 Years
Today's chart highlights some of our top dividend stocks for the next decade: tech utilities.
Tech utilities represent an emerging group of cash machines. Like the utility stocks of the 20th century, everyone has to do business with these digital firms. The companies own lucrative monopoly positions, which has turned them into some of the best investments around.
One notable example is Microsoft Corporation (NASDAQ:MSFT). You have to do business with them, like your water or electric company. And while that might breed resentment among customers, income investors should love it for a couple of reasons.
First of all, Microsoft enjoys a near monopoly. If you want to share a document, you pretty much have to use the "Office" suite. And, once you have your business running on "Windows," it can cost millions of dollars to switch to a rival operating system.
This allows Microsoft to dominate the tech business. Its Windows and Office products eat up 90% of global sales. And each year, they can pass on a small price hike without much fuss.
For investors, this translates into huge profits. Microsoft earns $0.61 in gross margins on each dollar generated in sales. Few firms in the world can match this kind of profitability.
Better still, these profits require little in the way of ongoing investment, since copying software is free. There's no need to spend money on new property, plants, or equipment to expand. In fact, in 2016, Microsoft generated a jaw-dropping $25.3 billion in free cash flow on sales of just over $85.3 billion.
Most of this cash gets passed on to shareholders. Since 2005, Microsoft has increased its dividend fivefold. Today, the stock pays a quarterly distribution of $0.39 per share, which amounts to an annual yield of 2.9%.
Investors have started to catch on, as you can see in the chart below. Since 2010, Microsoft shares have soared over 110%.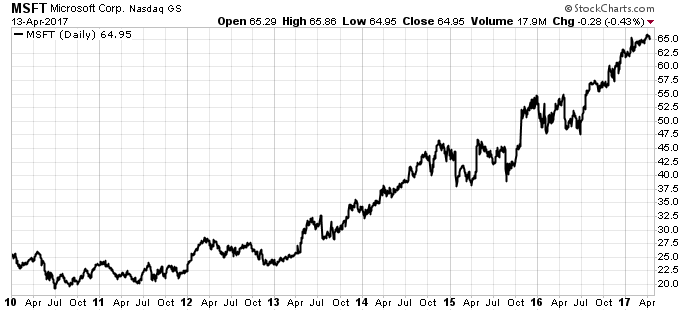 Chart courtesy of StockCharts.com
Those returns will likely continue, given that Microsoft can print money through software sales and licensing fees. That should fund more buybacks, dividend hikes, and capital gains for owners.
Even better, the next Federal budget could make shareholders a fortune. President Donald Trump has proposed a tax holiday, allowing corporations to repatriate overseas cash at a lower tax rate. If such a bill gets passed, Microsoft could return billions of dollars that it has trapped abroad. That could result in a massive one-time distribution.
Bottom line: tech utilities like Microsoft can make lucrative holdings. Investors should watch these names closely. If you want extra income, take a second look at these wonderful businesses.
Also Read:
Will Microsoft Raise Its Dividend in 2017?
MSFT Stock: Yield, Dates, Splits, Prediction, and Everything You Need to Know