Global Partners LP Stock: 8%-Yielder Hikes Payout for 5 Straight Quarters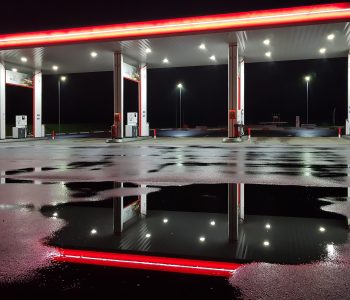 Why Investors Should Watch GLP Stock
Global Partners LP (NYSE:GLP) has everything going for it right now. The midstream energy company is enjoying high oil and gas prices, it reported record 2022 results, it's expanding its operations, it has increased its high-yield dividend for five straight quarters, and it recently paid out a special dividend.
I've been watching Global Partners LP stock for a while now, and it just gets better and better.
Global Partners LP is a midstream oil and gas limited partnership that manages a diverse portfolio of businesses.
It's one of the largest independent owners, suppliers, and operators of gas stations and convenience stores in the Northeast U.S. The partnership also owns, controls, or has access to one of the largest terminal networks in New England and New York, through which it distributes gasoline, distillates, residual oil, and renewable fuels to wholesalers, retailers, and commercial customers. It's also a leading wholesale distributor of fuel products. (Source: "Fourth-Quarter 2022 Investor Presentation: March 2022," Global Partners LP, last accessed April 25, 2023.)
As of March, Global Partners had the following infrastructure:
10.0 million barrels of storage capacity
About 1,700 owned, leased, or supplied gas stations in 12 states
353 company-operated convenience stores
24 bulk petroleum product terminals
The company sells about 357,000 barrels of product each day. Its fuel fills 865,000 automobile tanks and 26,000 diesel truck tanks daily. In winter, the company heats 30,000 homes daily.
With oil and gas prices expected to remain robust, there's every reason to believe that industry tailwinds will continue to juice the partnership's top and bottom lines—as well as its share price.
As of this writing, GLP stock is up by:
4.0% over the last month
7.4% over the last six months
22.9% year-over-year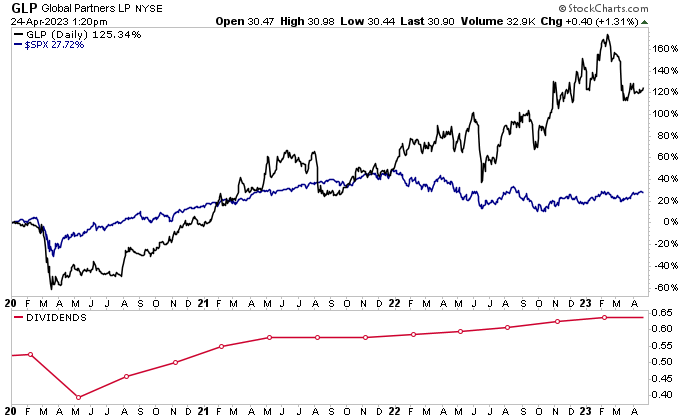 Chart courtesy of StockCharts.com
Global Partners LP's Strategic Acquisitions
Global Partners LP has a long history of acquiring, integrating, optimizing, and operating assets in the Northeast and mid-Atlantic.
Since 2007, the company has invested about $2.5 billion in acquisitions and other investments. In 2022 alone, Global Partners LP acquired 120 retail assets across the Northeast and mid-Atlantic through a mix of company-operated retail stores and dealer supply agreements.
In January 2022, the partnership acquired 26 company-owned "Wheels" convenience stores and related fuel operations in Connecticut. It also made fuel supply agreements with 22 gas stations in Connecticut and New York.
In February of that year, Global Partners LP expanded its presence in the mid-Atlantic region with its acquisition of Miller's Neighborhood Market. The agreement included 23 convenience stores and fuel supply agreements at 34 locations, primarily in Virginia.
Last September, the partnership acquired Tidewater Convenience, Inc., further expanding its retail footprint in the mid-Atlantic region. The acquisition includes 15 gas stations and convenience stores, plus six parcels of adjacent land in Southeast Virginia.
More recently, in March of this year, Global Partners and Exxon Mobil Corp (NYSE:XOM) announced plans to acquire 34 Houston-area convenience stores and fueling facilities from Landmark Group. The joint venture is expected to close in the second quarter. (Source: "Global Partners Announces Plan to Expand Retail Operations into the Houston Market," Global Partners LP, March 29, 2023.)
Q4 Net Income Up 198%; Distributable Cash Flow Up 88%
Global Partners LP credits its consistently strong financial performance to its resilient business model, which includes the aforementioned acquisitions.
Commenting on the partnership's most recent earnings report, Eric Slifka, the president and CEO of Global Partners LP, said, "Our fourth-quarter and full-year 2022 performance demonstrates the resilience of our business model, the strength of our assets and the value that our team delivers for customers at our gas stations, convenience markets and liquid energy terminals every day." (Source: "Global Partners Reports Fourth-Quarter and Full-Year 2022 Financial Results," Global Partners LP, February 27, 2023.)
He continued, "We navigated a constrained supply chain and steep commodity price volatility throughout the year. Diligent planning, effective fuel inventory management and solid execution by the entire team allowed us to drive increased profitability, highlighted by healthy margin contributions from all three segments of our business."
For the fourth quarter of 2022, the company reported net income of $57.5 million, or $1.54 per share. That was 198% higher than the $19.3 million, or $0.44 per share, it recorded for the same prior-year period.
Its earnings before interest, taxes, depreciation, and amortization (EBITDA) increased by 60% year-over-year to $105.3 million, while its adjusted EBITDA went up by 62% to $106.9 million. Meanwhile, its distributable cash flow (DCF) went up by 88% year-over-year to $57.3 million.
The partnership's gross profit in the fourth quarter of 2022 was $281.6 million, compared to $193.1 million in the same period of 2021.
Management Hikes Dividend for 9 of Last 11 Quarters
Thanks to high earnings and DCF growth, Global Partners has been making dividend hogs happy. Over the last 11 quarters, it announced nine dividend hikes and one special dividend.
On February 14, Global Partners LP stock paid a cash distribution of $1.5725 per outstanding common unit from October 1, 2022 through December 31, 2022. That payout consisted of a quarterly distribution of $0.635 per unit and a one-time special distribution of $0.9375 per common unit.
GPL stock has rewarded investors with consistent dividend growth and a share price that's trading near record levels. Since the start of 2020, Global Partners LP stock, with dividends reinvested, has provided returns of 125.3%. Over the same time frame, the S&P 500 has returned just 27.7%. A good portion of that has to do with reinvested dividends and rising payouts.
GLP stock's dividend yield is currently about eight percent. Meanwhile, the average yield on the S&P 500 is just 1.7%.
The Lowdown on Global Partners LP Stock
Energy stocks in general have been doing well and are expected to be some of the biggest winners this year.
Global Partners LP is no exception. The high-yield dividend-paying company has been reporting high earnings and DCF growth. And thanks to its growing, diverse network, its outlook for the rest of 2023 is excellent. This should help GLP stock provide oversized share-price gains and growing, ultra-high-yield dividends.