Frontline Stock: Acquisition Makes 14.1%-Yielder Largest Pure-Play Tanker Company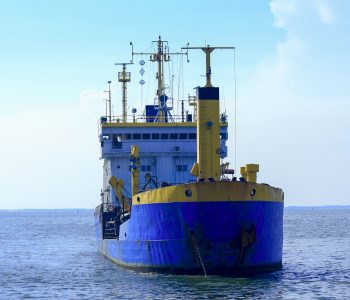 Why FRO Stock Has Lots of Room to Run
One article I was reading said that any dividend yield that's two times greater than the stock market's yield could be a dividend trap. That's a pretty narrow view on dividends. The average yield of the S&P 500 is just 1.62%; twice that is 3.24%. That's not very frothy.
Investors who are looking for ultra-high-yield dividends from a company with a low payout ratio should put Frontline Plc (NYSE:FRO) on their radar.
I last wrote about Frontline stock back in June, when it was trading at $15.24. On October 10, it hit a new 52-week high of $19.84, for a short-term gain of 30%.
Moreover, since June, FRO stock's quarterly dividend has increased by 14% quarter-over-quarter and 433% year-over-year to $0.80 per share. Better still, the company's payout ratio is just 47.07%.
Frontline Plc is a crude oil and oil product shipping company that owns one of the largest and most modern fleets in its industry. It shipping routes include the Arabian Gulf, the North Sea, West Africa, and the Caribbean.
At the end of the second quarter, the company's fleet of ships included:
22 very large crude carriers (VLCCs), which are capable of carrying 2.0 million barrels of oil
25 Suezmax ships, which are designed to move through the Suez Canal and can carry more than 1.0 million barrels of crude oil
18 Aframax vessels, which are capable of carrying up to 600,000 barrels of crude oil
In June, I noted that record-high demand should help crude oil shipping companies like Frontline Plc continue delivering strong results over the coming quarters and years.
Frontline's management essentially confirmed—or predicted—this in February, when they reported the company's highest quarterly profits since 2008. At the time, they said the company's fourth-quarter 2022 results were "a preview of the years to come." The company has continued to report higher quarterly profits since then. (Source: "Fourth Quarter and Full Year 2022 Results," Frontline Plc, February 28, 2023.)
And if actions speak louder than words, Frontline's recently announced acquisition of 24 modern VLCCs points to continued growth for the company.
Blockbuster Acquisition Increasing Fleet Size by 57%
Supertanker rates can fluctuate pretty wildly along with oil prices. Back in spring 2019, supertanker rates were around $25,000 per day. Then they climbed to more than $150,000 per day in the fall of 2019. In the opening days of the COVID-19 pandemic, the rates plunged to $25,000 per day, then surged to nearly $250,000 per day in spring 2020.
Since then, supertanker rates have seesawed a little but have normalized. This past June, the spot rates went to $83,300 per day for older VLCCs and $91,00 per day for more fuel-efficient VLCCs. (Source: "Supertanker Rate Roller Coaster: Surprise Spike to $91,000 per Day," Freight Waves, June 16, 2023.)
High spot prices are certainly important, but so too is the medium-term outlook for vessel supply and transport demand.
On the transport side, VLCCs carry about half of the global seaborne crude oil volumes when measured in barrels per day. When measured by ton-miles (volume multiplied by distance), VLCCs account for two-thirds of seaborne crude oil flows.
On the supply side, there's a serious shortage of VLCCs. There are currently 901 VLCCs on the water and just 10 on order. None of the VLCCs on order are slated for delivery in 2024, and just one per year is set to be delivered in 2025 and 2026.
This means it's impossible to increase the supply of VLCCs until 2026 at the earliest. This has led analysts to predict a potential "rate eruption" by 2024.
What's the best way for a shipping company to take advantage of the upswing in demand for VLCCs?
Buy newer tankers from someone else—which is exactly what Frontline just did. On October 9, the company announced it will be acquiring a fleet of 24 "ECO" VLCCs for a total purchase price of $2.35 billion. The transaction is expected to close by the end of 2023. (Source: "Fully Funded Acquisition of 24 modern VLCCs From Euronav NV," Frontline Plc, October 9, 2023.)
The purchases are being funded through Frontline's sale of its shares of Euronav NV (NYSE:EURN). Frontline once had plans to acquire Euronav, but those plans fell through.
With the acquisition of the 24 VLCCs, Frontline Plc will be increasing its fleet to 89 vessels and becoming the biggest publicly listed oil tanker owner and operator in terms of deadweight tonnage.
The modern ships that the company is buying have an average age of 5.3 years, which will reduce the average age of the company's total fleet to 6.1 years. The purchase will also improve the fleet's fuel efficiency and lower its average emissions.
The addition of the vessels to Frontline Plc's fleet is expected to significantly boost the company's free cash flow, earnings-per-share (EPS) potential, and dividends.
According to Frontline Plc's director, Jogn Fredriksen, the transaction will "solidify Frontline's position as the leading publicly listed tanker company, and significantly expand [its] exposure towards modern efficient VLCCs at an opportune time in the cycle." (Source: Ibid.)
Frontline Plc Made Highest Q2 Profits Since 2008
For the second quarter ended June 30, Frontline announced that its revenues grew by 70% year-over-year to $512.8 million. (Source: "FRO – Second Quarter and Six Months 2023 Results," Frontline Plc, August 24, 2023.)
The company also reported its highest second-quarter profits since 2008: $230.7 million, or $1.04 per share. That's up significantly from its second-quarter 2022 profits of $51.2 million, or $0.25 per share.
Frontline Plc reported second-quarter adjusted earnings of $0.94 per share, up from $0.22 per share in the same period last year.
In the second quarter of 2023, the company's spot time charter equivalent (TCE) rate for its VLCCs was $64,000 per day, compared to $31,300 per day in full-year 2022.
Frontline's second-quarter spot TCE rate for its Suezmax tankers was $61,700 per day, compared to $37,100 per day in 2022. Its second-quarter spot TCE rate for its Aframax ships was $52,900 per day, versus $38,500 per day in 2022.
Frontline Plc's estimated spot TCE rate for its VLCCs in the third quarter is $53,200 per day. For its Suezmax vessels, the estimate is $48,800 per day, and for its Aframax vessels, it's $40,500 per day.
Those numbers can fluctuate throughout a quarter. To put those figures in context, the company's average daily breakeven rates are $27,000 for VLCCs, $23,400 for Suezmax ships, and $16,600 for Aframax ships.
Lars H. Barstad, Frontline Plc's CEO, noted, "Frontline had another solid quarter as supportive tanker fundamentals continued. With all our asset classes performing, Frontline's lean and efficient platform continued to yield shareholder returns." (Source: Ibid.)
Q2 Dividend of $0.80/Share
Frontline Plc's goal is to distribute quarterly dividends that are equal (or close to being equal) to its EPS adjusted for non-recurring items. The timing and amount of the dividends are at the discretion of the company's board of directors.
The board isn't shy to act. As might be expected, it suspended Frontline stock's dividend during the COVID-19 pandemic. Things eventually turned around, though, and in the second quarter of 2022, the board reinstated Frontline Plc's quarterly dividend at $0.15 per share. FRO stock's dividend has been climbing since then.
In the first quarter of 2023, the company's board declared a dividend of $0.70 per share. In the second quarter, it declared a dividend of $0.80 per share, for a yield of 14.1%.
Frontline Plc still has plenty of room for dividend growth, due to its previously mentioned low payout ratio of 47.07%.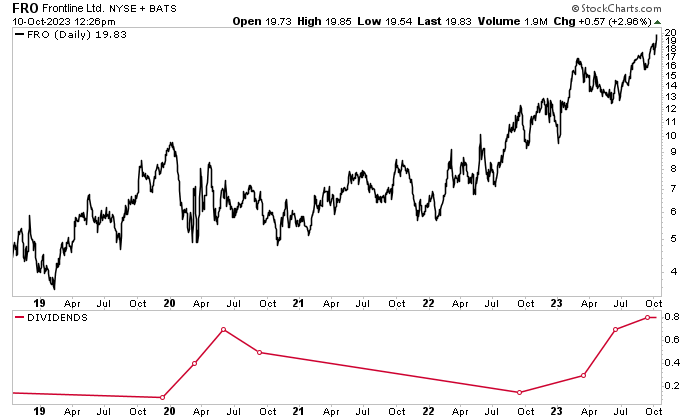 Chart courtesy of StockCharts.com
Just like its dividends, Frontline stock's price has rebounded since the pandemic. Trading at its highest level since 2011, FRO stock is up by more than 30% since I wrote about it in June and up by more than 150% since I wrote about it in March 2021.
As of this writing, Frontline stock is up by:
21% over the last month
82% year-to-date
105% year-over-year
Those are big gains no matter how you look at them, and Wall Street analysts expect FRO stock to make even bigger moves over the coming quarters. Of the analysts offering a 12-month share-price forecast for Frontline Plc, their median estimate is $22.14 and their high estimate is $34.00. This points to potential gains in the range of 12% to 72%.
The Lowdown on Frontline Stock
Thanks to a recent strategic acquisition, Frontline Plc is poised to become the largest publicly listed oil tanker owner and operator.
The company has been throwing off lots of cash, its TCE rates are up, and its fleet continues to be in high demand. In addition to its undervalued, bullish share price, FRO stock pays growing, ultra-high-yield dividends.