Frontline Ltd: Amazing 26.9% Dividend Yield Is Safe & Growing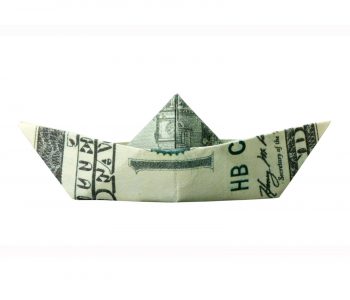 Frontline Stock Is a Reliable Income Machine
It's not hard to find companies offering dividend yields above 20%. The problem is finding stocks with ultra-high yields that aren't financial traps. It's the old risk/reward trade-off: the higher the yield, the greater the risk. There's no point in investing in a stock with a 25% yield if the underlying share price is tanking.
Frontline Ltd (NYSE:FRO) is an anomaly. It's a financially solid company with strong operations, a growing share price, and a huge yield. Best of all, its annual dividend payouts have been growing.
Frontline is a shipping company that owns one of the largest and most modern fleets in the industry. It ships crude oil and oil products in the Arabian Gulf, the North Sea, West Africa, and the Caribbean. (Source: "About Frontline Ltd," Frontline Ltd, last accessed March 11, 2021.)
The company's fleet includes:
19 "VLCC" ships, which are very large, capable of transporting two million barrels of crude oil
29 "Suezmax" ships, which are specifically designed to move through the Suez Canal and are capable of carrying more than one million barrels of crude oil
20 "LR2/Aframax" ships, which are capable of carrying up to 600,000 barrels of crude oil
(Source: "Fleet Overview," Frontline Ltd, last accessed March 11, 2021.)
Frontline is also building four new "LR2" tankers; one is expected to be delivered in March, another in April, and two in September.
In November 2020, Frontline Ltd entered into three senior secured term loan facilities—in amounts of up to $250.7 million, $100.8 million, and $133.7 million, respectively—to refinance two term loan facilities maturing in the second quarter of 2021 and to partially finance the four LR2 tankers under construction. (Source: "Fourth Quarter and Full year 2020 Results," Frontline Ltd, February 19, 2021.)
As expected, FRO stock took a nosedive in March 2020 as the world grappled with the coronavirus pandemic. Suffice it to say, oil products are not in as much demand when the world is in a recession.
But Frontline stock has been climbing on growing optimism about the rollout of COVID-19 vaccines and expectations that the global economy will reopen this summer. FRO stock is still down 17% year-over-year, but it's up 46% since bottoming in March 2020 and it's up 18.5% in 2021.
Chart courtesy of StockCharts.com
Best Full-Year Results Since 2008
Some of Frontline stock's gains can be attributed to the company's solid financial results.
For full-year 2020, Frontline announced its strongest yearly results since 2008. For 2020, the company reported total operating revenue of $1.2 billion, up 27.5% from $957.0 million in 2019. (Source: Frontline Ltd, February 19, 2021. op. cit.)
Frontline's full-year net income came in at $412.9 million ($2.09 per diluted share) and its adjusted net income came in at $421.6 million ($2.13 per diluted share). Its net operating income was $507.8 million in 2020, up 112% from $239.5 million in 2019.
The company's fourth-quarter results, however, reflect the challenging environment Frontline Ltd was facing as record volumes of oil inventories were used up (instead of replaced). Its fourth-quarter revenue was $174.9 million, down 48% from $338.0 million in the same period of the previous year.
Frontline Ltd swung to a fourth-quarter net loss of $9.2 million ($0.05 per share). Its adjusted net loss was $20.2 million ($0.10 per share).
The company reported fourth-quarter operating income of $2.8 million, versus $131.6 million in the same prior-year period.
Safe 26.9% Dividend Yield
Frontline paid an annual dividend of $1.60 in 2020, for a current yield of 26.9%. (Source: "Dividend Policy and History," Frontline Ltd, last accessed March 11, 2021.)
The payout ratio stands at 76.6%. That's well below the 90% threshold I like to see, which means Frontline has lots of financial wiggle room to continue paying its high dividend yield.
And while Frontline's yield is definitely frothy, its annual payout has grown over the years. In 2015, it paid $0.05 per share; in 2016, it paid $1.05; in 2017, it paid $0.30; in 2019, it paid $0.10; and in 2020, it paid $1.60. And that's just the recent history; FRO stock has been paying out dividends since 2001. (Source: Ibid.)
The dividend payouts certainly vary, but that's to be expected in such a cyclical industry. That said, the long-term growth is noteworthy.
The Lowdown on Frontline Ltd
As the owner and operator of one of the largest, most modern fleets of crude oil tankers, Frontline Ltd is well positioned to take advantage of the growing demand for crude oil in 2021. We've already seen signs of this.
First, the increase in oil prices suggests that demand is returning, especially in Asia. Second, as global oil markets switch from drawing on existing inventories to calling for equal volumes from the marketplace, the demand for crude oil tankers should resume growing. And that should allow Frontline stock investors to capitalize on the recovery demand for tankers.