Frontline Stock: Undervalued 18.4%-Yielder Has 123% Upside Potential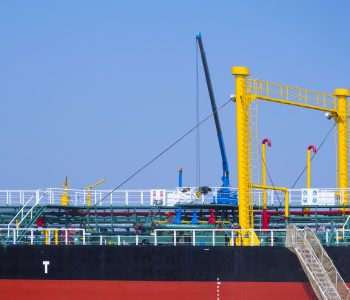 Why FRO Stock Has Such High Potential
Shareholders can't help but like it when a company reports exceptional financial results, and strong guidance is a bonus. Frontline plc (NYSE:FRO) is a case in point.
In addition to reporting its highest quarterly profit since 2008, management said the company's outstanding results give it "a preview of the years to come." (Source: "FRO – Fourth Quarter and Full Year 2022 Results," Frontline plc, February 28, 2023.)
Who doesn't love to hear that kind of guidance?
Frontline is a shipping company that owns one of the largest and most modern fleets in the industry. It ships crude oil and oil products in the Arabian Gulf, the North Sea, West Africa, and the Caribbean.
Frontline plc's fleet of ships includes:
22 very large crude carriers (VLCCs), which are capable of carrying 2.0 million barrels of oil
25 Suezmax ships (designed to move through the Suez Canal), which can carry more than 1.0 million barrels of crude oil
19 Aframax vessels, which are capable of carrying up to 600,000 barrels of crude oil
Thanks to industry tailwinds, Frontline plc's fleet is in high demand and is expected to be so for years to come.
Supertanker rates have soared past $100,000 per day for most of the modern tankers being chartered to carry oil from the Middle East to Asia. (Source: "Supertanker Freight Rates Jump as Mideast Crude Exports to Asia Rise," Reuters, June 14, 2023.)
On top of that, refineries in Asia have pretty much completed their spring maintenance and have been increasing their run rates to meet the fuel demand for the summer driving season. As a result, the VLCC market has gone from strength to strength.
Another reason for the bullishness regarding VLCCs is the big increase in the number of tankers in the "dark fleet" (aka "shadow fleet"), which ships Russian, Venezuelan, and Iranian oil. This has tightened the availability of oil tankers. (Source: "Singapore Detains Record Number of Oil Tankers As Shadow Fleet Expands," OilPrice.com, May 31, 2023.)
Highest Q1 Profit Since 2008
For the first quarter ended March 31, Frontline announced that its revenues grew by 128% year-over-year to $497.3 million. (Source: "FRO – First Quarter 2023 Results," Frontline plc, May 31, 2023.)
The company also reported its highest first-quarter profit since 2008: $199.6 million, or $0.90 per share. That's up significantly from its first-quarter 2022 net income of $28.9 million, or $0.14 per share.
Frontline plc reported first-quarter adjusted earnings of $193.3 million, or $0.87 per share, up from an adjusted loss of $3.5 million, or $0.02 per share, in the same period last year.
In the first quarter of 2023, the company's spot time charter equivalent (TCE) rates for VLCCs were $52,500 per day, compared to $31,300 in full-year 2022.
Frontline plc's first-quarter spot TCE for Suezmax tankers was $64,000 per day, compared to $37,100 per day in 2022. Its first-quarter spot TCE for Aframax ships was $56,300 per day, versus the 2022 average of $38,500 per day.
Frontline plc's estimated spot TCE for VLCCs in the second quarter is $75,000 per day. For Suezmax vessels, it's $65,000, and for Aframax vessels, it's $65,700 per day.
Those numbers can fluctuate throughout a quarter. To put those figures into context, the average daily breakeven rates are $26,500 for VLCCs, $22,700 for Suezmax ships, and $16,800 for Aframax ships.
Lars H. Barstad, Frontline plc's CEO, noted, "Frontline continued to generate elevated cash returns for its shareholders in the first quarter of 2023." (Source: Ibid.)
He added, "Freight demand and rates remained firm throughout the quarter, defying historical seasonal patterns. Our constructive long-term outlook is not affected by short-term volatility, as oil demand is expected to rise significantly in the second half of the year."
Frontline plc Announced Dividend of $0.70/Share
Frontline's goal is to distribute quarterly dividends that are equal to or close to its earnings per share (EPS) adjusted for non-recurring items. The timing and amount of the dividends are at the discretion of the company's board of directors.
Frontline plc's board isn't shy to act. As might be expected, it suspended Frontline stock's dividends during the COVID-19 pandemic.
Suffice it to say, money was tight at that time. Many oil and gas companies were chartering supertankers just to store the glut of crude oil that was flooding the market. (Source: "Supertankers Drafted in to Store Glut of Crude Oil," The Guardian, April 19, 2020.)
For the third quarter of 2021, Frontline plc announced that the reported spot TCEs for VLCCs, Suezmax tankers and Aframax tankers were $10,500, $7,900, and $10,700 per day, respectively. That was well below the company's daily breakeven rates.
Things eventually turned around, and in the second quarter of 2022, Frontline plc reinstated its quarterly dividend at $0.15 per share. Because of industry dynamics, the company's dividend fluctuates based on supply and demand.
In the first quarter, Frontline plc declared a dividend of $0.70 per share, for a yield of 18.4% (as of this writing).
Just like its dividend, FRO stock's price has rebounded from the COVID-19 pandemic. Trading at its highest level since 2014, Frontline stock is up by more than 50% from its pre-pandemic level and more than 100% since I last wrote about it in March 2021.
More recently, FRO stock went up by:
8.0% month-over-month
33% year-to-date
92% year-over-year
Those are big gains no matter how you look at it, and Wall Street analysts expect Frontline stock to make even bigger moves over the coming quarters.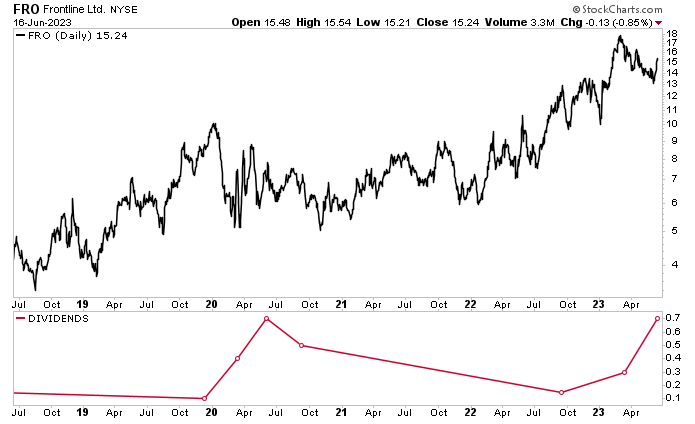 Chart courtesy of StockCharts.com
Of the analysts offering a 12-month share-price forecast for Frontline plc, their median target is $21.60 and their high estimate is $34.00. This points to potential gains from FRO stock in the range of 42% to 123%.
The Lowdown on Frontline Stock
As mentioned earlier, Frontline plc is the owner and operator of one of the biggest, most modern fleets of crude oil tankers. It has been throwing off lots of cash, its TCE rates are up, and its ships continue to be in high demand.
In addition to having an undervalued, bullish share price, FRO stock resumed its high-yield dividends following the COVID-19 pandemic.