Frontier Communications Corp: Is This 28% Yield Safe?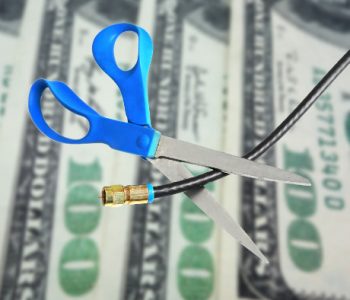 iStock.com/zimmytws
Don't Trust This Double-Digit Payout
Investors sometimes throw their arms out reaching for high yields. Those double-digit payouts look so tempting, after all. But if you're not careful, big yields can cause some serious portfolio injuries.
That's my worry with Frontier Communications Corp (NASDAQ:FTR). We've told readers for months to avoid this yield trap, saving investors a pile of money. And while the stock's now-higher 28% yield looks enticing, income hunters should still stay far away. Here's why.
Frontier's business remains in freefall, for starters. Cord cutting has hammered cable profits. At the same time, service providers have not been able to replace their television losses with telecom or wireline gains.
In the case of Frontier, the company has lost 630,000 customers over the past year alone. During the period, management reported losses of $1.3 billion. These declines show no signs of stopping, nor even slowing down. (Source: "Frontier Communications Reports 2017 Third Quarter Results," Frontier Communications Corp, October 31, 2017.)
Worse, the top brass saddled the business with a big debt load. Frontier spent $10.5 billion on Verizon Communications Inc.'s (NYSE:VZ) wireline operations last year in an attempt to stem subscriber losses and gain the scale it needed to compete against larger rivals. That deal, however, hasn't paid off as well as analysts hoped.
The result? The company has lurched from one cash crisis to the next, heading off disasters through creating debt restructurings and slashing dividend payments to shareholders. Frontier's financial problems got so bad earlier this year, management issued a reverse stock split to avoid getting de-listed.
Last quarter, the business generated an operating profit of $310.0 million. That's not even quite enough to make interest payments or preferred dividends, let alone continue distributions to common shareholders.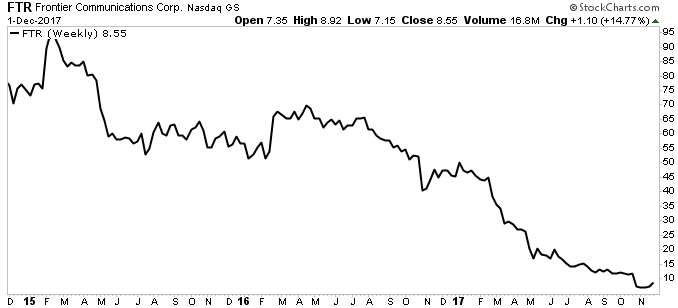 Source: StockCharts.com
CEO Dan McCarthy has promised to return the business to profitability by reducing subscriber losses or cutting costs. Yet despite the rosy outlook, the business has failed to jump an already low bar quarter after quarter.
Also Read:
Top 10 Safe Dividend Stocks for Retirees in 2017
Normally, I don't lose sleep over a few bad reports. Frontier, however, doesn't have an endless runway to shore up its business. Because the company has a lot of bond issues coming due, lenders may not be willing to refinance outstanding debt for an unprofitable operation.
How will it all play out? Who knows. Maybe Mr. McCarthy can turn the business around, making shareholders a fortune. But even if management can thread the needle between subscriber losses and interest payments, it's difficult to see how there can be enough cash left over for dividends.
In other words, safety-conscious investors shouldn't reach for this yield.