Is Frontier Communications Corp's 21% Dividend Yield Safe?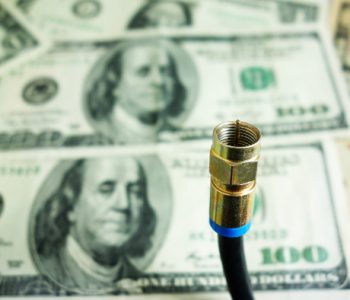 FTR Stock's 21% Dividend Yield Could Vanish
Frontier Communications Corp (NASDAQ:FTR) stock's payout looks like an oasis in an income desert, but the big dividend yield is just a mirage.
As regular readers know, I often warn against a group of stocks I call "income illusions." Naive savers get drawn by huge payouts. Such high dividend yields, however, usually let you down.
Case in point: Frontier Communications. The company provides telephone, Internet, and television services to rural towns across the country. And while investors love this 21% distribution, I'm worried for a couple of reasons.
First, Frontier has lived beyond its means. Tough competition has clipped margins. In 2016, free cash flow came in at only $265.0 million, which is nowhere near enough to cover the $707.0-million dividend.
The company's purchase of Verizon Communications Inc.'s (NYSE:VZ) wireline assets should have closed this gap. That thesis, though, hasn't played out, given the business keeps bleeding customers. You don't need an MBA to see this isn't a sustainable formula. (Source: "Frontier Communications Reports 2016 Fourth Quarter and Full Year Results," Frontier Communications Corp, February 27, 2017.)
Worse, debt keeps piling up. Frontier has kept the party going by borrowing money to fund the dividend. That has left the telecom giant's balance sheet dangerously overleveraged, with $3.60 in debt for every dollar in equity.
Those bills will come due. Frontier faces a wave of debt maturities between 2020 and 2022. If the company doesn't start building up reserves, lenders won't be keen on renewing these loans.
Finally, cost cuts might come back to haunt shareholders.
Between paying investors and servicing debt, Frontier doesn't have a lot of cash left over for maintenance. The company's rural telecom network needs a lot of ongoing investment. Frontier, though, has scrimped on these expenses for years.
This probably explains those fleeing subscribers. You can only cut costs so far before your customer service turns rotten. As evident by the plunge in FTR stock, traders know problems lurk behind management's rosy outlook.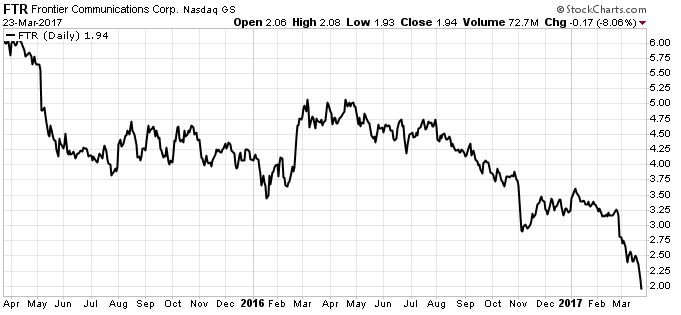 Source: StockCharts.com
I expect Frontier will slash the dividend soon. Today, FTR stock yields twice as much as its peers. It looks like the market is pricing in a 50% distribution cut, which would bring the yield in line with the industry average.
Bottom line: For exhausted investors, big yields look like an oasis. Some payouts, though, are just a mirage. Don't get fooled by these income illusions.