Eli Lilly and Co Raises Quarterly Dividend 8%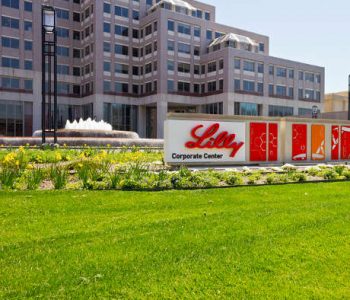 istock/jetcityimage
Eli Lilly Dividend Increase Reveals Big Trend
Today's chart highlights another quiet winner in the health care business…Eli Lilly and Co (NYSE:LLY).
Regular readers have heard our bullish argument on health care before. As Baby Boomers enter their golden years, they'll need more pills, more medicine, and more doctor visits. And we've seen this trend driving dividends higher for many businesses, like pharma giants Pfizer Inc. (NYSE:PFE) and Bristol-Myers Squibb Co (NYSE:BMY).
We can see this trend pay off in the latest Eli Lilly stock news. The company has a leading position in the treatment of diabetes and osteoporosis. And with a number of potential blockbuster drugs in development, analysts have an optimistic view of this business.
Judging by the latest Eli Lilly dividend increase, management feels optimistic, too. In a press release Monday, the drug maker boosted the quarterly distribution eight percent to $0.5625 per share. (Source: "Lilly Announces 8 Percent Dividend Increase," Lilly Investor Relations, December 11, 2017.)
Also Read:
Dividend investing: 3 Healthcare Stocks Yielding Up to 9.4%
For investors, Eli Lilly's payment date will be scheduled for March 9 to shareholders of record as of February 15. This sets Eli Lilly's ex-dividend date for February 14. The latest move will also boost Eli Lilly's dividend yield to 2.6%, up from 2.4% previously.
As you can see from the chart below, this trend has paid off for shareholders. Over the past 10 years, Eli Lilly stock has climbed from $35.00 per share to more than $85.00 per share. During that same period, the distribution has increased by nearly a third.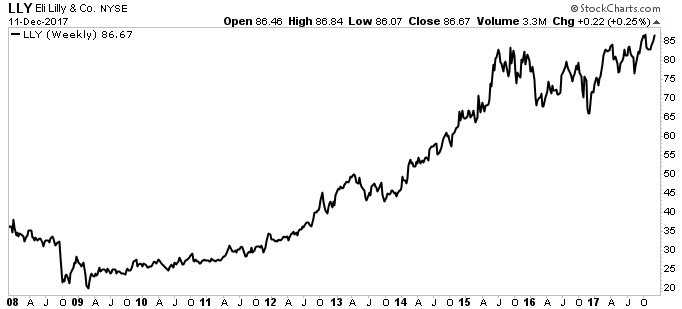 Chart courtesy of StockCharts.com
You'll have a tough time arguing against these numbers. An older America means bigger dividends from drug makers.