Dorian LPG Stock: 16%-Yielder Already Up 41% in 2023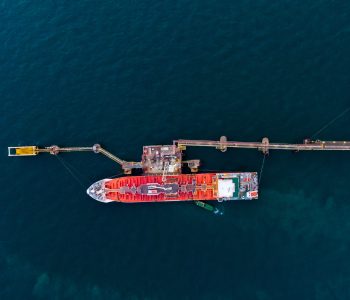 Why LPG Stock Could Keep Soaring
What's better than an energy stock that destroyed the market in 2022? Seeing it do the same thing in 2023. That's exactly what Dorian LPG Ltd (NYSE:LPG) has been doing.
In 2022, Dorian LPG stock rallied by an impressive 108%. In 2023, it has maintained those winning ways, and Wall Street thinks it has more room to run.
Analysts have provided a 12-month share-price target for LPG stock of between $26.05 and $32.00. This points to potential gains of between 6.5% and approximately 31%.
Dorian LPG is a liquefied petroleum gas shipping company and a leading owner and operator of 25 modern very large gas carriers (VLGCs).
The company is one of the three largest operators of VLGC tonnage. Its ships are capable of carrying 2.1 cubic meters of liquefied petroleum gas. (Source: "About Dorian LPG," Dorian LPG Ltd, last accessed June 19, 2023.)
The average age of the company's ships is eight years, which is well below the global fleet average of 10.8 years.
Dorian LPG Ltd is also co-manager of the Helios LPG Pool, which it jointly owns with Phoenix Tankers. The Helios LPG Pool operates 27 vessels. (Source: "Investor Presentation June 2023," Dorian LPG Ltd, last accessed June 19, 2023.)
Including its ships in the Helios LPG Pool, Dorian operates 29 vessels.
Dorian LPG Ltd has many long-term contracts with some of the energy industry's biggest names, including BP plc (NYSE:BP), Chevron Corporation (NYSE:CVX), Exxon Mobile Corp (NYSE:XOM), Phillips 66 (NYSE:PSX), and Shell PLC (NYSE:SHEL).
From a fundamental perspective, the outlook for Dorian LPG is robust.
The demand (particularly in Asia) for liquefied petroleum gas has been increasing, and so has the production to meet that demand. For instance, the U.S. liquefied petroleum gas industry has been expanding its infrastructure, which should enable more production and exports. (Source: Ibid.)
When it comes to fossil-fuel energy, most people think of oil, gasoline, and coal, but the fact is, liquified natural gas is one of the most widely used energy sources. It has more than 1,000 different applications. (Source: "About LPG," World LPG Association, last accessed June 19, 2023.)
The term "liquified natural gas" is used to describe two natural gas liquids: propane and butane, or a mix of the two.
Propane has a lower boiling point than other fuels, which makes it well suited for outdoor storage. Propane is used for central heating, cooking, transportation, and commercial applications.
Butane is mainly shipped in cylinders for portable use, including in barbecues and mobile heaters for boats and caravans. Butane is also used as a propellant, a refrigerant, and as a fuel for welding torches.
Q4 Net Income Jumped 114%; TCE Rates Increased 57%
Strong industry tailwinds helped Dorian LPG report the best fiscal year in its history.
For the fourth quarter of fiscal 2023, ended March 31, 2023, the company's revenues increased by 67.9% year-over-year to $133.6 million. (Source: "Dorian LPG Ltd. Announces Fourth Quarter and Fiscal Year 2023 Financial Results," Dorian LPG Ltd, May 24, 2023.)
Its net income in the quarter came in at $76.0 million, or $1.89 per share, a 114% increase over its fourth-quarter 2022 net income of $35.4 million, or $0.88 per share.
Dorian LPG Ltd's adjusted net income advanced in its fiscal fourth quarter by 216% to $78.1 million, or $1.94 per share, compared to $24.7 million, or $0.62 per share, in the three months ended March 31, 2022.
The company's time charter equivalent (TCE) rate for its fleet in its fiscal fourth quarter was $68,135, a 57.1% increase from $43,372 in the same period in 2022.
Dorian LPG Ltd's vessel operating expenses per day increased to $10,528 during the three months ended March 31, from $9,370 in the same period in the prior year.
The company's full fiscal year revenue was up by 42.1% year-over-year, at $389.7 million. That increase was primarily due to increased average TCE rates. The company's average TCE rates in fiscal 2023 were $50,462, compared to $34,669 in fiscal 2022.
Dorian LPG Ltd's net income grew in fiscal 2023 by 167% to $172.4 million, or $4.29 per share. Its adjusted earnings were $271.3 million, a 68% increase over the $161.1 million, or $1.78 per share, in fiscal 2022.
Dorian LPG Stock Returned $225 Million to Shareholders in Fiscal 2023
Commenting on the company's financial results, John Hadjipateras, Dorian LPG Ltd's chairman, president, and CEO, said, "Strong chartering results and a solid balance sheet enabled us to return nearly $225 million to our shareholders during fiscal year 2023." (Source: Ibid.)
In its fiscal 2023, LPG stock paid out four irregular dividends. The last one was in May, at $1.00 per share, for a current yield of 16.1%. (Source: "Dorian LPG Ltd. Declares Irregular Cash Dividend of $1.00 Per Share," Dorian LPG Ltd, April 26, 2023.)
Irregular dividends are, for the most part, ones that a company pays based on its profits. Companies with irregular or unpredictable income often pay irregular dividends. It's certainly not uncommon in the oil and gas industry, in which profits are based on the economic cycle and supply/demand metrics.
Dorian LPG Ltd has paid dividends for the last seven consecutive quarters. And, thanks to the high demand for marine shipping vessels and the rising TCE rates, the case for additional, irregular dividends from Dorian LPG stock is pretty strong.
At least investors seem to think so. If there's any hint that a dividend could be cut, investors tend to send share prices significantly lower.
We haven't been seeing that with LPG stock lately.
As of this writing, Dorian LPG stock is up by 41% since the start of 2023 and up by 99.6% year-over-year. That beats the pants off the S&P 500, which is up by 15% and 20% for those two periods, respectively.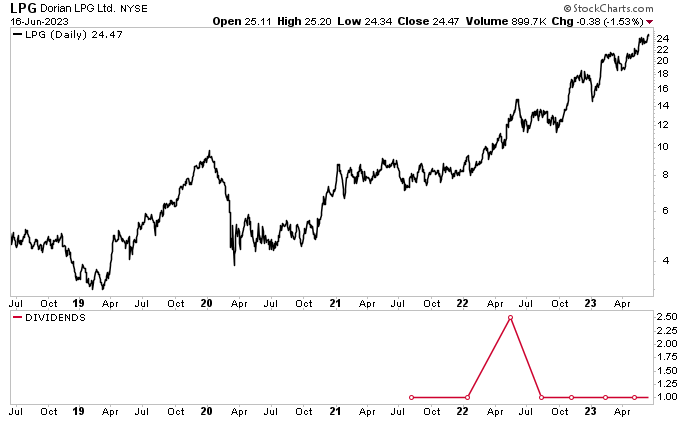 Chart courtesy of StockCharts.com
The Lowdown on Dorian LPG Ltd
I've been following Dorian LPG stock for a while, and it just gets better and better.
The market for liquefied petroleum gas shipping won't always be this strong (because the energy sector is cyclical), but right now, everything is going right for Dorian LPG Ltd.
It's an excellent midstream energy company with high long-term growth potential. The company has a large, expanding, modern fleet of ships, and it reported record fourth-quarter and full-year fiscal 2023 results—which allowed its board to authorize four irregular dividends.
These days, the outlook for the energy sector is bright and the demand for supertankers is high. This bodes exceptionally well for LPG stock's price and ultra-high yield dividends.