Dorian LPG Ltd: Bullish 15.9%-Yielder Launches $100-Million Stock Repurchase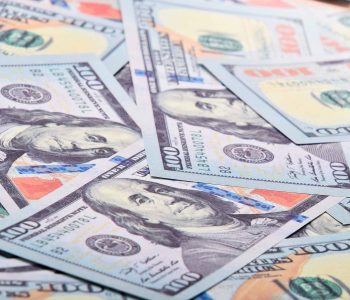 LPG Stock's Outlook Robust on Strong Demand
Ultra-high-yield dividend stocks of companies that operate in the energy sector are always susceptible to economic cycles and seasonal demand. Some are more resilient than others, like Dorian LPG Ltd (NYSE:LPG), a global shipping company that transports liquefied petroleum gas.
The demand for liquefied petroleum gas (a by-product of propane and butane) is high. This ensures that Dorian LPG has a steady revenue stream and cash flow to support its ultra-high dividends, which have a current yield of 15.9%.
The global liquefied petroleum gas market was valued at $116.4 billion in 2019 and was projected to expand at a compound annual growth rate (CAGR) of 4.4% from 2020 to 2027. (Source: "LPG Market Size, Share & Trends Analysis Report," Grand View Research, last accessed February 25, 2022.)
Liquefied gases are primarily used for heating, as chemical and refinery feedstock, as transportation fuel, and for agriculture. Compared to wood and coal, liquefied petroleum gas is more readily assessable, non-toxic, clean, and cost-efficient. Moreover, the population surge in regions including Central America, South America, Africa, and Asia Pacific is projected to drive up demand for liquefied petroleum gas as a cooking fuel. In India, for example, a whopping 60%–75% of households use liquefied petroleum gas for heating and cooking.
The primary source for liquefied petroleum gas is the U.S.
As of January 28, 2022, U.S. production of liquefied petroleum gas had maintained record levels of about 2.4 million barrels per day (MMbbl/d), which was three percent higher year-over-year. As of December 31, 2021, U.S. liquefied petroleum gas waterborne exports were up by 10% year-over-year. In 2021, U.S. exports accounted for 46% of the global seaborne trade of liquefied petroleum gas. (Source: "Investor Presentation: February 2022," Dorian LPG Ltd, last accessed February 25, 2022.)
The U.S. will need to maintain that record pace to keep up with global demand.
About Dorian LPG Ltd
Dorian LPG is a liquefied petroleum gas shipping company that owns and operates very large gas carriers (VLGCs). The company currently owns and operates a fleet of 21 modern VLGCs, comprising 19 new, fuel-efficient, 84,000-cubic-meter (cbm) VLGCs and two 82,000-cbm VLGCs.
The VLGCs in Dorian LPG Ltd's fleet have an aggregate carrying capacity of approximately 1.8 million cbm and an average age of 7.8 years. The average global fleet age is 10.5 years.
The liquefied petroleum gas shipping market tends to be stronger in the spring and summer, in anticipation of increased consumption of propane and butane for heating during the winter months. Unpredictable weather can disrupt shipping schedules. As a result, the demand for Dorian LPG Ltd's vessels can be higher in the quarters ending June 30 and September 30, and relatively lower during the quarters ending December 31 and March 31.
$1 Dividend & $100-Million Stock Repurchase 
Increased global demand for liquefied petroleum gas has been helping improve Dorian LPG's financial results.
In the third quarter of fiscal 2022, ended December 31, 2021, the company's revenues were $68.6 million and the time charter equivalent (TCE) rate of its fleet was $33,508. The company's vessel operating expenses improved in the quarter to $9,423 per day. (Source: "Dorian LPG Ltd. Announces Third Quarter Fiscal Year 2022 Financial Results and $100 Million Stock Repurchase Authority," Dorian LPG Ltd, February 3, 2022.)
The company reported net income of $16.6 million, or $0.41 per share, for the third quarter of fiscal 2022. Its adjusted net income in the quarter was $13.5 million, or $0.41 per share.
In January, Dorian LPG Ltd declared a cash dividend of $1.00 per share, for a yield of 15.9%. That dividend is more than safe. The payout ratio is just 55.6%, which is well below the 90% threshold I like to see. This gives the company more than enough financial wiggle room to not just pay its high-yield dividend, but to potentially increase it.
In addition to returning $40.1 million to investors as dividends, the company announced a $100.0-million share repurchase plan.
John C. Hadjipateras, Dorian LPG Ltd's chairman, president, and CEO, commented, "Our solid results in the quarter have allowed us to return capital to shareholders with the payment of a dividend in January and we have approved a new authority to repurchase our shares. Our liquidity continues to be strong and our view of the market for 2022 is sanguine." (Source: Ibid.)
As of this writing, Dorian LPG stock is up by:
13% over the last month
10% year-to-date
25% over the last eight months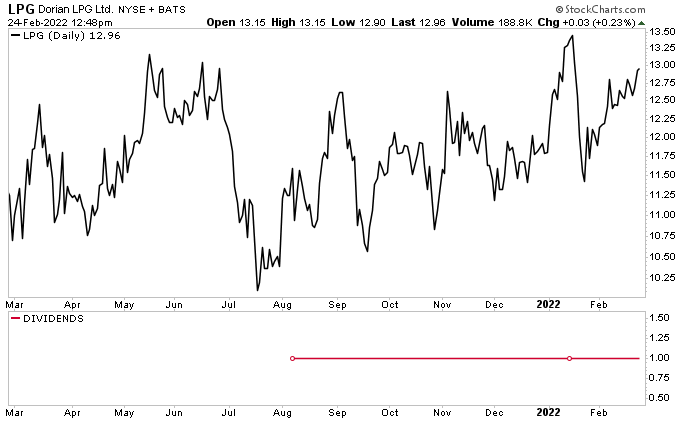 Chart courtesy of StockCharts.com
The next 12 months look encouraging for Dorian LPG Ltd, with analysts providing an average price target for LPG stock of $17.00 and a high estimate of $19.00, representing potential gains of 31% and 46%, respectively.
With Russia invading Ukraine, those estimates could get boosted in the near term. Europe gets roughly one-third of its natural gas from Russian pipelines, some of which run through Ukraine. This raises the specter of massive disruptions to the global energy market and higher demand for liquefied petroleum gas from the U.S.
The Lowdown on Dorian LPG Ltd
Dorian LPG Ltd is a leading liquefied petroleum gas shipping company with a huge massive fleet.
The demand for liquefied petroleum is expected to be strong for at least the next decade. This should allow Dorian LPG stock to continue to return value to shareholders in the form of frothy, high-yield dividends, share buybacks, and significant capital appreciation.