Dorian LPG Stock Pays a Massive 35.7% Dividend Yield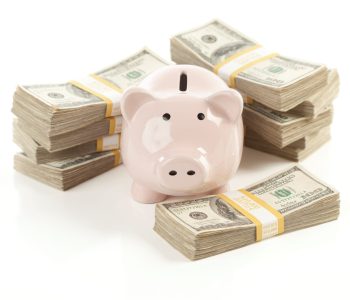 Why LPG Stock Is Worth Watching
Investing in ultra-high-yield dividend stocks is often about taking advantage of an ongoing opportunity—that is, investing in a bullish company that's making lots of money and returning much of that money to its shareholders. It's easy to find penny stocks with high-yield dividends because, chances are, the reason their yields are in nosebleed territory is that their share prices are tanking. It's a trap that sucks many income hogs into its vortex.
That's certainly not the case with Dorian LPG Ltd (NYSE:LPG), a liquefied petroleum gas shipping company. The company's revenues have been soaring, as has been its earnings and free cash flow. What does the company do with that cash? Instead of announcing share buybacks, Dorian LPG returns virtually all of its cash flow to shareholders through its frothy dividend program.
And thanks to high global demand for liquefied petroleum gas, the outlook for Dorian LPG stock's price and high-yield dividends is robust. This will not always be the case; as an energy-related stock, LPG stock fluctuates with liquefied petroleum gas prices.
Dorian LPG stock's dividend is classified as "irregular," which means the company doesn't have a shareholder return policy. That said, because of industry strength, it's safe to say the stock's irregular payouts will continue to satisfy even the greediest passive income investor.
Dorian LPG Ltd owns and operates 22 modern, very large gas carriers (VLGCs). The 22 VLGCs have an aggregate carrying capacity of approximately 1.8 million cubic meters and an average age (excluding two chartered-in VLGCs) of 7.5 years. The average age of the company's ships is 10.6 years. The company added one VLGC to its fleet during the second quarter of 2022, and it expects to add 11 more by the end of 2022. (Source: "Investor Presentation: August 2022," Dorian LPG Ltd, last accessed October 17, 2022.)
The company has many long-term contracts, including with some of the energy industry's biggest names, such as BP plc (NYSE:BP), Phillips 66 (NYSE:PSX), Chevron Corporation (NYSE:CVX), Exxon Mobil Corp (NYSE:XOM), and Shell PLC (NYSE:SHEL).
Liquefied Petroleum Gas Represents an Economic Opportunity
When it comes to energy, most people first think of oil, natural gas, and coal, but the fact is, liquefied petroleum gas is one of the most widely used energy sources. More than three billion people use liquefied petroleum gas, consuming more than 300 million tonnes worldwide. (Source: "About LPG," World LPG Association, last accessed October 17, 2022.)
Liquefied petroleum gas is actually a term used to describe two different natural gas liquids: propane and butane (or a mix of the two). Because the two liquids are chemically similar, they often get combined to provide the best energy yields and properties.
Propane has a lower boiling point, which makes it well suited for storing outdoors and using for central heating, commercial applications, cooking, and transportation. Butane, meanwhile, is mainly shipped in cylinders for portable use, including in mobile heaters for boats, caravans, and barbecues. Butane is also used as a propellant, refrigerant, and welding-torch fuel.
While liquefied petroleum gas prices are down from their 18-year highs (set in March) due to growing reserves, they're expected to rebound as the demand in Europe increases throughout the winter and global inventory levels dwindle.
Dorian LPG Ltd Reports Strong Fiscal 2023 Q1 Results & Declares $1 Dividend
For the first quarter of fiscal 2023 (ended June 30, 2022), Dorian LPG announced that its net pool revenues went up by 22% year-over-year to $76.8 million. (Source: "Dorian LPG Ltd. Declares Irregular Cash Dividend of $1.00 Per Share and Announces First Quarter Fiscal Year 2023 Financial Results," Dorian LPG Ltd, August 3, 2022.)
The company's first-quarter net income came in at $24.8 million, or $0.62 per diluted share, a 320% increase over the $5.9 million, or $0.14 per diluted share, recorded for the same period of fiscal 2022. Dorian LPG Ltd's adjusted net income in the first quarter of fiscal 2023 was $22.4 million, or $0.56 per diluted share. That's a 314% increase over the $5.4 million, or $0.13 per diluted share, recorded for the first quarter of fiscal 2022.
The time charter equivalent rate for the company's fleet in the first quarter of fiscal 2023 was $39,608, a 25.5% increase from $31,571 in the same period of the prior year. Meanwhile, the company's vessel operating expenses per day in the first quarter of fiscal 2023 decreased to $9,378 from $10,131 in the same period of the prior year.
When Dorian LPG Ltd reported its first-quarter results on August 3, it also declared an irregular cash dividend of $1.00 per share, returning more than $40.1 million of capital to its shareholders, for a yield of 38.5%.
Market-Crushing LPG Stock Up 52% in 2022
Nothing warms the cockles of the high-yielding heart like reliable dividends and market-crushing share prices. As of this writing, Dorian LPG stock is up by 52.5% year-to-date and 51.5% year-over-year. Over the same time frame, the S&P 500 is down by 25% and 17.8%, respectively.
Despite already making market-trouncing gains, the outlook for LPG stock remains bullish. Analysts have provided a 12-month share-price target for Dorian LPG Ltd in the range of $19.00 to $20.00, for gains in the range of approximately 33% to 38%.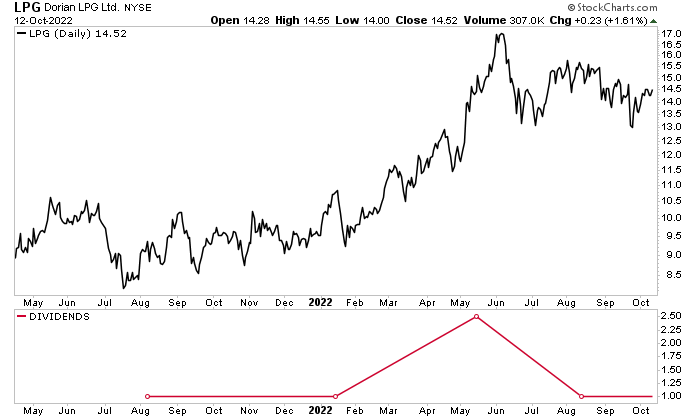 Chart courtesy of StockCharts.com
The Lowdown on Dorian LPG Stock
Dorian LPG Ltd is a great energy shipping stock with tremendous long-term growth potential. It has a large, modern fleet of ships, and it's taking full advantage of a prosperous chartering market. The company reported solid first-quarter results, which included high operating cash flow. This allowed the company's board to authorize another irregular dividend.
Going forward, the company's new $260.0-million debt financing facility provides it with additional flexibility for capital allocation.
All that makes Dorian LPG stock an attractive prospect for dividend investors