Campbell Soup Company (NYSE:CPB): Triple-Digit Gains from This 'Forever Asset'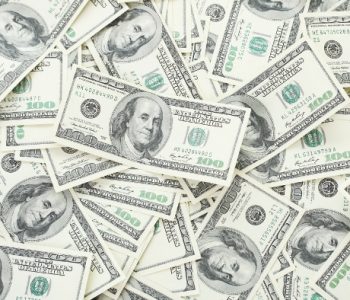 The 148-Year-Old Dividend Stock
Today we're highlighting some of our favorite dividend stocks around, forever assets.
We've looked at this strategy a lot over the years here at Income Investors. We've shown you how firms that sell the basics, like timber, chocolate, and trash bags, can be great investments. My approach is to buy them, stick the certificates in a drawer, and collect the dividends for decades.
Take, for instance, Campbell Soup Company (NYSE:CPB). In addition to its namesake soups, this consumer product giant owns dozens of popular brand names. And while it won't make you the talk of your next cocktail party, there's still plenty about this business to love.
First, it's timeless. People need to eat no matter how the economy is doing. Shoppers buy food regardless of whether interest rates rise or who is in office.
This quality has allowed Campbell to generate wealth over decades. It has survived the Great Depression, two World Wars, and countless stock market crashes. As an investor, that kind of dependability makes it easy to sleep at night.
Better still, the business cranks out profits. You can buy soup and baked goods from hundreds of different producers. However, you can only get "Chunky" soups, "Goldfish" crackers, and "V8" vegetable juice from one firm: Campbell. People tend to pay a premium for brand names, especially when it comes to the things they put in their mouth.
That brand strength results in oversized returns. Campbell earns $0.17 in annual profits on each dollar invested in the business. Few firms in the world can match that number and almost nobody can earn those kind of returns year after year.
For shareholders, this has resulted in a tidy income. Campbell has mailed out dividend checks to investors for decades. Today, the stock pays a quarterly distribution of $0.35 per share, which comes out to an annual yield of 2.5%.
Management returns an huge amount of cash through stock buybacks too. Since 2008, executives have reduced the number of outstanding shares by 20%. These buybacks increase our stake in a wonderful business, like a kind of tax-free dividend.
As you can see in the chart below, this three-part formula has paid off in triple-digit gains for shareholders.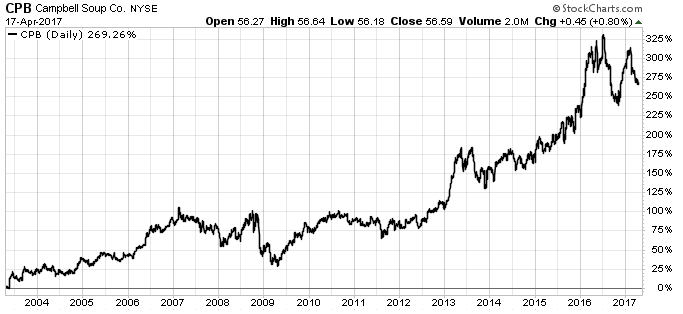 Source: StockCharts.com
Campbell will likely crank out profits for decades to come. I don't know what electric car maker will dominate the auto business five years from now. I'm pretty sure, though, that most people will still enjoy a hot bowl of soup.
Also Read:
3 Top Dividend Stocks to Own Forever
5 Dividend Stocks for the Next 100 Years
The Bottom Line on CPB Stock
Forever assets make lucrative investments. Selling the basics can be a winning strategy, even if it isn't flashy or exciting. Campbell Soup has been a top dividend stock for the last 148 years and I suspect it will be a top dividend stock for the next 148 years, too.
If I'm wrong, please feel free to correct me in 2165.