3 Top Dividend Stocks to Own Forever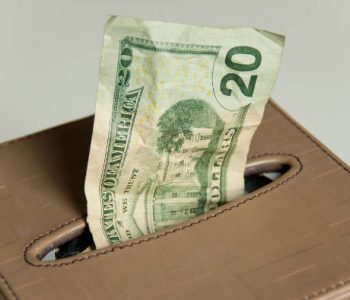 The Ultimate "Forever Assets"
The town of Lake Forest, Illinois knew Grace Groner as a friendly woman who volunteered at the local church and helped out her community. But she also had a hidden talent for picking top dividend stocks.
In 1931, Grace took a job at Abbott Laboratories (NYSE:ABT). A few years after starting, she bought three shares of her employer's stock for about $60.00 each. Grace never sold a share and reinvested any dividends paid out to owners.
When Grace passed away in 2010, she owned more than 100,000 shares of Abbott stock. In her estate, she left $7.0 million to the local university. Today, her small house serves as a residence for young women on scholarship. (Source: "Secret millionaire donates fortune to Lake Forest College," The Chicago Tribune, March 5, 2010.)
Of course, few of us will turn $180.00 into a seven-figure fortune. No doubt, she benefited from being in the right place at the right time. Her story, though, does illustrate how ordinary Americans build wealth in the stock market.
Every day, regular folks buy shares, stick the certificates in a drawer, and collect the dividends decade after decade. No, it won't make for many high-fives around the water cooler. However, buying and holding "forever assets" like Abbott Labs is how real people get rich investing.
We can't turn back the clock. Thankfully, there are dozens of stocks like Abbott that keep building wealth for their owners. To help get you started, I've put together a list of my three top forever assets to own for the next 100 years.
This Company Has Paid Dividends Since 1895
Warren Buffett once said, "If you aren't willing to own a stock for 10 years, don't even think of owning it for 10 minutes." But you don't have to stop at one decade. How does 20 or 50 years sound to you?
Colgate-Palmolive Company (NYSE:CL) could survive the next century. People, after all, always need to brush their teeth. Most folks generally don't want to try new things, especially when it comes to stuff they put in their mouth.
Better still, the company gushes cash flow. A tube of toothpaste costs only a few cents to make and you sell it for a buck. Colgate earns $0.60 in gross margins for every dollar generated in sales.
I can only think of a handful of other businesses in the world this profitable. As a result, the company has paid a dividend for over a century, mailing a check to shareholders each year since 1895. And unless bad breath comes into vogue, I expect that tradition to continue over the next century, too.
Earn a 37% Yield From This Legacy Stock
McDonald's Corporation (NYSE:MCD) shows what the power of compounding can do for a stock's yield.
Since 1992, the fast food giant has hiked its dividend 15% per year. If you had bought and held the stock through that period, the annual yield on your investment would be almost 37% today. (Source: "Dividends, Splits & Share Repurchases," McDonald's Corporation, last accessed March 18, 2017.)
What if we play out this investment for another 25 years? Assuming McDonald's can grow its dividend at a six-percent annual clip, our yield on cost will grow to 156% by 2042. That's the power of owning a forever asset over decades.
1 Top Dividend Stock for the Next 100 Years
Automatic Data Processing (NASDAQ:ADP) manages payrolls, files tax forms, and tracks retirement plans. This relieves corporate clients from thankless administrative tasks so they can focus on their business.
But while ADP might have the excitement of milk toast, the company earns oversized profits year after year. No one wants the hassle of switching from one payroll processor to another. Few firms will trust their HR data to an unproven upstart. All of this allows ADP to pass on small price hikes each year.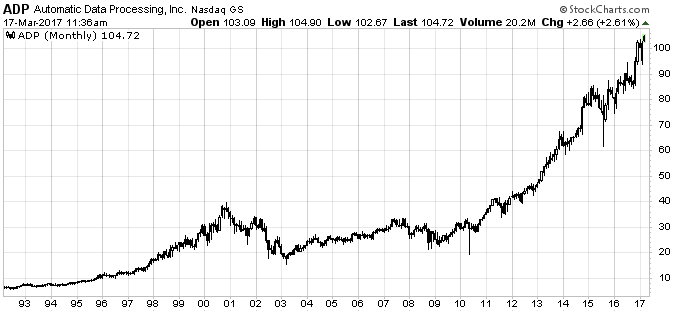 Source: StockCharts.com
Don't skip over ADP because of its two percent yield. The company has hiked its dividend for 41 straight years. Over time, these increases can turn a dividend trickle into a raging river of cash flow.
What Grace Groner Can Teach Us About Investing
The bottom line is that I've bought and sold hundreds of stocks in my 15-year investment career. I wish I figured out one thing quicker, though; as the story of Grace Groner shows, it's the few investments you own forever that generate real long-term wealth.