Billionaire Hedge Fund Manager Loading Up on AT&T Inc.; Here's Why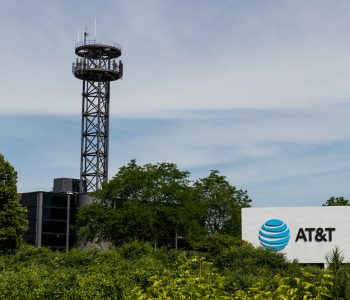 iStock.com/jetcityimage
Legendary Investor Just Bought $3.2 Billion of AT&T Inc.
If you want to make a lot of money in the stock market, it pays to follow this type of investor: shareholder activists.
Shareholder activists fight for changes at poorly managed companies. They can pressure firms on anything from dividend hikes and asset spin-offs to throwing out under-performing executives. And as we have pointed out in situations like Nestle SA (ADR) (OTCMKTS:NSRGY, SWX:NESN) and Whole Foods Market, Inc., that can serve as a catalyst for explosive returns.
In the crosshairs today: AT&T Inc. (NYSE:T). On September 9, billionaire Paul Singer disclosed a $3.2-billion stake in the company. And in an open letter to AT&T's board of directors, the hedge fund honcho chastised Chief Executive Officer Randall Stephenson's track record and he proposed options to unlock value. (Source: "A Letter to AT&T," Activating AT&T, September 9, 2019.)
Admittedly, Stephenson has made some smart calls. In 2007, just after taking on the top job, he bet big on wireless to fuel AT&T's growth. By signing an exclusivity deal with Apple Inc. (NASDAQ:AAPL), the company exploited the "iPhone" to gain market share.
Since then, however, Stephenson's investment calls have floundered. In 2015, well into Netflix Inc's (NASDAQ:NFLX) rise, AT&T spent $49.0 billion to acquire DirecTV. Then in 2016, the company launched an ambitious bid to buy Time Warner. Yet despite spending billions of dollars to expand its corporate empire, AT&T Inc. shareholders have seen little return on investment in the way of earnings growth.
Worse, these deals have saddled AT&T's balance sheet with a heavy debt load. As of June, the company's outstanding liabilities topped $186.0 billion—more than what fellow media rivals Comcast Corporation (NASDAQ:CMCSA) and Walt Disney Co (NYSE:DIS) owed combined. (Source: "AT&T Gets Rung Up by an Activist, Deservedly," BNN Bloomberg, September 9, 2019.)
With management paying so much money to creditors in interest, they have little left over to fund investments and dividend payments.
You can see the result of these bad decisions in the AT&T stock price. Since Stephenson took over, shares have produced a total return (dividends plus capital gains) of 80%. By comparison, wireless competitor Verizon Communications Inc. (NYSE:VZ) has gained around 150%. Shares of cable-and-entertainment rival Comcast have done even better, tripling in value over the same period.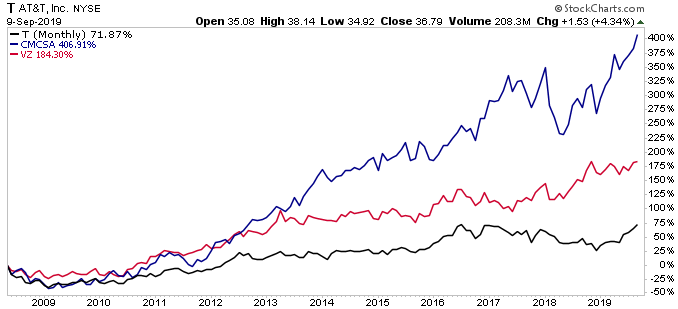 Chart courtesy of StockCharts.com
Singer offers a number of suggestions to right the business. They include eliminating wasteful spending, selling off the DirecTV division, and unloading the company's Mexican wireless business. Singer also wants management to focus their investment dollars on 5G, the next generation of wireless networks. It's here, Singer believes, that AT&T Inc. has a real shot at beating rivals like Verizon.
Analysts have good reason to pay attention. Singer has served as a tireless voice for shareholders over the past few decades, earning investors billions of dollars in the process.
Since 1994, his hedge fund has launched 149 campaigns at 139 companies. Singer's most recent accomplishments include winning bitter boardroom battles against Hyundai Motor Co (OTCMKTS:HYMTF, KRX:005380), Telecom Italia SpA (OTCMKTS:TIIAY, BIT:TIT) and Travelport Worldwide Limited. (Source: "How Elliott Management's Paul Singer Took Activist Investing Global," TheStreet, June 1, 2018.)
For AT&T shareholders, a shakeup could unlock a lot of value. Right now, T stock trades at nearly eight-times forward earnings before interest, taxes, depreciation, and amortization (EBITDA)—a wide discount to its industry peers.
If the company adopts a new strategy, Singer believes the company could close that valuation gap and trade above $60.00 by the end of 2021. That would represent a gain of more than 60% from today's current AT&T stock price.
Of course, investors have no guarantees these gains will play out. Singer still needs to persuade AT&T's board to adopt his suggestions. And even if that happens, a business overhaul may not necessarily result in a higher stock price.
That said, Singer has a long track record of shaking up tired businesses.
AT&T Inc. has muddled through under Stephenson's leadership for over a decade. Maybe this company needs a shareholder activist to shake things up.