Crown Castle International Corp: The New 5G Gold Rush is Just Getting Started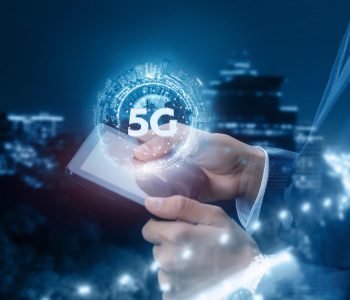 iStock.com/Natali_Mis
Crown Castle International Corp Delivers Double-Digit Returns
Last year, I told you about one of the biggest tech trends in America.
Soon, browsing speeds on your mobile devices will improve a hundredfold. Analysts believe this development could unleash a swath of new technologies, including tech relating to artificial intelligence, self-driving cars, and the "Internet of Things."
The industry calls this technology "5G," which stands for the fifth generation of mobile networks. Telecom giant Telefonaktiebolaget LM Ericsson (NASDAQ:ERIC) believes 5G could be a $620.0-billion market. But even if the market only ends up being half of Ericsson's prediction, this boom still represents an enormous opportunity for investors. (Source: "The 5G Business Potential," Telefonaktiebolaget LM Ericsson, last accessed June 4, 2019.)
I said last year that the best way to invest in the 5G trend is to buy companies selling "picks and shovels" to the 5G gold rush. The stocks I've recommended to Automated Income subscribers have already delivered huge gains. But don't worry: it's not too late to invest in the 5G boom.
New Highs for Crown Castle
Last month, shares of Crown Castle International Corp (NYSE:CCI) hit an all-time high. Basically, the company represents the "landlord" of the telecom industry. It owns hundreds of cell phone towers across the country, which it leases out to carriers for steady rental income.
The mobile boom presents a big opportunity for Crown Castle. To ensure enough bandwidth to serve their customers, U.S. carriers have spent $28.0 billion on average annually over the past decade to beef up their networks. Much of that investment has focused on added new cell phone towers, pushing up rental prices across the industry. And with the upcoming transition to 5G, analysts project that investment spending to accelerate further. (Source: "Crown Castle International Corp Investor Presentation – Slide 11," Crown Castle International Corp Investor Relations, May 2019.)
You can see the impact of this bonanza on the company's financial results. Since 2009, Crown Castle's rental income has grown more than threefold. During the first quarter, adjusted fund flows from operations, a common measure of profitability in the real estate business, increased nine percent year-over-year to $606.0 million. (Source: "First Quarter 2019 Earnings Conference Call," Crown Castle International Corp, April 18, 2019.)
Investors have cashed in, as you can see in the chart below. Over the past three years, Crown Castle International Corp has more than tripled the size of its distribution. During that same time frame, units have delivered a total return, including distributions, of 60%. (Source: "Investors," Crown Castle International Corp, last accessed June 4, 2019.)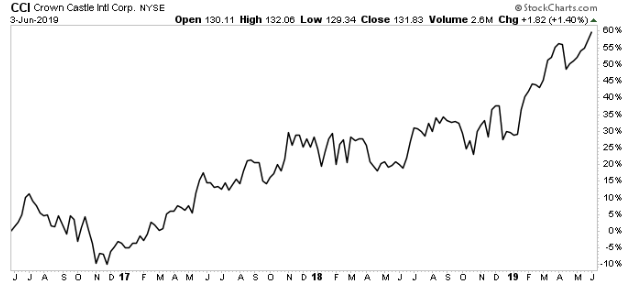 Chart courtesy of StockCharts.com
And this could just be the beginning. You see, Crown Castle just raised its earnings and sales guidance for 2019. Management now expects a 27% increase in rental income year over year. That's a huge figure, given most companies in the S&P 500 have trouble growing revenues by 10% or more during any given year. (Source: "Supplemental Information Package and Non-GAAP Reconciliations," Crown Castle International Corp, March 31, 2019.)
"We believe 5G has the potential to significantly increase the demand on communications networks by moving beyond simply connecting millions of people to potentially connecting billions of devices in the future," said Chief Executive Officer Jay Brown. "How exactly the investment in 5G ultimately transforms the way we live and work is yet to be determined. But if past is prologue, I suspect most are underestimating the magnitude of the change and the corresponding opportunity for us." (Source: "Crown Castle International's (CCI) CEO Jay Brown on Q1 2019 Results – Earnings Call Transcript," SeekingAlpha, April 18, 2019.)
The Bottom Line on CCI Stock
Crown Castle International Corp has positioned itself right in the middle of the 5G bonanza. I see units going much higher over the months and years ahead. Never mind the growing distribution, which has the potential to grow multifold over the next decade or so.
And CCI stock still trades at a relative bargain price. You can scoop up units for just 13 times operating cash flow. The S&P 500, by comparison, trades at over 18 times operating cash flow.
But I don't expect this opportunity to last forever. Last quarter, SEC filings revealed a number of hedge funds building positions in the partnership. Several Wall Street research firms recently upgraded units to "buy," practically begging their clients to get in soon.
I suggest taking a second look at this real estate investment trust today.