Earn 13%+ Yields From America's "Fourth Industrial Revolution"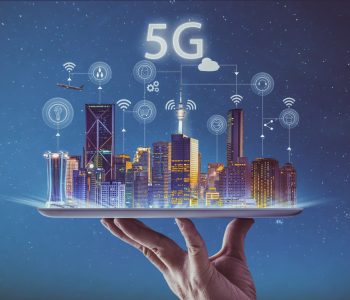 iStock.com/jamesteohart
These Stocks Pay Up to 13%
An event took place recently that added momentum to America's next tech boom, which could make investors a lot of money in the process.
Last month, Verizon Communications Inc. (NYSE:VZ) announced plans to accelerate its deployment of fifth generation ("5G") mobile technology across Boston. The investment, which totals $600.0 million, will catapult the city to the forefront of cellular communications. (Source: "Verizon and City of Boston expand plans to transform Boston into digital city of the future," Verizon Communications Inc., November 20, 2018.)
"It's going to be a game changer." said Verizon CEO Lowell McAdam. "This will usher in the fourth industrial revolution for this country." (Source: "Verizon CEO On The Future Of 5G," CNBC YouTube video, 14:30, May 15, 2018.)
For Verizon, the move is just the beginning. Over the next year, management wants to roll out the service to customers in Houston, Indianapolis, Los Angeles, and Sacramento. Rival AT&T Inc. (NYSE:T) has responded with plans to roll out its own mobile 5G in Waco, Dallas, and Atlanta.
For years, I've told readers about the big investment opportunity in 5G. The move isn't just an upgrade. It's akin to jumping from the stagecoach to the railroad.
Mobile phone users will see browsing speeds jump a hundredfold. To put it into context, this will cut the time it takes to download a two-hour movie from six minutes today to three-and-a-half seconds.
But 5G won't just improve capacity. Response times will also get faster.
Today's "4G" network responds to our commands in just under 50 milliseconds. The upgrade to 5G will drop that latency time down to one millisecond—faster than the blink of an eye.
The means a more seamless experience for smartphone users. The technology will also allow you to run video games and real-time apps on your mobile devices. It will be as if you had the world's most powerful computer processor in the palm of your hands.
5G promises to be a game changer for carriers, too. Higher capacity will allow telecom companies to connect 1,000 times more devices per square mile. That will permit the connection of all kinds of devices to the Internet, from trashcans and lampposts to stoplights and heavy machinery.
Those applications could lead to the creation of new "smart cities." More data provides all sort of opportunities to solve everyday problems. Municipalities could save billions of dollars on pollution management, traffic congestion, and wastewater management.
And the size of the opportunity here could be massive.
Right now, 4G technology generates about $6.0 trillion in revenue each year. 5G, however, could make that number look like small potatoes.
Analysts at IHS Markit Ltd (NASDAQ:INFO) project that 5G revenue could top more than $12.0 trillion annually. Moreover, the transition could add millions of jobs and create tens of trillions of dollars globally. (Source: "The 5G industry is worth $12 trillion, and China and the US are competing for leadership." jqknews, July 9, 2017.)
The rollout of 4G sparked a new wave of wealth creation. Businesses like Apple Inc. (NASDAQ:AAPL), Alphabet Inc (NASDAQ:GOOG), and Uber Technologies Inc exploited the technology to develop entirely new business models, making a fortune for their investors in the process.
We will likely see the same thing play out with 5G. Analysts believe this technology will allow for breakthroughs in things like virtual reality, driverless cars, and artificial intelligence. Venture capitalists are tripping over themselves to get in early on this "mobile gold rush," which could create new, massive income streams.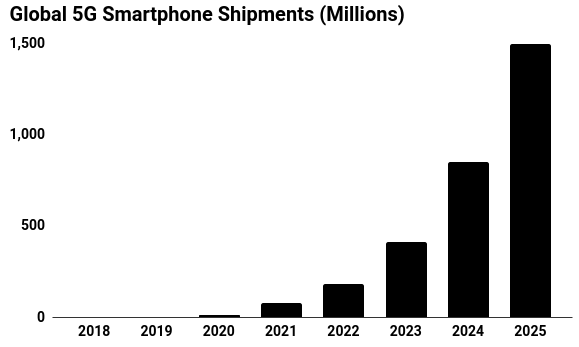 (Source: "Strategy Analytics: Global 5G Smartphone Shipments Will Reach 1.5 Billion in 2025," Intellasia, November 29, 2017.)

So how can you profit?
In a gold rush, you can make a lot of money selling picks and shovels to miners. You might not hit the big strike, but it's the safer, surer way to profit.
With this same idea in mind, I prefer to invest in businesses supplying products, tools, and services to a booming industry. These companies won't amount to the next Apple, but they produce far more reliable profits and often pay out steady dividends.
For instance:
Carriers: Communications carriers like Verizon, Sprint Corp (NYSE:S), and T-Mobile US Inc (NASDAQ:TMUS) amount to the "toll bridges" of the Internet. In exchange for getting us online, these firms collect ongoing fees. The rollout of 5G will trigger an explosion of data consumption, and when you own the only bridge to the Internet, that higher traffic translates into booming profits.
Cell Phone Towers: Companies like Uniti Group Inc (NASDAQ:UNIT), American Tower Corp (NYSE:AMT), and Crown Castle International Corp. (NYSE:CCI) own thousands of broadcast sites across the country. These firms lease out their facilities to carriers in exchange for steady rental income. As a result, some of these stocks pay out yields as high as 13%. With the rollout to 5G, carriers will need to spend billions of dollars to boost their mobile networks. That means more rental income for tower real estate investment trusts and bigger dividends for investors.
Equipment Makers: 5G devices will require a lot of specialized hardware: chips, antennas, sensors, etc. Component manufacturers like Broadcom Inc (NASDAQ:AVGO), Qualcomm, Inc. (NASDAQ:QCOM), and Skyworks Solutions Inc (NASDAQ:SWKS) already pay hefty dividend yields. Those payments will likely surge as orders for new equipment ramp up.
Booming sales have already allowed some of these firms to boost their distributions. Last week, Broadcom hiked its dividend by more than 50% thanks to higher chip revenues. American Tower lifted its distribution by 20% year-over-year while management reiterated their profit guidance for the upcoming year.
Those announcements represent just the first wave of dividend hikes. The rollout of 5G could amount to the biggest investment opportunity of the next decade. For those getting in early, even a modest dividend payout today could turn into a torrent of cash flow income.