BCE Stock: Cash Cow Dividend Stock Yielding 5%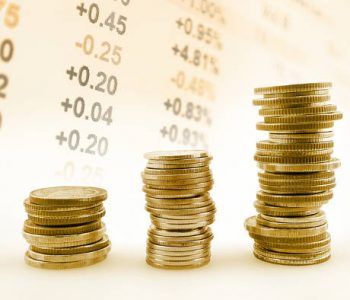 Top Dividend Stock Gushing Cash Flow
BCE Inc. (NYSE:BCE) stock is one of my favorite dividend stocks for 2017 and beyond.
At the moment, this stock yields nearly five percent. Most U.S. investors, though, don't even know this company exists.
I don't expect that situation to last, however. In our zero-percent-interest-rate world, a five-percent dividend is massive. Money will certainly be attracted to this top dividend stock soon, driving the price of BCE stock up (and its yield down).
Let me explain.
1 Top Dividend Stock for 2017
As regular readers know, I'm a big fan of a group of companies I like to call my "cash cows."
Cash cows are mature, stodgy businesses that produce big dividends. Given their entrenched market position, they tend to generate thick margins, robust profits, and oversized cash flows.
Like the name implies, these firms can be milked for dividends. Because their industries are no longer growing, there's little need for big new investments. That means they can pay out almost all of their earnings to shareholders.
As a result, these names pay out some of the biggest dividends around. Cash cows like Altria Group Inc (NYSE:MO) (cigarettes), Kinder Morgan Inc (NYSE:KMI) (pipelines), and The Western Union Company (NYSE:WU) (wire transfers) have produced great returns for shareholders. Some of these names pay out yields of five, seven, even nine percent.
Case in point today: BCE Inc.
BCE is a Canadian telecommunications giant, which makes it about as exciting as the color beige. The company own landlines, wireless, and Internet businesses across the country. And while it won't make you the talk of your next cocktail party, BCE stock meets my criteria of a cash cow for a number of reasons.
The first sign of a cash cow is wide margins. This is the amount of profit a business makes for every dollar generated in sales. We want businesses that make so much money, they don't know what to do with it.
BCE is a super-profitable business. Few of us will give up cable or Internet if our service provider raises prices by five bucks per month. Your cable and cell phone are one of the last bills you would skip if you were to lose your job. As a result, the company's cash flows tend to be stable, like bond coupons.
Better yet, BCE has little in the way of competition. Breaking into the business would require spending billions of dollars in new infrastructure. And once you're locked into a contract, switching to a competitor is also a big hassle.
As a result, BCE earns thick, robust profit margins. Last year, the company's gross margins were over 69%. Net profit margins were in the mid-teens. I can only think of a few businesses in the world that consistently generate numbers like this.
Second, cash cows are mature industries. A growing business requires expensive investments in factories, employees, and machinery. This leaves less money for lucrative dividends and share buybacks.
BCE's biggest investments are long behind it. Building a telecom network requires billions of dollars in investment for the likes of cables, wireless spectrums, and cell phone towers. But once you have one up and running, it isn't that expensive to maintain. Maintenance costs are a fraction of sales; the rest can be paid out to shareholders.
Also Read:
These 15 Top Dividend Stocks Have Paid Shareholders for 118 Years
Retirement: 5 Monthly Dividend Stocks Yielding Up to 9.5%
Growth petered out years ago. Younger firms have to plow their profits back into operations for expansion. Cash cows, like BCE in contrast, are already established. They don't need to make costly new investments to capture new markets.
Third, cash cows have a history of paying dividends. As business owners, we don't want to hear about managers expanding their corporate empires. Instead, we want executives who choose to return most of their profits back to shareholders through distributions and buybacks.
BCE is one of the oldest dividend payers in North America. The company has been mailing out checks to shareholders since 1882, over a decade before the radio was invented. Today, the stock pays out to an annual yield of 4.8%, with a long track record of capital gains to boot.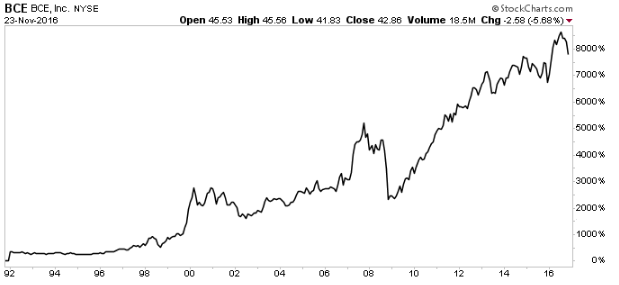 Better still, blue-chip dividend stocks like BCE are a simple way to build an annual cost of living increase into at least part of your retirement income. The company has raised its dividend by an average annual rate of 9.9% over the past five years. Inflation over that period averaged two percent annually.
Bottom Line on This Dividend Stock
"Cash cows" like BCE are wonderful investments. These stocks can often be milked for some of the highest yields around. And because they're often boring, stodgy businesses, most investors skip over them.
I suspect that the oversized payout on this dividend stock likely won't last, though. Remember, retirees worldwide are in a massive hunt for yield. The five-percent dividend on BCE stock is irresistible.
Canadian stocks are out of favor right now. But that will change, as it always does. And as investors start looking for higher yields internationally, they will bid up the price of cash cows like BCE.