3 Companies That Could Start to Pay Dividends in 2018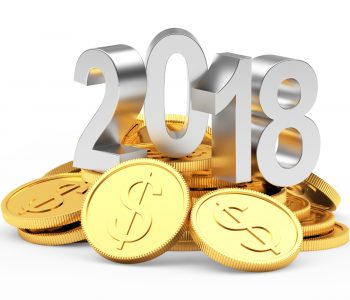 iStock.com/Ravitaliy
Companies About to Pay Dividends in 2018
History shows that the majority of investment returns are generated through dividends, so of course retail and institutional investors love owning dividend-paying stocks, both for the income and the compounding returns.
Dividends get passed on to shareholders from corporate earnings generated through daily operations. A company chooses how often the dividend is paid out (usually quarterly), how much it will be for, and even if there will be a dividend in the first place.
There are many more benefits to owning these stocks. Read on to find out what they are, including three stocks that could pay dividends for the first time in 2018.
Why Do Companies Pay Dividends?
1. Steady and Predictable Revenue
A company that pays a dividend is recognized as an income investment. And once that dividend is initiated, the company must make sure that the payment not only remains, but increases over time. This is why the business will go over its revenue and earnings before any dividend is paid.
In contrast, a company with very volatile earnings will not have a dividend policy. That's because if it were cut or eliminated, investors and traders would sell the shares, likely causing the stock to trade lower.
For some companies, it is difficult to predict future earnings. One example is those in real estate; there's no guarantee they'll have tenants, or that they'll pay their rent on time. That's why a lot of real estate businesses use long-term contracts that contain all the details regarding how much money should be received and when. This helps keep the payout steady.
2. Attract a Certain Type of Investor
A company that doesn't pay a dividend will attract investors looking for only capital gains, such as traders seeking a quick profit by trading high-volatility stocks. On the other hand, a business that pays a dividend is looking for investors who are in for the long haul. Long-term investors reduce the daily price movement in the stock because the return is based on both income and capital gain. As a result, business decisions such as an acquisition or reinvesting within the business factor in the dividend outlook.
Another reason for a dividend is because company insiders want to see a return and as little volatility of their personal capital as possible. These insiders are normally individuals who hold senior positions in the company and at times have access to non-public information. At times, they are part of senior management and are compensated through shares, and at other times, they are regular employees who purchase more shares using personal funds. Therefore, insiders tend to ensure that their personal investment objectives are in line with shareholders as well.
3. Financial Position
The last reason why a dividend exists is because of the strength of the balance sheet. For instance, if the business was growing by using debt, this could hurt the company over the long term because of the debt's payback and interest obligations. And unlike with a dividend, a company carrying debt cannot choose to skip a payment, meaning less money available to reward shareholders.
Which isn't to say that a dividend-paying company never holds debt. However, if it does, it will be a minimal amount, and there will usually be enough money to cover the dividend and debt alike. In other words, a company pays a dividend because it can afford to.
Benefits of Investing in a Dividend-Paying Stock 
1. Lower Commission Cost
For this example, let's take a look at two companies: one that doesn't pay a dividend (stock X) and one that does (stock Y).
Let's say you owned $10,000 in stock X, and in a year's time you required $1,000 for personal expenses. This would mean you'd have to sell $1,000 of stock X. This may not seem like a big deal at first, but there is a more efficient way to get the same result. You would also have to pay an additional commission fee when selling the shares.
Now say a $10,000 investment was owned in stock Y, which pays out a 10% dividend yield. This means you'd obtain $1,000 from your investment without having to sell any shares. No commission fee needs to be paid since you didn't sell anything.
Needless to say, stock Y is and will continue to be the better option.
2. Less Chance of Reckless Spending 
Sometimes, there is a lot of power given to a company's executive, as they get to make the decisions regarding where to allocate money. Unfortunately, this sometimes means that money is spent on business expenses beyond what is needed.
For instance, if a company's senior management travels a lot, it may purchase a top-of-the-line private jet under the company's name. Then, when they get to where they're going, they may choose to stay in five-star hotels. These are unnecessary expenses—not that a company has to be completely frugal, mind you—that could've gone towards shareholders.
A company that pays out a dividend must think twice before any reckless spending occurs, as it has to ensure that earnings are parked in a cash position and then given to shareholders on the dividend payment date. Once the dividend is paid, the remaining funds are expected to be used to grow the business, meaning a greater possibility of a higher dividend in the future.
3. Benefiting from Long-Term Growth 
The purpose of investing is to grow the capital. The longer spent in an investment, the higher rate of return you should receive. Dividend investors also benefit from participating in the upside of the company and getting paid as its grows. And as that company grows, so too is the dividend expected to.
A growing dividend means there is a higher personal dividend yield received, based on the average purchase price of the shares. The great thing about this investment strategy is that it doesn't matter what the shares are trading at; only the dividend itself and its yield matter.
Example of a Recent Dividend Payer
A company that recently paid its dividend is Gilead Sciences, Inc. (NASDAQ:GILD), which began doing so in 2015. At the time, the dividend was $0.43 per share quarterly for a dividend yield of 1.5%. Now, Gilead pays $0.52 per share annually, representing a growth rate of 20% over just two years.
As discussed above, Gilead's revenue has been steady and predictable and attracted long-term investors. A large cash balance is why the company could begin paying a dividend, and said balance is still there, meaning it remains easily affordable.
Also Read:
7 Companies Set to Pay a Special Dividend in 2017
List of Potential Stocks to Pay Dividend for the First Time in 2018
| | | |
| --- | --- | --- |
| Company Name  | Company Symbol | Name of Trading Exchange Shares are Available for Purchase |
| Alphabet Inc Class A  | GOOGL | NASDAQ |
| Edwards Lifesciences Corp | EW | NYSE |
| Paypal Holdings Inc | PYPL | NASDAQ |
1. Alphabet Inc Class A
Alphabet Inc (NASDAQ:GOOGL), still more commonly known as Google, has rewarded shareholders greatly in the past. At this time, the only method the company has used is share buybacks, which makes investors' shares worth more of the company.
There is currently north of $80.0 billion sitting on Alphabet's balance sheet. This number has been growing, up nearly 80% since 2012. I wouldn't be surprised if the cash balance continues to grow due to the company's financial discipline and strong cash flow.
2. Edwards Lifesciences Corp
Edwards LifeSciences Corp (NYSE:EW) is a manufacturer of heart value systems and repair products. The company operates across the world, including the U.S., Europe, and Japan.
There are two reasons why there could be a dividend announcement made in 2018. One is the low debt load on the balance sheet, evidenced by the company's debt-to-capital (D/C) ratio, which is less than 50%. This signals to the markets that the debt is being strategically used to grow the business. This ratio is also below the industry average, meaning Edwards LifeSciences has a superior balance sheet, as well as that paying a dividend is more than feasible.
Second is the large cash balance, representing a little more than five percent of the company's market cap. This proves that is it quite possible to pay a dividend while continuing to grow the company.
3. Paypal Holdings Inc.
One area that often rewards investors with a dividend is the financial sector. The business models of these companies are very simple to understand and most of the business costs are related to employee salaries, retail units, and software needs. And with the current shift to e-commerce, there are a lot of operating costs saved when a business has no or fewer retail locations.
Tor instance, take Paypal Holdings Inc. (NASDAQ:PYPL). Paypal is a technology and digital payment company which connects consumers and merchants through digital and mobile payments. Its revenue continues to grow, a trait common to high-quality dividend-paying companies. Its cash position serves as further reason for there to be a dividend in place.
The company has partnered with some large payment business, many of which which should report higher top-line revenue this year. This includes the likes of Samsung Electronics Co Ltd, Mastercard Inc (NYSE:MA), and Visa Inc (NYSE:V).