WM Stock: Waste Management, Inc. Hikes Dividend 9.4%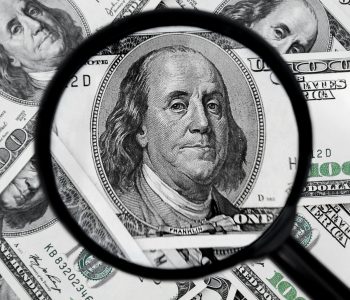 iStock.com/SergioProvilskyi
Waste Management Increases Dividend
Today, we turn our attention to one of the market's hidden gems…Waste Management, Inc. (NYSE:WM).
The average American produces 4.4 pounds of garbage each day. Nationwide, that adds up to some 254 million tons of trash produced each year or enough to fill around 22 million garbage trucks. (Source: "Municipal Solid Waste," Environmental Protection Agency, 2013.)
Houston-based Waste Management hauls away most of that rubbish. No, such a business doesn't get mentioned much at cocktail parties. But the company generated $13.6 billion in revenue last year, creating a lucrative income stream for shareholders.
Also Read:
Expect a Dividend Hike from Apple Stock in 2018
And judging by the latest Waste Management stock news, the company's future looks bright. In a press release Thursday, the board raised the quarterly dividend 9.4% to $0.465 per share. For investors, the move represents Waste Management's 15th consecutive dividend increase.
Executives also topped up Waste Management's share repurchase program. In the same announcement, the company pledged to buy back $1.3 billion of common shares. CEO Jim Fish credited the move to cost containment, improving core prices, and growing high margin volumes. (Source: "Waste Management Announces Plan to Increase Quarterly Dividend Payments and Authorization for up to $1.25 Billion in Share Repurchases," BusinessWire, December 14, 2017.)
As you can see in the chart below, Wall Street has taken notice. WM stock has enjoyed a quiet bull market since 2008, more than tripling in value. Shares have returned nearly 80% over the past three years alone.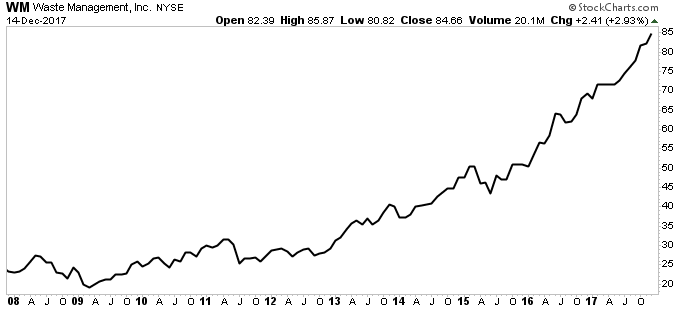 Chart courtesy of StockCharts.com
Waste Management might not get a lot of airtime on CNBC, but for shareholders, this hidden gem has made them a fortune.