Expect a Dividend Hike from Apple Stock (NASDAQ:AAPL) in 2018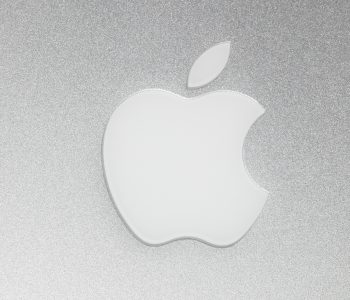 iStock.com/AngiePhotos
Apple Dividend 2018
Apple Inc. (NASDAQ:AAPL) stock's 1.6% dividend yield may not be something to brag about, but when it comes to the ability to raise one's payout, few companies can match the "iPhone" maker. Apple's dividend in 2017 had a double-digit increase. And based on what the company is doing now, investors looking forward to AAPL dividend increase in 2018 would not be disappointed.
Of course, it wasn't always sunshine and rainbows for the Cupertino, California-based tech giant. In fact, Apple's dividend machine had once been on a 17-year hiatus. The company halted its payout in 1995 and didn't resume it until 2012.
The thing is, though, today's Apple is very different from what it was in the 1990s. The company's No. 1 revenue contributor, the iPhone, didn't even exist back then.
In fact, the whole company has improved dramatically. In 1995, Apple was a computer company trying to expand its presence while struggling with deteriorating financials. Today, it is the biggest company in the world, commanding over $800.0 billion in market cap.
With an established, recurring business, Apple once again became a dividend-paying company. And this time, I think its dividend machine will be churning out more Apple dividend hikes for years to come.
Apple Stock: Rising Dividends Backed by a Growing Business
Today's Apple is mostly known for making the iPhone. And that impression would be correct, as the iPhone is responsible for generating 54.6% of the company's revenue in the most recent quarter. (Source: "Apple Inc. Q3 2017 Unaudited Summary Data," Apple Inc., last accessed August 18, 2017.)
Apple also has other businesses. For instance, its services segment, which includes "AppleCare," "Apple Pay," and digital content and services, among others, is generating more than $7.0 billion in revenue in a single quarter.
What Apple has is a technology ecosystem. With its hardware devices and proprietary operating system, the company has successfully turned this ecosystem into recurring revenues and profits.
In the third quarter of Apple's fiscal year 2017, the company generated $45.4 billion in revenue, representing a seven-percent increase year-over-year. The bottom line improved as well; Apple's earnings came in at $1.67 per share, up 17% from the year-ago period. (Source: "Apple Reports Third Quarter Results," Apple Inc., August 1, 2017.)
For a dividend-paying company, growing financials should translate to higher payouts. And that's exactly what Apple stock has been providing. Since Apple's dividend was reinstated in 2012, its quarterly payout has increased by 66.4%.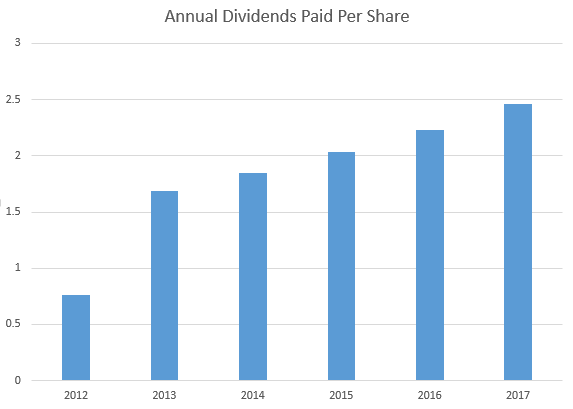 Source: "Dividend History," Apple Inc., last accessed August 18, 2017.
Here's the best part: despite all the dividend increases, Apple stock is not really paying out all that much. In the first nine months of its fiscal year 2017, the company generated $7.14 in earnings per share while declaring $1.77 in dividends per share. That translated to a payout ratio of less than 25%, leaving a huge margin for safety and the potential for future dividend increases.
And don't forget that dividends are paid in cash, which Apple has plenty of. Last time I checked, the company had $261.5 billion in cash on its balance sheet.
Apple stock has already raised its quarterly dividend rate by 10.5% earlier this year. With a growing business and sound financial profile, I wouldn't be surprised if the company announces another double-digit dividend increase in early 2018.
Also Read:
AAPL Stock: Is Apple Inc. a Great Dividend Play for 2017?
Apple's Dividend History and What to Expect in 2017