Williams Companies Inc: Billionaire T. Boone Pickens Is Buying This Dividend Stock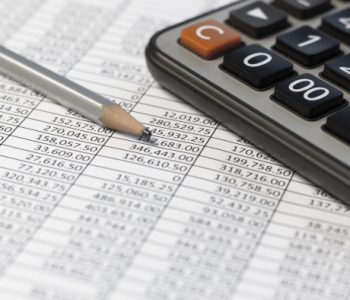 iStock.com/manoonpan phantong
WMB Stock Gushes Income
T. Boone Pickens is one of the smartest energy investors on the planet.
The oil tycoon started out as a wildcatter (a person who drills wildcat wells) in the 1950s. He built a sprawling business empire over the following years, with interests in solar, refineries, wind farms, and oil wells.
Today, Pickens runs one of the largest energy hedge funds in the country, BP Capital Fund Advisors, LLC.
Based on his exceptional track record, I always watch what stocks Pickens is buying. And right now, he's nibbling at some interesting dividend stocks.
In recent interviews, Pickens has expressed his bullishness on pipelines. That's probably why he holds stakes in Kinder Morgan Inc (NYSE:KMI), Enterprise Products Partners L.P. (NYSE:EPD), and Plains All American Pipeline, L.P. (NYSE:PAA). These businesses present great plays on the growing demand for energy infrastructure taking place across the country.
He also just picked up a new position: in November, Pickens disclosed a 515,000-share stake in Williams Companies Inc (NYSE:WMB). At the time of the filing, the company represented BP Capital's largest position. (Source: "Hedge Fund – BP Capital," Insider Monkey, last accessed November 27, 2018.)
Williams Companies Inc owns 13,600 miles of natural gas pipelines nationwide, in addition to dozens of terminals, storage facilities, and processing plants.
These operations work like the energy business's version of the "toll road" companies that I often discuss. Williams earns a small fee on each cubic foot of energy that passes through its network, regardless of where energy prices might swing.
And business, it seems, is booming. Thanks to the shale revolution, today's existing energy infrastructure now runs at full capacity. A shortage of space has allowed pipeline owners to jack up rates, resulting in soaring profits.
To take advantage of this opportunity, Williams Companies Inc plans to invest billions of dollars back into its business. This includes a combination of initiatives, such as cutting costs, building new routes, and expanding existing facilities. Analysts forecast that the company's earnings will grow by eight percent annually over the next five years.
For shareholders, this should create a tidy income stream. Right now, WMB stock pays a quarterly distribution of $0.34 per share, for an annual yield of nearly six percent.
I like that combination of growth and upfront yield; it's a no-brainer. Following the recent sell-off in the broader market, Pickens sees real value in shares.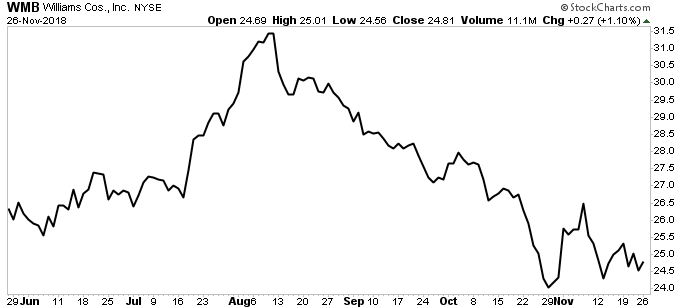 Chart courtesy of StockCharts.com
And Pickens isn't the only one excited. In recent quarters, billionaire Jim Simons has quietly built a stake in the company.
Other hedge fund managers, including Steve Cohen, Israel Englander, and David E. Shaw, also own large positions in Williams Companies Inc. (Source: "Williams Companies Inc (WMB) – Hedge Fund Holdings," Insider Monkey, last accessed November 27, 2018.)
What could all of these money mavens see in WMB stock? I'd say there's only one possibility: a lot more upside ahead.