Magellan Midstream Partners, L.P.: Earn a 6.3% Yield From This Oil "Toll Booth"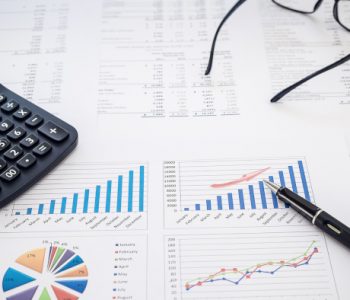 iStock.com/Iamstocker
One Top Stock for 2019
Today, we look at a leading energy "toll-booth operator."
U.S. oil production has surged over the past few years. That has required a vast build-out of energy infrastructure, like pipelines, storage tanks, and processing terminals.
Drillers have to use these facilities to get their product from wellhead to market. It works like a toll booth every oil producer must pass through. Meanwhile, the folks who run the toll booth get to collect the cash.
Today, we can see this model pay off with another energy leader: Magellan Midstream Partners, L.P. (NYSE:MMP). This $14.0-billion company owns 13,000 miles of pipelines nationwide, shipping oil, natural gas, diesel, and heating fuel. So whenever someone needs to move a barrel of crude, Magellan collects a commission.
Traffic on these energy toll roads has soared in recent years. U.S. oil production soared to a new record high in August of 11.346 million barrel per day, thanks in large part to new share drilling technology. The boom has overwhelmed existing pipeline infrastructure, resulting in barrels piling up outside of terminals.
To take advantage of this opportunity, Magellan has spent heavily to expand their business. Since 2008, management has invested $5.4 billion in organic growth projects and acquisitions. Executives expect to spend $2.5 billion through 2020 on construction projects currently underway,
That has translated into outstanding profitability for Magellan. With more barrels flowing through its network, the partnership has grossed more toll income. And thanks to a shortage of pipeline capacity, management can raise fees on existing routes.
You can see these dual trends showing up in the firm's recent financial reports. On Thursday, the company reported third-quarter earnings increased almost 200% compared to the same period last year. Management said reported profits of $594.5 million, or $2.60 per diluted unit, compared to $198.5 million, or $0.87 per unit, in the third quarter of 2017.
That trend of record profitability will likely continue. RBC Capital Markets upgraded Magellan units to "Outperform" in a recent report, citing strong earnings growth and wider profit margins. Over the next five years, Wall Street projects earnings to grow at a mid- to high-single clip.
For investors holding MMP stock, this has resulted in impressive returns.
Since Magellan went public in 2001, MMP stock has delivered a total return, including distributions, of 2,210%. That has crushed the 150% gain from the broader S&P 500 index over the same period.
Investors have also enjoyed a growing stream of income. Since 2001, Magellan has boosted its payout every single year. Today, shares of MMP stock pay a quarterly distribution of $0.98 per unit, which comes out to an annual yield of 6.4%.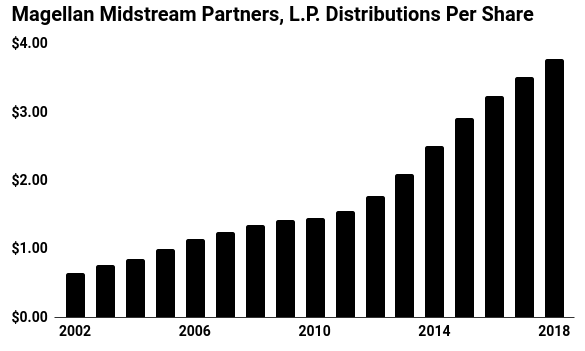 Source: "Cash Distributions," Magellan Midstream Partners, L.P., last accessed November 1, 2018.

Does Magellan offer the same excitement has a wildcat drilling company?
No, but shareholders don't seem to mind. The partnership earns steady fee income regardless of which oil explorer hits it big on the next strike.
That's the benefit of owning a "toll booth operator."