Where I'm Finding Dividend Yields Up to 24.9%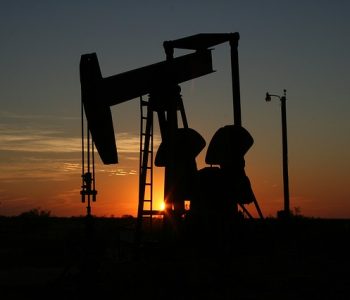 lalabell68/Pixabay
This Sector Pays Out 7%+ Yields
It's tough to find a decent yield nowadays.
We're at the tail end of a nine-year boom, and most of those gains have come from higher valuations, not necessarily real profits.
But you can't say that about every industry. The market has left some entire sectors behind through the recent bull market.
Wall Street has given up on this group. And for investors willing to do some digging, you can find solid income streams here. Some of these stocks pay out yields ranging from an impressive seven percent to as high as 12%.
Let me explain…
Commodities represent an incredible value today.
This group—which includes oil, farmland, mining, and materials—has posted terrible performances over the past few years. Commodities now trade at one of the largest discounts relative to equities in history.
For proof, take a look at the chart below. This graphic compares the performance of the Goldman Sachs Commodities Index to the S&P 500. A low reading on the chart means that commodities are cheap compared to U.S. stocks.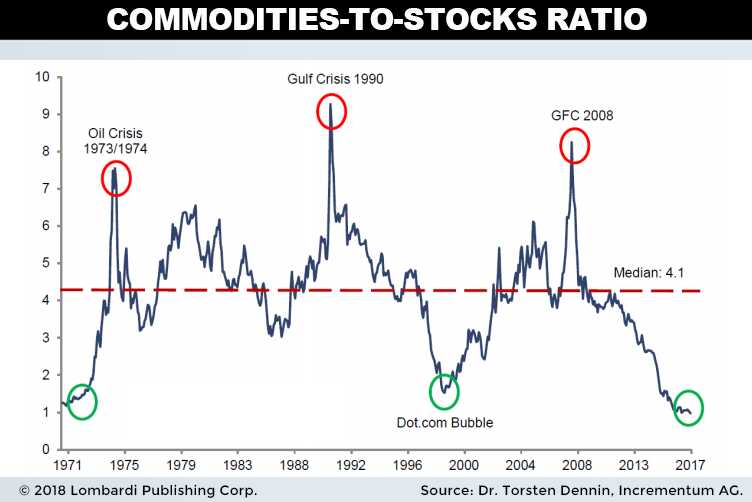 Commodities have only gotten this cheap relative to stocks twice over the past few decades. In both cases, commodities soared in the following years.
We saw this happen first in the early 1970s. Over the next few years, inflation surged and commodity prices skyrocketed. Financial assets like stocks and bonds plummeted in value.
Also Read:
Earn a 12.5% Yield From America's Next Commodity Boom
You saw the same thing happen again following the dotcom bubble. Investors abandoned hard assets for new-economy businesses. Over the next decade, equities underperformed and commodities crushed the broader market.
These cycles can create fortunes.
If you catch commodities at the wrong time, you'll lose your shirt. Catch one early, however, and you'll never need to hold down a nine-to-five job again.
During a boom, triple-digit gains aren't just possible, they're a standard operating procedure. Blue-chip businesses often double or triple in value, with even larger windfalls from smaller companies.
The reason, of course, comes down to sentiment. People always put the "new money" into whatever is "working," while selling out of whatever isn't, before avoiding it like in-laws. Wall Street usually extrapolates an industry's most recent result out forever, which results in dumping grade-A assets for pennies on the dollar.
In the meantime, commodity investors can lock in a big yield today.
Traders have dumped farmland to chase faster returns in cryptocurrencies and tech stocks. Many publicly traded landowners now sport a high single-digit yield.
Pipelines also represent a compelling value. These businesses move energy products from point A to point B, earning a small fee in the process. While such an operation has little exposure to commodity prices, traders have dumped these stocks all the same.
| | | |
| --- | --- | --- |
| Company | Industry | Yield |
| Farmland Partners Inc. | Farmland | 6.9% |
| Enviva Partners LP | Wood pellets | 9.1% |
| Buckeye Partners L.P. | Pipelines | 9.7% |
| Golar LNG Partners LP | LNG tankers | 11.0% |
| BP Prudhoe Bay Royalty Trust | Oil wells | 24.9% |
(Source: Google Finance.)
As longtime readers know, we love snooping around hated industries. Sectors move in and out of favor on Wall Street. And when a group is on the outs with analysts, investors can scoop up great assets at a fraction of their real value.
The same thing seems to be playing out in commodities. We can't predict the start of the next boom, but such pessimism tends to precede big rallies in the sector.
In the meantime, income investors can lock in some pretty impressive yields.