Washington Prime Group Inc: Can You Trust This 21% Yield?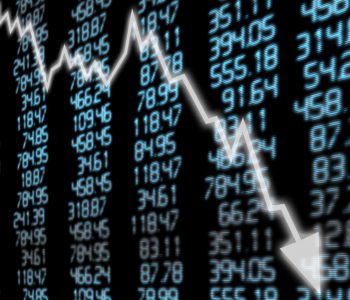 iStock.com/jmiks
Is Washington Prime Group Inc's Distribution Really Safe?
Business guru Dan Kennedy has a great line about managing employees: "If I think about you three days in a row and we aren't at least occasionally having sex, then you have to go."
The same applies to stocks. Some companies turn my face red, veins swelling so large they look like they might rupture and burst. At some point, you just need to throw in the towel because you don't need that kind of frustration in your life.
Case in point: Washington Prime Group Inc (NYSE:WPG). I recommended the mall landlord to readers back in early 2018, banking on the trust's high yield and turnaround potential. Since then, units have delivered a total return of about five percent if you include distributions.
Lately, however, Washington Prime has failed to meet even my modest expectations. I would never call the partnership a model employee, but I now have several reprimands on its file. So is it time to fire this stock?
A Dive Into the Financials
First off, management has promised a rebound by renovating existing properties and selling off underperforming businesses. That hasn't played out.
Last quarter, rental income unexpectedly dropped five percent year-over-year to $492.2 million. Adjusted fund flows from operations (AFFO) declined another eight percent in 2018, coming in at just $1.41 per unit.
At first glance, that might look okay. Washington Prime's AFFO more than covers the partnership's $1.00 per unit annual distribution. The figure, however, doesn't cover the cost to redevelop properties or capital expenditures. Once you factor in those expenses, the 21% dividend yield looks to be on shaky ground.
Worse, management have heavily levered its balance sheet.
At the end of the last quarter, total debt topped $2.0 billion. That represents $3.80 in liabilities for every dollar generated in earnings before interest, tax, depreciation, and amortization (EBITDA).
This ranks Washington Prime Group Inc near the top of real estate investment trusts by debt loads. Can't call this a smart move when your core business faces in an existential crisis. High interest payments also suck up cash flow, which could be otherwise paid out to investors or invested in renovations.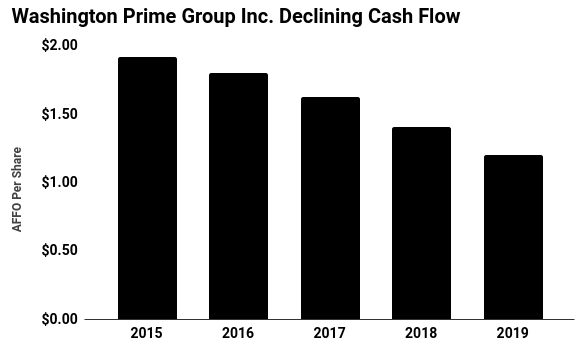 Source: "Financial Information," Washington Prime Group Inc, last accessed April 18, 2019.

The Bottom Line on WPG Stock
I think things will get worse before they get better.
Take a look at Washington Prime's top tenants: Signet Jewelers Ltd. (NYSE:SIG), L Brands Inc (NYSE:LB), Gap Inc (NYSE:GPS). All of these retailers have posted dreadful sales numbers in recent months and announced (or likely soon will) plans to shut down stores.
Even assuming a decent economy, investors have to brace for weaker cash flow. Yet a growing number of indicators suggest a recession could be just around the corner. If we see even a modest downturn, income investors will likely see their distributions dry up.
Time to give WPG stock a pink slip.