Deere & Company: Why Is DE Stock Soaring Today?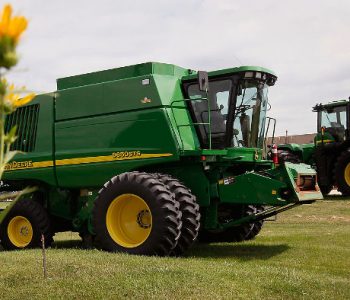 Photo: Scott Olson / Staff / Getty Images
DE Stock Up 11%
Deere & Company (NYSE:DE) stock is up 11%, due to a fourth-quarter earnings beat.
Deere reported earnings per share (EPS) of $0.90, which more than doubled analysts' estimate of $0.36. The total sales revenue came in at $5.65 billion in the quarter, which was higher than the estimate by analysts of $5.35 billion.
A major reason for the beat was because of cost control. Compared to the same quarter last year, overall costs came down by 2.6%. (Source: "Deere Reports Earnings of $285 millioon for Fourth Quarter and $1.524 Billion for Year," Deere & Company, November 23, 2016.)
With shares up 11% today and 34% year-to-date, is there more upside ahead?
Deere & Company is a company that provides equipment operations and financial services. The company has three segments: Agriculture and Turf, Construction and Forestry, and Financial Services.
DE stock is indirectly linked to pricing of commodities. Its customers are the ones that take the risk, whether it be mining for gold or drilling for oil.
With the pricing of oil trading at half of what it was about two years ago and gold trading at five-year lows, Deere & Company is a stock that must be looked at in the present and with the view of a contrarian investor.
Presently, the company is keeping costs under control. When sales do increase over time, management can still keep their eye on costs and increase operating margins. Also, Deere did close just over $5.0 billion in sales, which stands to help the financing side of the business.
For contrarian investors, commodity prices are trading off their multi-year highs. When the time does come where prices see an uptick, Deere will be one company that will see sales be generated hand over fist. The commodity uptick would affect the bottom line greatly, but in the meantime, DE stock is affecting the bottom line of its investors by sharing the current profits.
Even though the company is focused on cost-cutting, a dividend cut has not been part of that plan. Over the past three years, the dividend has been the same payment on a quarterly basis of $0.60. As things become more favorable for the commodity sector, I wouldn't be surprised to see dividend hikes. I am basing this on when there was a commodity boom and sales were soaring, a period which saw regular dividend hikes.