Wingstop Inc. Declares 7% Special Dividend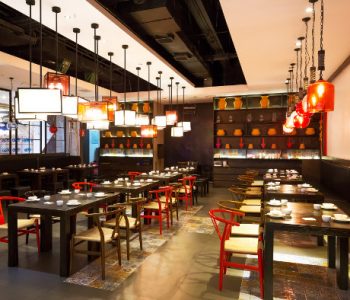 iStock.com/zhudifeng
Earn a 7% Special Dividend By February 14th
Today's post highlights my favorite place to earn big, upfront payouts: special dividends.
Periodically, companies will make large, one-time distributions to their shareholders. Executives usually declare these payout after a period of exceptionally strong earnings and serve as a way to include shareholders in the company's success.
More importantly, these special dividends tend to be much larger than normal dividends. Most investors tend to look at these payments. But in some cases, special dividends can represent yields as high as 12%, 17%, and even 25%.
Case in point: Wingstop Inc. (NASDAQ:WING). In a press release Tuesday, the restaurant chain company announced a special one-time payment. For shareholders, the news has a couple of exciting implications. (Source: Wingstop Inc. Completes Recapitalization; Declares $3.17 Per Share Special Dividend, Wingstop Investor Relations, Jan 30, 2017.)
Owners will enjoy a windfall, first off.
The board of directors approved a $3.17 per share payment. Based on Wingstop's market value at the time of the announcement, this special dividend represents about seven percent of the company's market value.
Also Read:
Costco Stock: Future Dividend Giant On the Rise
Management couldn't determine how the payment will be considered by tax authorities. Wingstop, however, expects about two-thirds of the distribution will be considered "return of capital." In other words, shareholders won't have to pay taxes on most of their payment.
Moreover, the special dividend will also have a big impact on the company's financial structure.
Based on Wingstop's press release, management intends to fund the payment by issuing debt. In conjunction with the announcement, the company also announced the closure of a new $250.0 million senior secured credit facility.
In the industry lingo, this maneuver is called a "dividend recapitalization." Higher debt loads, of course, reduce the credit quality of the company. But in a healthy, profitable business like Wingstop, this technique can potentially enhance returns.
Finally, management's decision represents a big vote of confidence in the business.
Customers have caught on to the Wingstop concept, which has resulted in explosive growth over the past few quarters. And as you can see in the chart below, Wall Street has taken notice.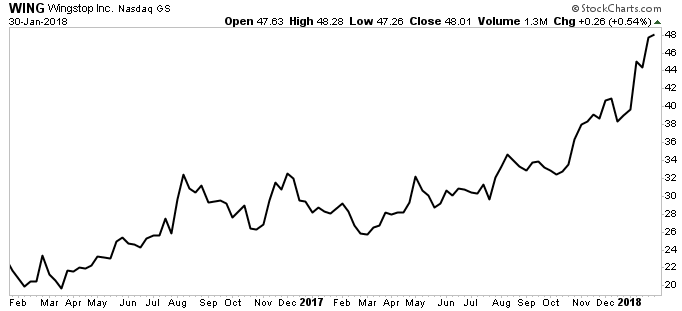 Source: StockCharts.com
We don't know whether those results will keep rolling in. Management, though, would not have this announcement if they weren't optimistic about the future.
For investors that want to collect this one-time payment, they have to act fast.
Wingstop will only pay a distribution to shareholders of record as of February 9th, 2018. After this, owners can expect to collect their special dividend on February 14th.
Of course, no one should buy a stock based on a one-time special dividend. However, Wingstop seems to have a lot working in its favor. And following this announcement, it's clear executives believes the company has a bright future.