Tyson Foods, Inc.: Why is TSN Stock Plunging Today?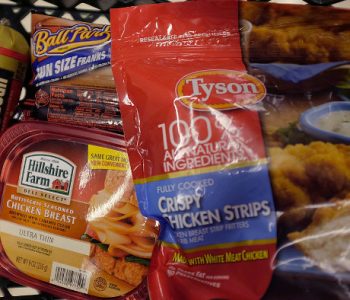 Photo: Photo: Joe Raedle / Staff / Getty Images
TSN Stock down 16%
Tyson Foods, Inc. (NYSE:TSN) stock is down 16%, reporting earnings that missed analysts' expectations.
Earnings came in at $0.96, which was below the consensus average of $1.24. A major reason for this was that sales revenue came in 13% less compared to a year earlier.
Tyson Foods in involved in the production of processed foods in four different segments: chicken, beef, pork, and prepared food. Sales revenue was down because of a decline in sales in the chicken segment, which accounts for 30% of total sales. (Source: "Tyson Stepping Up Investment For More Growth Following Fourth Consecutive Record Year," Tyson Foods, Inc.,  November 21, 2016.)
Another reason for the stock falling by double-digits is the change at the executive office. Donnie Smith, the current chief executive officer, will be resigning on December 31, 2016. His replacement will be Tom Hayes, who currently serves as Tyson Foods' president.
Looking forward, are there positive catalysis ahead for TSN stock?
As the new CEO, Hayes will be the one responsible for driving growth across the United States. He will also have access to advice from Smith, who will work as a consultant over the next few years as part of the transition.
Tyson Foods acquired Hillshire Brands in 2014, with the integration process still slowly taking place. Next year, the cost savings from the two companies' synergy is estimated to be around $675.0 million, which would be reflected in the bottom line.
According to the company outlook, the pricing across the four divisions should see growth in 2017. While the chicken division experienced negative sales this year, next year's outlook is growth of nine percent to 11%. (Source: Ibid.)
For income investors, the company has done a great job of returning cash back to its shareholders. The fourth-quarter dividend for 2016 increased by 50%, with expected annual increases of $0.10. (Source: Ibid.)