Torm Stock: Don't Ignore This Bullish, Undervalued 20.9%-Yielder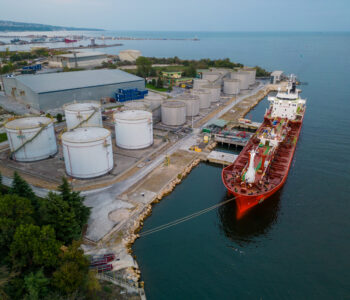 Why TRMD Stock Has Big Upside
For the most part, investing is about taking advantage of industry tailwinds. And right now, the marine shipping industry—in particular, the oil and natural gas midstream industry—is on fire.
That's fabulous news for Torm PLC (NASDAQ:TRMD), a product tanker company that operates as a midstream company.
For companies like Torm, oil and gas prices and tanker rates are important, and go hand in hand.
First, crude oil prices have been rallying on record-high demand, production cuts by the Organization of the Petroleum Exporting Countries Plus (OPEC+), and—more recently—geopolitical tensions in the Middle East.
In its October Short-Term Energy Outlook (STEO), the U.S. Energy Information Administration (EIA) forecast that the annual average Brent Crude oil spot price in 2024 will be $95.00 per barrel. That's up by $7.00 per barrel from the previous month's STEO forecast for 2024. (Source: "Short-Term Energy Outlook," U.S. Energy Information Administration, October 5, 2023.)
The EIA now projects that the spot price for Brent Crude will average $91.00 per barrel in the fourth quarter of 2023 and rise to $96.00 per barrel in the second quarter of 2024.
Second, the rates for supertankers have been robust lately. During the summer, the average spot rate for older very large crude carriers (VLCCs) climbed to $83,300 per day, while the rate for newer and more fuel-efficient VLCCs hit $91,000 per day. (Source: "Supertanker Stocks Ride the Waves of Volatile Oil Market," OilPrice.com, September 8, 2023.)
Omar Nokta, an analyst at Jefferies Financial Group Inc (NYSE:JEF), expects that supertanker rates will soften in the fourth quarter of this year, but that the tanker market will experience a "rate eruption" in 2024.
Frode Mørkedal, an analyst at Clarksons Securities, said, "When OPEC+ eventually resumes production, which is projected to happen in earnest by Q2 2024, the tanker market should experience an immediate uplift." (Source: Ibid.)
Niels Rasmussen, the chief shipping analyst at BIMCO (an organization for shipping companies), expects that crude oil tanker cargo volume will grow in the range of two to three percent in full-year 2023 and increase in the range of 3.5% to 4.5% in 2024.
Rising long-haul rates and a bullish outlook for crude oil prices are the perfect combination for Torm PLC.
About Torm PLC
Torm is a leading pure-play oil and chemical product tanker company. It has a fleet of about 87 vessels that are designed to move gasoline, naphtha, diesel, and jet fuel from refiners to their customers. (Source: "Our Fleet," Torm plc, last accessed October 23, 2023.)
Ranging in capacity from 45,000 to 115,000 deadweight tonnage (DWT), its fleet includes Medium Range, Long Range 1, and Long Range 2 vessels.
Medium Range ships, which are 183 meters (600 feet) long, can enter more ports and cover shorter routes than Long Range vessels. Medium Range tankers can also take coastal routes. A typical task for a Medium Range ship is to ship gasoline from Europe to the U.S. East Coast.
Long Range 1 vessels, which are 228 meters (748 feet) long, are typically used for the same routes as Long Range 2 tankers, but they can also be used for the routes and cargo types that are usually dominated by Medium Range ships. A typical task for a Long Range 1 vessel is to transport diesel or jet fuel from the Middle East to Europe.
Long Range 2 tankers, which are 245 meters (804 feet) long, are typically used for long trade routes, carrying naphtha from the Middle East to the Far East and diesel from the Eastern Hemisphere into the Atlantic.
Q2 Profits Jumped 72%
In August, Torm PLC reported strong second-quarter financial results, with its CEO, Jacob Meldgaard, saying, "During the second quarter of 2023, we experienced a continued healthy rate environment, contributing to a profit before tax of USD 184m compared to USD 107m in the same period last year." (Source: "Torm PLC Q2 2023 Results, Dividend Distribution, and Financial Outlook 2023," Torm PLC, August 17, 2023.)
That translates to a 71.96% year-over-year increase in profits before tax.
For the quarter, the company reported a 23% increase in its daily time charter equivalent (TCE) rate to $36,360, versus $29,622 in the same period last year. This resulted in second-quarter TCE earnings of $308.0 million, compared to $209.6 million in the same prior-year period.
Torm PLC's second-quarter earnings before interest, taxes, depreciation, and amortization (EBITDA) increased by 54% to $236.8 million, from $153.4 million in the second quarter of 2022.
In the first half of the year, Torm took delivery of all seven second-hand Long Range 1 vessels that it purchased in January and all three Medium Range vessels that it acquired in March. It also sold and delivered one Medium Range vessel to a new owner in May.
As of August 14, Torm PLC had covered 72% of the 2023 full-year earning days, at $36,531 per day. The coverage for the third quarter was 74%, at $30,534 per day. 
For full-year 2023, the company expects that its TCE earnings will be in the range of $1.05 to $1.18 billion, with EBITDA in the range of $775.0 to $900.0 million.
Torm Stock Returned $126.6 Million to Shareholders in Q2
Torm PLC's dividend level is tied to the company's profitability, so it fluctuates.
In the midst of the COVID-19 pandemic, the board suspended the payouts for two years. In September 2020, the company paid out $0.85 per share. In September 2022, it resumed its dividends with a payout of $0.58 per share. (Source: "Distribution," Torm PLC, last accessed October 23, 2023.)
TRMD stock's dividends have been much higher since then: $1.46 in December 2022, $2.59 in April 2023, and $1.46 in June 2023. Thanks to the company's high cash generation in the second quarter of 2023, it was able to return $126.6 million, or $1.50 per share, in dividends to its shareholders in September. That translated to a yield of 20.91%.
Torm stock's dividend is safe as long as the company is making money. The payout is based on its excess liquidity above a fixed threshold cash level. That level is based on a certain cash requirement per vessel and the number of owned and leased vessels in Torm PLC's fleet.
TRMD stock's dividend is also safe on a purely technical level: the company has a paltry payout ratio of 65.41%.
It's nice to see that Torm is able to reward its shareholders with massive dividends and a rising share price. A stock's yield moves inversely to the company's share price. More often than not, if a company has a massive dividend, it's accompanied by a lower share price. That isn't the case with Torm stock, which is up by 66% over the last 12 months. TRMD stock is also up by 11.5% since I last wrote about Torm PLC, in mid-June.
Those are market-thumping gains, and conservative Wall Street analysts think additional double-digit gains are on the horizon.
Of those providing a 12-month share-price forecast, their median estimate is $36.40 and their high estimate is $39.46. This points to potential gains from Torm stock of between roughly 28% and 38.5%. Even the low estimate of $33.60 suggests 18% upside potential.
Chart courtesy of StockCharts.com
The Lowdown on Torm PLC
Torm PLC is a pure-play oil and chemical product tanker company that's been reporting strong financial results, including big increases in its profits. Moreover, it recently resumed paying high-yield dividends.
Thanks to its growing shipping fleet, rising freight rates, and robust expected crude oil cargo volume growth, the outlook for TRMD stock's price and dividend is excellent.