22.7%-Yielding Torm Stock Has 60% Upside Potential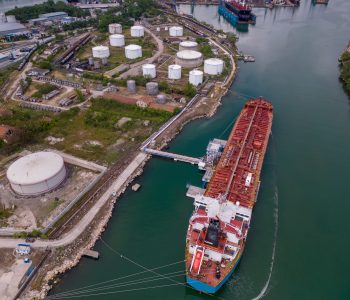 TRMD Stock Set to Benefit From Growing Fleet & Rising Shipping Prices
With long-haul shipping rates soaring, it's a great time to take a closer look at some once-beaten-down oil and gas shipping stocks. Everything is lining up for a sustained period of growth for companies like Torm PLC (NASDAQ:TRMD).
Torm is a leading pure-play product tanker company. It has a fleet of 88 vessels that are designed to be configured to move gasoline, naphtha, diesel, and jet fuel from refiners to their customers. (Source: "About," Torm PLC, last accessed June 23, 2023.)
Ranging in size from 45,000 to 115,000 deadweight tonnage (DWT), its ships include long-range 1 (LR1), long-range 2 (LR2), and medium-range (MR) vessels.
LR1 ships are long-range vessels with a carrying capacity between 72,000 and 75,000 DWT. They're designed to carry crude oil or refined products. A typical cargo would be jet fuel from the Middle East to Europe.
LR2 tankers are 245 meters (803 feet) long with a carrying capacity of 90,000 to 115,000 DWT. They're typically used on long trade routes, carrying naphtha from the Middle East to the Far East and diesel from the eastern hemisphere into the Atlantic.
While LR2s are similar in size to Aframax crude oil vessels, they have coated tanks, allowing them to carry "dirty" cargo, like crude oil or heavy fuel, or "clean" cargo, including gasoline and other petroleum products.
MR vessels are smaller, at 183 meters (600 feet) long. They have a carrying capacity of 45,000 to 55,000 DWT and can enter more ports and cover shorter and more coastal trade routes than LR vessels can. A typical cargo for MR vessels would be gasoline from Europe to the U.S.
During the first quarter, Torm PLC completed its acquisitions of seven second-hand LR1 vessels and three second-hand MR vessels. Subsequent to the end of the first quarter, Torm acquired three MR vessels.
A bigger fleet and higher freight rates bode well for Torm PLC for the remainder of 2023. As of May 5, the company's coverage for the second quarter of 2023 was 64%, at $40,086. By vessel type, that breaks down to the following:
LR1: 62%, at $45,578
LR2: 51%, at $59,197
MR: 68%, at $35,804
Net Income Soared in Q1 to $153.6 Million
Torm PLC reported superb first-quarter financial results.
The company's CEO, Jacob Meldgaard, said, "During the first quarter of 2023, we saw a sustained strong product tanker market with high volatility, primarily driven by changes in the global flow of refined oil products towards longer haul trades." (Source: "Interim Results for the First Quarter 2023," Torm PLC, May 11, 2023.)
This included the company's total freight rates across its fleet jumping to $41,717 per day, up by 149% from $16,743 per day in the first quarter of 2022.
Torm PLC's first-quarter revenue was up by 86% year-over-year, at $390.2 million. Its gross profit of $216.2 million in the quarter was a 191% improvement over its first-quarter 2021 gross profit of $74.1 million.
The company reported a first-quarter operating profit of $163.5 million, versus $22.6 million in the same period last year.
Its first-quarter net income was $153.6 million, or $1.87 per share, a significant increase over its first-quarter 2022 net income of $10.4 million, or $0.13 per share.
Torm Stock Paid Dividends of $1.46/Share in June
As you can see in the red line in the chart below, Torm PLC had the misfortune of launching its dividend just as COVID-19 wreaked havoc on the global economy, including the oil and gas industry. Things have turned around, though, and the company resumed its distribution in the autumn of 2022. It's been smooth sailing since then.
Torm PLC's distribution fluctuates, however, based on the company's excess liquidity above a fixed threshold cash level.
In May, management declared a dividend of $1.46 per share, for a current massive yield of 22.7%. In the previous quarter, it paid dividends of $2.59 per share. (Source: "Dividend History," Torm PLC, last accessed June 23, 2023.)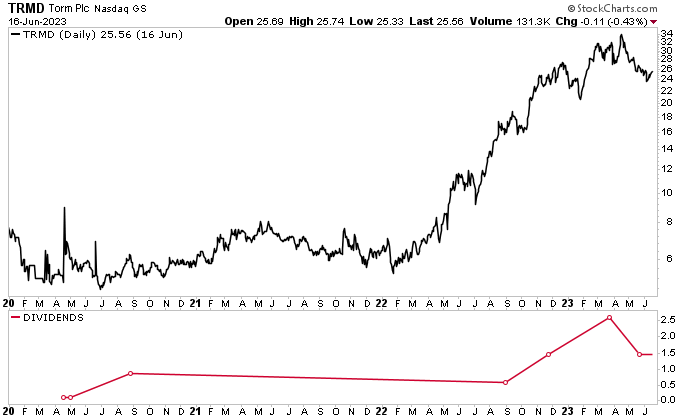 Chart courtesy of StockCharts.com
It's nice to see that Torm PLC's high dividend yield comes on the heels of a rising share price.
Yields move inversely to share price. More often than not, a company's massive dividend is accompanied by a lower share price. That isn't the case with TRMD stock, which is up by 139% over the last 12 months.
Those are big gains, and Wall Street analysts think industry tailwinds will send Torm stock significantly higher.
Of the analysts providing a 12-month share-price forecast, their median target is $37.20 and their high estimate is $40.89. This points to potential gains between 45% and 60%. Even their low target of $36.58 suggests that TRMD stock has 43% upside potential.
The Lowdown on Torm PLC
Torm PLC is a pure-play oil product tanker company that's been reporting wonderful financial results (including big increases in its profits) and recently resumed its high-yield dividends.
Thanks to the company's growing fleet of ships and rising freight prices, the outlook for Torm stock's price and dividend is excellent.