Farmland Partners Inc (NYSE:FPI): Top Dividend Stock Yields 5%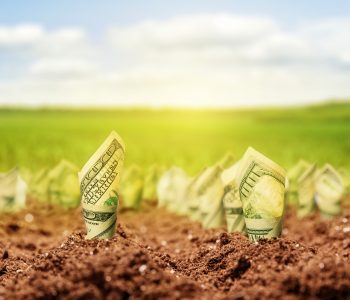 Collect Regular Income from Farmland
It's tough to find a top dividend stock nowadays. Let's face it; we live in a low-yield world. Regular investments just won't cut it.
Stocks pay out next to nothing. Ten-year Treasuries yield only two percent. After inflation, you're losing money.
However, one quiet sector still pays out decent yields–more than five percent. Wall Street hates this group because it's "not working" right now. But for investors with a little more patience, we can lock in a rock-solid income stream for years to come.
Let me explain.
Earn 5% From This Top Dividend Stock
Each week, I host a meeting with my team in the boardroom.
It's where we talk stocks and review new investment ideas. And, for the past few weeks, I have been pounding the table (sometimes literally) about buying farmland.
A lot of people got creamed in this industry. Prices soared between 2009 and 2014, but nobody owned it. And then property values plunged, right after everyone rushed to get in.
Now, by and large, nobody on Wall Street likes this business. Analysts will say it's "not working." Why own boring farmland when you can flip marijuana penny stocks for quick profits?
However, we see a familiar pattern. After a few years of poor returns, farmers don't invest enough in their businesses. That leads to lower supply, higher prices, and good profits for investors. Does any of this sound far-fetched to you?
The guys thought about buying land in California or the Midwest. But frankly, a bunch of city dudes looking at corn fields seemed like a dumb idea, even if our basic thesis holds true. I suggested we look into a manager with expertise in agriculture.
One trust I've followed for years is Farmland Partners Inc (NYSE:FPI). It manages over $300.0 million for big firms and retail investors like us. Management has deep roots in the agriculture business, all of whom have collectively invested billions of dollars in farmland over the past decade.
The firm isn't too tough to wrap your head around. This trust buys properties, collects rent from tenants, and passes on the income to owners. In total, the business owns some 154,000 acres across much of the United States. (Source: "Farmland Partners," Farmland Partners Inc, last accessed May 10, 2017.)
I want to make it clear that this isn't some speculative bet on higher food prices. You have lots of high-risk, high-reward ways to do that. All of those are too risky for my blood, which is why I stay away from them.
Here, management focuses on buying quality properties and generating income for owners. As a partner in this firm, you own some of the best-managed, best-financed farmland in the business. Higher food prices would boost the bottom line, but we don't need that to turn a profit.
Moreover, Farmland Partners units crank out dividends. Today, the trust pays a quarterly distribution of $0.13 per unit, which represents an annual yield of nearly five percent. This payout ebbs and flows with the cycle in food prices, but management has paid it out like clockwork over the years.
Of course, farmland is no sure thing. Food prices gyrate a lot from day to day. The media always seems to make a fuss–usually the wrong thing at the wrong time–about something in the commodities market. Don't confuse this investment with a government bond.
Also Read:
The 7 Top Monthly Dividend Stocks for 2017
In part, that's why you go with top-notch pros like Farmland Partners. And if you wait for the headlines to say you're right, you're almost sure to get it wrong.
The Income Stream You Likely Haven't Considered
Bottom line: it might look like yield has disappeared. For investors, that means we have to dig a little deeper for new income ideas. This usually requires shifting through what Wall Street's experts have ignored.
Farmland cranks out some of the best yields around. Analysts, though, have mostly given up on the industry. But, for investors with a time horizon beyond the next quarter, managed trusts like Farmland Partners can make lucrative investments.