Mastercard Stock Has Increased Its Payout 1,530%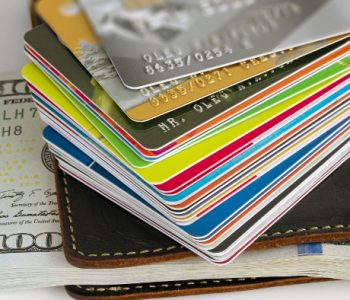 1 Top Dividend Stock for the Next 10 Years
Today's chart might not look like much, but it highlights one of the most important investing trends around today: tech utilities.
For almost 100 years, income investors have valued utilities for their reliable dividends. If you want to light your home or watch TV, you have to do business with the local power company. This monopoly position has translated into windfall profits and lucrative income for owners.
The digital world, however, has created a new group of essential services in the form of tech utilities. People expect basic software, reliable Internet connections, and accurate search engines. The tech titans behind these services have created a huge amount of wealth for investors, and now they're some of the best dividend stocks around.
Case in point: Mastercard Inc (NYSE:MA). As a leading payment provider, the firm takes a tiny cut on billions of transactions each day. And, like your water company or telephone provider, Mastercard is developing into a wonderful income name.
One reason is that credit cards have become an essential service. Sure, merchants can choose which payment processor to use. Businesses, though, don't really have a choice in whether to accept credit cards or not. And no matter what terminal you pick, your core infrastructure is still based on the "credit card" system run by the Mastercard and Visa Inc (NYSE:V) duopoly.
Mastercard has exploited this power. The company has strong-armed merchants into paying huge transaction charges. The industry collects $50.0 billion in fees each year, amounting to a kind of hidden tax on business owners. (Source: "Why You Should Be Worried About Credit Card Price-Fixing," AOL, Inc., August 27, 2012.)
For shareholders, this has translated into jaw-dropping returns. Mastercard earns $0.53 in operating profits on every dollar generated in sales. The company's return on assets tops 21%. Some businesses can earn returns like that once in a while, but few can crank out that kind of money decade after decade.
You would also have a tough time eating into this business. Each new cardholder makes Mastercard more attractive to merchants and each new merchant makes Mastercard more attractive to cardholders. As one of the biggest players in the game, this feedback loop means that the company will have a place in our wallets for a long time to come.
Better still, this cash cow keeps growing. When was the last time you paid for anything with cash? Everywhere you go–taxis, gas stations, grocery stores–people pay with cards. The shift to a cashless society in the United States has made shareholders a fortune.
This trend, however, is just getting started. A recent Mastercard report found that only one out of 10 transactions worldwide is done by card. And while the "War on Cash" gets my libertarian blood boiling, I have to admit it's good news for shareholders. (Source: "Measuring progress toward a cashless society," Mastercard Inc, last accessed April 24, 2017.)
Take emerging markets, for example–more specifically, China. The country is set to surpass the U.S. as the largest credit card market by 2020. Mastercard will be right there, collecting fees on every transaction for one of the biggest economies in the world. (Source: "China opens up to Visa and MasterCard," Finextra, June 9, 2016.) 
For shareholders, this means that the company still has a long growth runway. Analysts estimate that earnings will grow at a 15% annual clip over the next five years. This represents one of the biggest and most lucrative trends of the next decade.
Of course, some people still raise issues when I mention this stock.
First, credit card debt has surpassed $1.0 trillion. A recession, some fear, could trigger a wave of defaults. (Source: "U.S. Credit Card Debt Tops $1 Trillion for the First Time Since the Recession," Fortune, April 10, 2017.)
The stock's low yield can also tick some investors off. Today, Mastercard pays a quarterly dividend of just $0.22 per share. That comes out to a meager annual yield of 0.8%.
Also Read:
Warren Buffett's Tech Stock Picks for 2017
10 High-Dividend Bank Stocks to Invest Into in 2017
I'm not too worried about these problems, though. While the company makes credit cards, they don't actually have any credit risk. Banks are the ones on the hook for losses in the event of any defaults.
Mastercard is more like a pipeline than a lender, moving money from one place to another in exchange for a fee. A recession would certainly crimp profits. Revenues, though, depend on the total volume of transactions happening in the economy, which tends to stay rather stable from year to year.
And while Mastercard's yield won't knock your socks off, skipping over this name because of its tiny payout today would be a mistake. Since 2006, the company's dividend has risen nearly 25-fold. I expect the distribution to grow in line with earnings, turning this dividend trickle into a raging river of cash flow.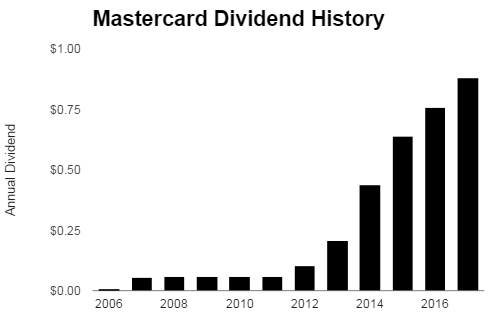 (Source: "Mastercard Incorporated (MA)," Yahoo! Finance, last accessed April 24, 2017.)
The low yield also doesn't account for share repurchases. Mastercard returns a huge amount of cash to investors by buying back its own stock. If you add together dividends and repurchases, the total shareholder yield on this name jumps to 3.5%.
Of course, I'm not the first person to discover this gem. Warren Buffett owns a $509.0-million position in this stock. Other hedge fund managers, including Steve Cohen, Jim Simons, and Jean-Marie Eveillard, have quietly built stakes in the company. (Source: "Mastercard Inc (MA) – Hedge Fund Holdings," Insider Monkey, last accessed April 24, 2017.)
What could these masters of the universe see in this stock? I'd say it means one thing: Mastercard is the ultimate utility of the 21st century.