This Stock Pays Billionaire T. Boone Pickens a 9.6% Yield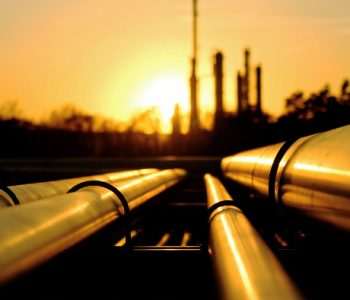 iStock.com/kodda
T. Boone Pickens Quietly Buying This Stock
If you follow the energy business, you know T. Boone Pickens.
In the 1960s, he struck it rich searching for oil. In more recent decades, Pickens has found as much success inside the boardroom, both as a corporate raider and now as a hedge fund manager.
Needless to say, the man swings a big stick in the industry. For this reason, I always watch where he's putting new cash to work. In recent quarters, the billionaire has increased his ownership in a number of pipeline partnerships.
One of his largest positions: a 125,000 share stake in Buckeye Partners, L.P. (NYSE:BPL). With a yield topping 9.6%, income hunters should take note. (Source: "Hedge Fund – BP Capital 13F Holdings," Insider Monkey, last accessed January 12, 2018.)
This Dividend Stock Yields 9.6%
Pipelines represent a "pick and shovel" play on the country's oil boom.
New "fracking" techniques have unlocked vast quantities of energy across the United States. Oil production has more than doubled over the past 10 years, according to numbers by the U.S. Energy Information Administration. (Source: "EIA cuts U.S. oil production forecast for 2018, remains at record," Reuters, July 11, 2017.)
Also Read:
This Is Why Warren Buffett Poured Millions Into Kinder Morgan, Inc.
This has sparked a "made in America" oil boom. Exports hit 1.3 million barrels a day last year, up from almost nothing previously. This number cuts $18.0 billion off of the country's annual trade deficit and leaves the U.S. less reliant on foreign energy sources. (Source: "US reports oil exports rise to record level, just as OPEC agrees to cut back," CNBC, June 1, 2017.)
Buckeye has found itself right smack in the middle of this activity.
Booming oil output has created a desperate need for everything from pipelines and storage tanks to terminals and processing plants. Without investment in new infrastructure, production could outstrip industry capacity by the end of the year.
Buckeye owns a number of pipelines and marine terminals. With more barrels flowing through its network, profits have surged. Executives plan to invest billions of dollars expanding their operations over the next few years, building more pipelines and increasing capacity at seaport terminals.
For unitholders, this should translate into a growing stream of income.
Over the past decade, Buckeye has hiked its payout by more than half. Today, the partnership pays a quarterly distribution of $1.26 per unit, which comes out to an annual yield of 9.6%.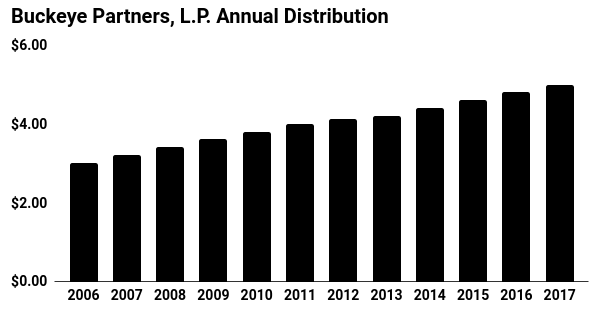 Chart courtesy of StockCharts.com
Expect more distribution hikes in the future.
Over the next few years, analysts estimate earnings will grow at a mid-single-digit clip. For owners, we can expect the distribution to increase more or less in line with profits.
One Top Stock For the Next 10 Years?
T. Boone Pickens isn't the only one buying shares. In recent quarters, billionaire Ken Griffin purchased a stake in the partnership. Other hedge fund managers—including Jim Simons, Russell Lucas, and Paul Marshall—initiated or increased their positions in Buckeye. (Source: "Buckeye Partners L.P. (BPL) – Hedge Fund Holdings," Insider Monkey, last accessed January 12, 2018.)
What do all of these smart money investors see in this partnership? I'd say it means one thing: they see a lot more upside ahead.