This Is Why Warren Buffett Poured Millions Into Kinder Morgan, Inc.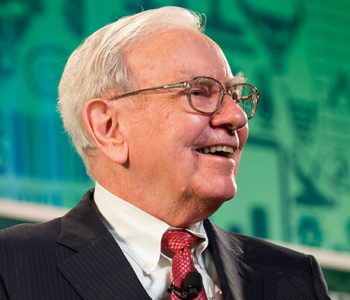 Warren Buffett Poured Millions Into This Stock
No doubt, Warren Buffett is one of the best investors on Earth.

Buffett took control of Berkshire Hathaway (NYSE: BRK.A) in 1964, transforming the small textile manufacturer into a sprawling business conglomerate. Over the following decades, his shrewd investments generated a 30% compounded annual return for investors.
Thanks to that type of performance, Warren Buffett has cemented his place as one of the greatest investors of all time. For this reason, I always watch what stocks Buffett is buying. And right now, he's making some interesting bets on the oil patch.
In recent quarters, Warren Buffett has expressed concerns about lofty valuations in the stock market. That's probably why he has been building up a massive war chest. Last quarter, Berkshire Hathaway revealed it was sitting on $72.7 billion in cash and short-term investments.

But Buffett has been nibbling at some stocks. The downturn in oil prices have hammered energy companies. And buried inside a recent 13-F SEC filing, Buffett disclosed a 26.5 million shares in energy giant Kinder Morgan Inc (NYSE:KMI). (Source: "Stock Holdings," Insider Monkey, last accessed October 11, 2016.)
Kinder Morgan is a classic Warren Buffett stock for a couple of reasons. First, the business is predictable. Buffett only buys businesses he can understand and make a reasonable estimate as to how much cash it will generate in the future. This is why most of his holdings are boring, dependable companies like McDonald's (NYSE:MCD), Wal-Mart Stores, Inc. (NYSE:WMT), and Johnson & Johnson (NYSE:JNJ).
Kinder Morgan's business is vital to our day-to-day lives. The partnership owns thousands of miles of pipelines across the country, shipping millions of barrels of oil each day. Through I doubt you've heard of them, our lives would be much different without the resources the company moves through their network.
In this sense, Kinder Morgan is like the toll road of the oil patch. The company owns thousands of miles of pipelines and hundreds of storage terminals across the country. While drillers try to hit it big on the next gush, Kinder Morgan is content to just collect a fee on each barrel that flows through its network.

For this reason, profits are relatively consistent. Sure, oil prices can swing all over the place. However, the actual volume of crude flowing through Kinder Morgan's pipes is remarkably steady from year to year.

The second sign of a classic Warren Buffett stock is a competitive advantage. Buffett often describes a profitable business as a castle that is constantly under attack. You want a big, wide moat around the company to protect it from rivals.

Kinder Morgan has a moat a mile wide filled with angry mutant sharks. No other method of transportation can compete once a pipeline is in place. The only way to bite into Kinder Morgan's business would be to build a competing line directly beside theirs.

This, however, would be difficult to pull off. Governments are hesitant to grant the right-of-way to build new pipelines (just look at the Keystone XL project). And even if you can get approval, the cost to lay a new line is often in the billions. As a result, incumbents like Kinder Morgan can crank out oversized profits decade after decade.
Finally, Warren Buffett prefers businesses that are capital efficient. This means you don't have to constantly pump money back into operations just to keep things going. This frees up money for managers, which can be used to pay shareholders lucrative dividends and buybacks.

Sure, new pipelines are expensive to build, but they're not that costly to keep running. Once operational, pipelines just sits there delivering oil to customers. Costs are only a tiny fraction of sales.
This means Kinder Morgan is a cash cow. Today, Kinder Morgan pays a quarterly dividend of $0.125 per share. This comes out to a respectable yield of 2.3%.
Of course, this name is not a sure thing.
The drop in oil prices has taken the wind out of Kinder Morgan stock. Previously, investors valued pipeline companies as growth stocks. Growing shale production created a huge demand for new energy infrastructure, and boring midstream companies became the toast of Wall Street.
Investors are adjusting to a new reality. A sustained drop in oil prices could crimp production. That would eventually show up in the financial results of energy pipeline companies like Kinder Morgan.
I'm not too worried about these risks, though. Pipeline stocks have been hammered following the drop in energy prices, likely pricing in the worst case scenario for the industry. Investors are being well-compensated for the risks. No doubt, this is why Buffett started eyeing this stock in the first place.
Indeed, Kinder Morgan could bounce back from the current downturn even stronger than before. The recent dividend cut has left the company less reliant on capital markets while freeing up cash flow to grow its business. If there's any rebound in the sector, this stock could take off like a rocket.
Smart Money Following Warren Buffett's Lead
Warren Buffett likes Kinder Morgan, but he's not the only one.

Last quarter, billionaire oilman T. Boone Pickens upped his position in the stock. Other well known investors, including Jim Simons, Steve Cohen, and Ken Griffin, have initiated or increased their positions in the company last quarter.

Why are all of these Wall Street titans eyeing pipeline stocks like Kinder Morgan? I'd say it could mean only one thing: that they see a lot of upside ahead.