Gaming and Leisure Properties: This Real Estate Company Now Offers a Dividend Yield of 6.83%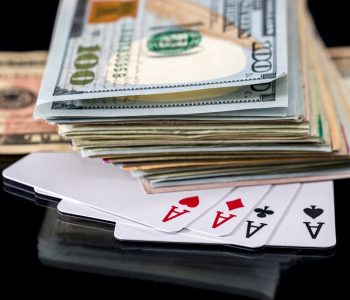 Earn a Solid Dividend Yield of 6.83%
Gaming and Leisure Properties, Inc. (NASDAQ:GLPI) is a part of the real estate segment of the market. The company is focused on acquiring, financing, and owning real estate on behalf of casino and gaming operators. The properties are all located in the U.S., including Baton Rouge and Las Vegas.
Gaming and Leisure Properties became a public company in 2013, and since then it has been rewarding its investors with a dividend. Currently, GLPI stock is yielding a high 6.83%, with the dividend growing as time passes, which only adds more to investors' bottom lines.
I decided to look further into GLPI stock because the company appears shareholder-friendly. Here are the benefits of owning GLPI stock in your investment portfolio.
Get Paid for Your Time
GLPI stock pays a dividend to shareholders on a quarterly basis every March, June, September, and December. The dividend is reviewed every February and since 2013 has seen an increase of approximately 20%.
Even though Gaming and Leisure Properties has a short history of being a public company, it has already paid out a special dividend twice using surplus cash. A separate payment from the quarterly dividend, special dividends are not factored into the 6.83% high dividend yield. And since the regular quarterly dividend can continue to see more growth, there is always the possibility of another special dividend.
GLPI: Unique Business Strategy
The properties leased out to clients use a triple-net lease agreement. This type of arrangement requires the tenant to pay additional fees on top of the rental cost. The tenant would be responsible for paying the net real estate taxes, net building insurance, and net common area maintenance.
Having a net-triple lease means that Gaming and Leisure Properties charges the tenant a lower rental fee. And while that may seem like a negative, that fact is it lowers the risk for both the business and investors. For investors, it means long-term predictable cash flow with the possibility of capital appreciation of the properties' value. They also needn't worry about unexpected maintenance costs.
Also, the lease contracts are long-term, with a higher rent potentially charged upon renewal. This makes dividend hikes and special dividends more likely.
Earnings Outlook
Below is a table of the trend of earnings in the past few years and their future outlook.
| | | |
| --- | --- | --- |
| Annual EPS | Year | Type of Earnings |
| $1.08 | 2015 | Actual |
| $1.60 | 2016 | Actual |
| $1.81 | 2017 | Estimated |
| $1.85 | 2018 | Estimated |
From 2015 to 2016, there was growth of about 48% in earnings per share (EPS), an upward trend that has continued. In fact, EPS was higher than estimates three of the last four quarters, while that remaining quarter was in-line with predictions.
This trend could continue because of the company's lower over operation costs. For one, since Gaming and Leisure Properties is a real estate company, there is debt on the balance sheet, and with rates at historic low levels, refinancing is a great way to increase earnings. This would also improve business margins; once costs are paid for, more is reported on the bottom line. And besides interest expenses, administrative costs, wages, and legal fees could also decrease.
Fundamental Overview
Three ratios are important to Gaming and Leisure Properties fundamentals: the price-to-earnings (P/E) ratio, the forward price-to earnings ratio, and the interest coverage ratio.
The P/E ratio for GLPI stock, calculated by taking the current trading price and dividing it by the annual earnings of the company is 21.1 times; for each dollar of earnings, $21.10 would be paid. The lower the ratio, the better, and this ratio is much cheaper the the industry average of 34.8 times. Normally a company trades at a cheaper valuation because there are operational risks or no growth ahead, but in the case of GLPI stock, this does not seem to be the case.
The company's forward P/E ratio–calculated the same way as the normal P/E ratio, but using future annual earnings instead–is 20.1 times, trading at a 10% discount when compared to its historic average. That means not only that GLPI stock is trading cheap when compared to its peers, but cheap compared to itself as well.
Also Read:
The Top 10 High-Dividend Stocks with Growing Payouts
7 Dividend Stocks to Invest into in 2017
Interest coverage is a financial metric that not all companies use, but since GLPI stock is a real estate stock, it is wise to use since debt is part of the business model. The interest coverage ratio provides information about how well the earnings can cover the interest cost. This is quite important because the company has an obligation to pay the interest on the debt, whereas paying a dividend is a choice.
The current interest coverage ratio for GLPI stock is 2.6 times, or $2.60 earned for every dollar of interest obligation. This give the company plenty of flexibility for paying a steady and growing dividend.
Bottom Line On GLPI Stock
GLPI stock is a great stock that has a high dividend yield that can increase further, provided investors are patient.
Now could be the right time to pick up shares of GLPI stock since they are trading at a discount compared to the company's peer group and its own historic average. History does show that owning a stock with a cheap valuation and growth provides market-beating returns over the long term.