TCP Stock: High Dividend Growth Stock with 6.8% Yield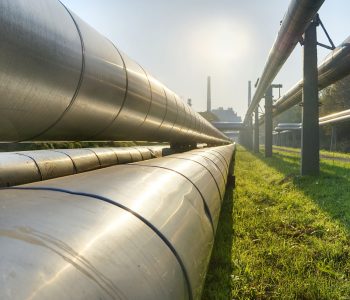 TCP Offers a High Dividend Yield of 6.87%
One way to increase your income without chasing the highest dividend is dividend growth stocks. These are companies that have a track record of increasing their dividend on a continuous basis.
The dividend yield is calculated by dividing the annual dividend per share by the price of the stock. Further, with a dividend growth stock, the annual dividend is divided by the average purchase price. Therefore, when the dividend grows, the yield increases as well.
A company increases its dividend because it is able to afford a higher dividend payout and/or because management wants the shares to be held by long-term investors who are willing to wait for the dual return of income and capital growth. This creates less volatility in the overall stock price and preserves the company's capital.
One company that meets this investing criteria is TC Pipelines, LP (NYSE:TCP). Here's what you need to know about TCP stock.
Business Overview
TC Pipelines is structured as a master limited partnership. The business acquires, owns, and helps manage energy infrastructure assets throughout North America.
The company has a total of eight pipelines that it has full or partial equity ownership in. This diversifies the business, as it does not rely on a single pipeline or geographic location. Also, the pipelines the company only part-owns are done so via partnerships with other pipeline operators, which lowers the overall risk of the assets.
Eighty-eight percent of TC Pipelines' revenue comes from long-term contracts, providing stability. There is also a low amount of execution risk within the business, since only 12% of the revenue source is variable. (Source:  "Essential Infrastructure Positioned for Growth," TC Pipelines, LP, last accessed June 30 2017.)
Dividend Growth
TCP has a long history of paying a growing dividend. The dividend has been in place since 1999, with the growth beginning the following year and happening every year since. The current dividend growth streak is 17 years. As a result, the dividend has more than doubled since its inception. Below is an illustration of the dividend trend over this period.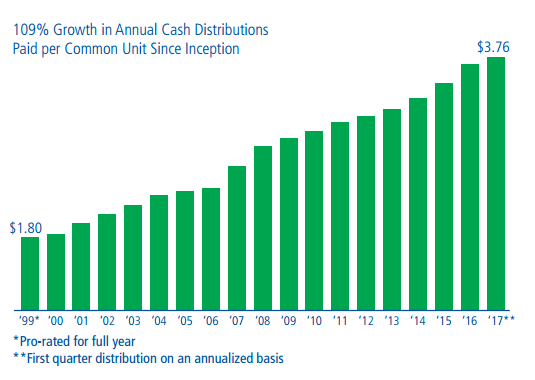 (Source: Ibid.)
The past is a great indicator of the future, since actions speak louder than words. For instance, take the company's margins, which are strong and protected from inflation. When costs start creeping up, then the company looks to its clients to pay more–something built into the contracts.
Management is not simply letting the business run itself, attempting to grow TC Pipelines' asset base. In June, the company announced a 49.3% acquisition of Iroquois Gas Transmission System, LP, as well as obtained the remaining 11.8% interest of Portland Natural Gas Transmission System. (Source: "TC Pipelines, LP Completes Acquisition of Interests in Iroquois and PNGTS," TC Pipelines, LP, June 1, 2017.)
Also Read:
The Top 10 High-Dividend Stocks with Growing Payouts
5 High-Dividend-Yielding Stocks to Consider in 2017
Preservation of Capital
TCP stock offers a lower-risk opportunity than the overall markets, since its daily price movement is lower than what the markets tend to see. For instance, when the markets see a fall of two percent, TCP sees an average drop of 1.62%. This may not seem like a big deal at first, but, as more time passes, TCP stock would hold greater value than the markets.
TCP stock's price-to-earnings (P/E) ratio also compliments it. When a P/E ratio is lower than its peers, that is evidence that it is trading at a cheaper valuation. The ratio is also used to determine how much of a multiple would be paid for a company's earnings; the lower, the better. TCP stock has a P/E ratio of 17.6 times, compared to 53.6 times for the overall market.
A cheaper valuation means there is less downside for the stock compared to higher-valuation stocks. Investing in a stock that has a lower P/E ratio also means that a contrarian view is being taken against other investors and the market. Further, a higher rate of return could be generated since you're not owning the same securities as other investors.
TC Pipelines is also better run than its counterparts in the pipeline industry. This is evidenced by the company's operating and profit margins. Both of these margins determine what is left over from the revenue after costs are accounted for. In this case, TCP stock's operating margin is 54%, while the industry average is 10%.
Final Thoughts About TCP stock
TCP is a great example of a high-dividend-yielding investment that is being ignored. Despite that, its cheap valuation means that now could be the time to consider owning TCP stock. The current dividend yield offered on TCP stock is 6.87%.
As an added bonus, profits are being shared via a dividend. Also, by growing the business through acquisitions, the overall size of the company should become larger. This would be gradually reflected in the share price.