TC Pipelines, LP: A 7.6% Yield That's Going Higher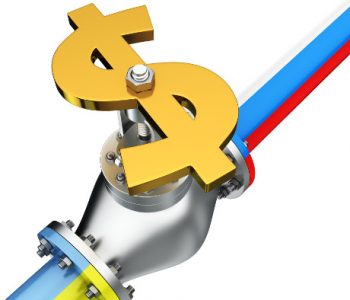 iStock.com/TimArbaev
A Remarkably Safe 7.6% Yield
Low energy prices have hammered oil patch stocks, and traders didn't even spare steady eddy TC Pipelines, LP (NYSE:TCP).
This seems a bit unfair. Energy prices generally don't impact pipeline profits, as these firms simply charge a fee for moving oil and gas along their network.
For TC Pipelines, that has resulted in growing earnings regardless of what goes on in the energy market. The partnership has boosted its payout for 18 straight years. Over that period management has grown the distribution at a five percent annual clip.
Those small, steady bumps pay off over time. Today, the partnership pays out a quarterly distribution of $1.00 per unit. Based on the market price at the time of this writing, that comes out to an annual yield of 7.6%.
Remarkable growth and a tidy yield. But will those distributions keep rolling in?
Management have left themselves lots of wiggle room, for starters.
Through the first nine months of 2017, TC Pipelines $238.0 million in distributable cash flow – a profit metric of cash flow used by master limited partnerships. Over the same period, executives paid out $210.0 million in distributions to unitholders.
Also Read:
The Top 10 High-Dividend Stocks With Growing Payouts
As a rule of thumb, I like to see businesses pay out less than 75% of their profits. In the case of TC Pipelines, the 88% payout ratio sits at the upper end of my comfort zone. But given the stability of this business, unitholders shouldn't lose much sleep.
This payout could keep growing.
Growing natural gas production has kept TC Pipeline's system at full capacity. On-going investments in existing facilities have improved reliability and network capacity, boosting profits for unitholders.
Increasing energy demand could create new opportunities for growth. As I've covered in previous articles, America could become a leading exporter of liquefied natural gas. Management sees an opportunity to connect gas fields in a northeast to export facilities on the Gulf Coast… for a fee of course.
All of which provides a nice tailwind for TC Pipelines. Over the next five years, analysts project earnings per unit to grow at a mid-single clip. Management will likely boost the distribution more or less in line with those profits.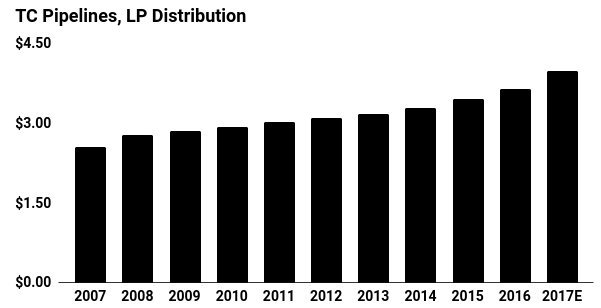 Source: Corporate Filings
Of course, you can't call the TC Pipeline story flawless.
Pipeline companies compete with bonds and other fixed-income products for investment dollars. If interest rates rise, yield hunters will park their money elsewhere.
Moreover, low energy prices could keep TC Pipelines in the doghouse. With the meltdown in the oil patch, investors have dumped everything in the sector. Traders haven't even spared companies with relatively stable profits, chasing profits in more promising places.
This shouldn't concern long-term unitholders, at least as far as they care about distribution safety. Even if natural gas prices stay low, drillers will still need to store and move their product. Better still, the tolls TC Pipelines charges has no connection to energy prices.
In other words, these distributions will likely keep rolling in.