Mining Stocks: Surprising Place to Finding Top Dividend Stocks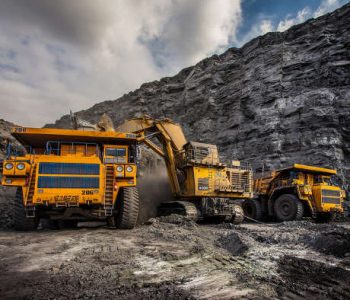 The Cheapest, Most Hated Assets Today
"This place looks like an outhouse after the lightning hit," my friend Moe told me.
We stood in the reception hall at the Royal York Hotel, talking metals with financiers, trade analysts, and government ministers. The event was an offshoot from the PDAC mining conference in Toronto, Canada.
In past years, drinks flowed at the private parties. Vendors packed the convention floor. People threw money at any geologist with a story, hoping to strike it rich on the next big gold find.
Things have changed…
Today, low metal prices have pushed many companies to the brink. Some firms can't even scrape together the funds needed to attend the event. But while most folks have given up on the industry, shrew investors can now buy up trophy assets on the cheap. Let me explain.
These Top Dividend Stocks Yield Up to 5.0%
One of my favorite places to find top dividend stocks are "awful-to-less-awful" situations.
"Awful-to-less-awful" setups involve buying assets that have suffered through hard times, worked through the bad news, and can now run higher. During these periods, no one wants to even talk about these stocks. But in this kind of "awful" state, tier-one names will trade at huge discounts to their real value.
If any good reports hit the news, you can often double your money. Keep in mind, you don't need a complete turnaround to earn a decent return. You just need things to go from "awful to less awful."
Case in point: mining stocks. Low metal prices have hammered the industry. Most publishers don't even want to touch miners because they know the idea will disgust readers. But while most people have given up on the entire sector, my industry connection Moe Zulfiqar has never been this excited.
Moe knows what he's talking about. He's one of the smartest men you'll find in the resource business. He has covered the industry for years, sifting through thousands of mining operations. And if he's right, three signs suggest we could be on the verge of a major upswing in the materials sector.
First, investors hate this business.
In the past years, investors packed the halls of the PDAC convention center. You often couldn't find a seat at corporate presentations.
Not so anymore. Tough slightly better than last year, both of us noticed a smaller turnout at the convention. You could feel some cautious optimism, but insiders made up most of the crowd. Generalists have tightened their purse strings like a pitbull with lockjaw.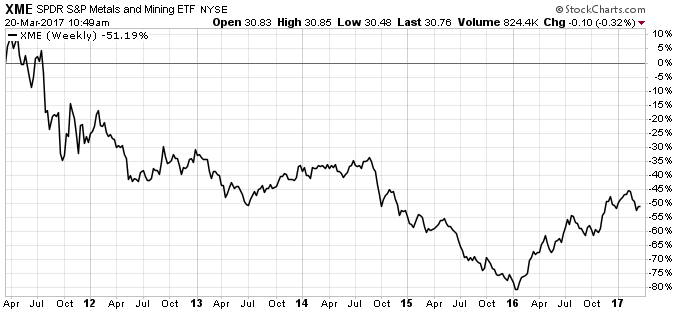 Source: StockCharts.com
You can see this lack of interest in multiples across the sector. Traders have valued these stocks assuming low commodity prices will last forever. While shares have popped from their 2016 lows, some stocks still trade for pennies on the dollar. All of which means you can pick up top-tier trophy assets on the cheap.
Second, some of these miners now gush profits.
Executives have led a tough campaign of downsizing, cost cuts, and asset sales. With a little help from higher metal prices, several of the biggest mines can now break even.
They've cleaned up their balance sheets, too. Big players got burned by huge debt loads racked up during the previous cycle. Over the past few years, however, the industry paid off billions of dollars in liabilities.
For at least some names anyway, the number don't look too bad. The world's top-four diversified miners, including BHP Billiton Limited (NYSE:BHP) and Rio Tinto Plc (NYSE:RIO), generated more than $20.0 billion of free cash flow last year. Senior players now sit on about $30.0 billion in cash and cash equivalents. (Source: "Flush with cash, global miners promise prudence, dividends," Globe Investor, March 1, 2017.)
Finally, most of this money could be passed on to shareholders.
In previous cycles, executives would plow most their earnings into poorly thought out projects. This time, though, managers have opted for a more practical use of their cash: paying out dividends.
Last month, Rio and BHP both announced bigger-than-expected distribution hikes. Randgold Resources Ltd. (NASDAQ:GOLD) impressed analysts with a 51% dividend increase. For the gold miners, years of smart investments through the downturn have paid off in surging profits and cash flows. (Source: Ibid.)
Top Dividend Stocks in the Mining Industry
| | | |
| --- | --- | --- |
| Company | Ticker | Yield |
| Rio Tinto plc (ADR) | NYSE:RIO | 5.0% |
| BHP Billiton plc (ADR) | NYSE:BBL | 4.3% |
| Vale SA (ADR) | NYSE:VALE | 3.4% |
| Randgold Resources Ltd. (ADR) | NASDAQ:GOLD | 1.9% |
| Glencore International PLC | OTCMKTS:GLCNF | 0.8% |
Source: Google Finance
More hikes could be on the way. In a recent conference call, Glencore International PLC (OTCMKTS:GLCNF) executives hinted at a special one-time dividend. Teck Resources Ltd (NYSE:TCK) management could raise their payout in June. (Source: Ibid.)
The Bottom Line on Mining Stocks
Bottom line; I'm not saying things are hunky dory in the mining business. Many of these stocks have problems. Low metal prices will keep pressure on margins.
That said, we don't need things to turn great to make money. We just need things to turn from "awful-to-less-awful." If any good reports hit the newswire, these shares could rocket higher. Investors combing through the rubble could lock in hefty yields.
Also Read:
The 7 Top Monthly Dividend Stocks for 2017