Spok Stock: Share Price of 10.5%-Yielder Up 40% in 2023
Spok Stock Up 50% Year-Over-Year
Rising interest rates, which make borrowing more expensive, have made technology a tough industry to be in right now. But not all tech companies have been taking a hit; one of the biggest winners over the last year has been Spok Holdings Inc (NASDAQ:SPOK).
Through its subsidiary Spok Inc., the company provides health-care communications services to hospitals in the U.S., Canada, Europe, Australia, and the Middle East. It's the largest paging carrier in the U.S., with more than 815,000 pagers. Its customers send more than 100 million messages each month. (Source: "Investor Presentation: February 2023," Spok Holdings Inc, last accessed April 6, 2023.)
The company's products enable faster collaboration between health-care team members. Spok's solutions are used in more than 2,200 hospitals, including 18 of 20 hospitals—and all 10 children's hospitals—that have been named to U.S. News & World Report's "America's Best Hospitals: the 2022-2023 Honor Roll and Overview."
I've been keeping a close eye on Spok stock for a while now. When I profiled the company in April 2022, its shares were trading at $7.97.
Since then, Spok stock has made some big gains. As of this writing, shares of Spok Holdings Inc are trading up by:
11.5% over the last month
39.8% year-to-date
53.8% over the last six months
49.5% year-over-year
On April 5, Spok stock hit a new 52-week intra-day high of $12.09, its highest level in four years and a 51.7% increase since I wrote about Spok Holdings Inc in April 2022.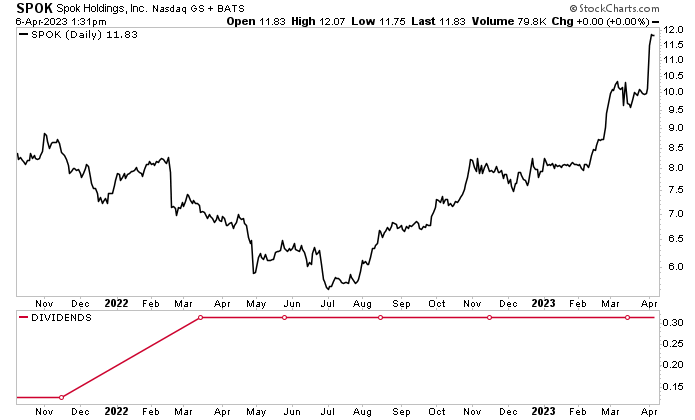 Chart courtesy of StockCharts.com
$22M Net Income & $15M Adjusted EBITDA in 2022
Judging by its fabulous 2022 financial results and its guidance for 2023, the outlook for Spok Holdings and its stock price is robust.
For 2022, the company reported total revenues of $134.5 million. Of that, $112.6 million, or about 83%, was from recurring revenues. Its software operations bookings advanced 16.6% year-over-year, with 66 new customer contract wins worth more than six figures. (Source: "Spok Reports Fourth Quarter and Full Year 2022 Results," Spok Holdings Inc, February 22, 2023.)
In 2022, Spok Holdings Inc's net income swung to $21.8 million, from a net loss of $22.1 million in 2021. Its adjusted earnings before interest, taxes, depreciation, and amortization (EBITDA) were $14.9 million in 2022, up from an adjusted EBITDA loss of $4.9 million in 2021. Excluding one-time costs related to its business plan, Spok reported full-year adjusted EBITDA of $24.5 million.
Unlike most tech companies, Spok Holdings is debt-free. It ended the year with cash and cash equivalents of $35.8 million.
For 2023, management expects to report total revenues in the range of $129.0 to $136.5 million and adjusted EBITDA in the range of $24.0 to $26.0 million.
Spok Holdings Inc Maintains Quarterly Dividend at $0.3125/Share
In February, Spok's board declared a regular cash dividend of $0.3125 per share, for a current yield of 10.5%.
The company last raised its dividend in February 2022 after announcing its full-year financial results. At the time, the company hiked its dividend by 150% from $0.125 per share to the current $0.3125.
Also in February 2022, Spok's board announced a new business plan that prioritizes maximizing revenues and free cash flow, as well as returning capital to shareholders.
The company expects to do this through its established business lines. The company also announced it would be discontinuing its "Spok Go" platform, streamlining its management structure, cutting its external costs, reducing its capital expenditures, and consolidating its offices. (Source: "Spok Announces New Strategic Business Plan," Spok Holdings Inc, February 17, 2022.)
The company has been making headway with its new business plan. Vincent D. Kelly, Spok's CEO, noted in February 2023, "Last year, we made progress in several key performance areas, including wireless trends, software bookings and backlog levels, as well as expense management, as we aligned our cost structure with our business plan." (Source: Spok Holdings Inc, February 22, 2023, op. cit.)
"In 2023 we will continue to invest in a targeted and limited manner in our Spok Care Connect solutions and leverage the traction that our sales team generated through the 66 six figure new customer contracts booked last year and the growth in our sales pipeline."
The Lowdown on Spok Stock
Spok Holdings Inc is an excellent company that has been providing its shareholders with high capital gains.
As just mentioned, in February 2022, the company announced a strategic plan that prioritizes the maximization of revenues and free cash flow, as well as returning capital to its shareholders via high-yield dividends and share buybacks.
Since then, the company has realized significant business improvements in virtually every area, including sales, product development, and overall execution. For 2022, it reported net income of $21.8 million and adjusted EBITDA of $14.9 million. Furthermore, it has a solid cash balance and no debt.
Since implementing its strategic plan, the company has returned $25.0 million to its shareholders. I wouldn't be surprised to see Spok Holdings increase its dividend again in the coming quarters.