Spok Stock: 15.8%-Yielder Sees Dividend Hiked by 150%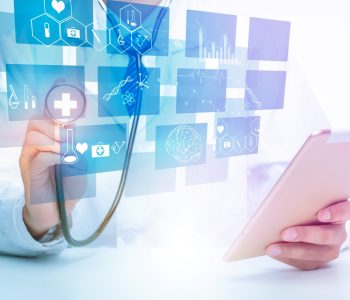 Spok Holdings Inc a Potential Takeover Target
Spok Holdings Inc (NASDAQ:SPOK) is an interesting ultra-high-yield dividend stock.
The health-care communications company has been around since 2014, but its share price has been in the doldrums, losing roughly half of its value since 2017. Spok Holdings Inc, through its subsidiary, Spok Inc., provides services to hospitals in the U.S., Canada, Europe, Australia, and the Middle East.
The company's product portfolio, which includes the "Spok Care Connect" platform, enables faster collaborations between health-care team members. Spok's solutions are used in more than 2,200 hospitals to send more than 100 million messages each month. (Source: "Our Story," Spok Holdings Inc, last accessed April 11, 2022.)
Spok stock piqued investors' interest last August after the company reported that it had received an unsolicited offer from Acacia Research Corporation to acquire all of its stock for $10.50 per share. (Source: "Spok Holdings Confirms Receipt of Letter from Acacia Research," Spok Holdings Inc, August 30, 2021.)
At the time, Spok stock was trading around $7.50 per share. Not surprisingly, it surged to about $10.50 after the announcement.
Moreover, on September 3, Spok announced it was conducting a strategic review of its operations—especially in light of the fact that Acacia Research and its partner, activist hedge fund Starboard Value LP, had quickly amassed more than five percent of Spok stock's outstanding shares. (Source: "Spok Holdings Announces it is Conducting a Strategic Alternatives Review," Spok Holdings Inc, September 3, 2021.)
Starboard Value has a history of getting what it wants. For instance, in 2019, it pressured IT company Cerner Corporation (NASDAQ:CERN) to make changes in order to boost profitability.
At the time, Starboard Value owned just 1.2% of Cerner's outstanding shares. Starboard Value LP was given two seats on Cerner Corporation's board of directors, and it got Cerner's management team to pledge to increase its margin targets and buy back $1.2 billion of its own shares. (Source: "Cerner Settles With Hedge Fund Starboard: To Add New Directors, Increase Buybacks," Nasdaq, April 9, 2019.)
In the months after Acacia Research Corporation announced its proposed acquisition of Spok Holdings Inc, Spok's management said little about the proposal. As a result, Spok stock has trended steadily lower to about $8.00 per share. That's 23% below Acacia's proposed takeover price of $10.50 per share.
Spok Holdings Inc Hikes Dividend & Authorizes Share Repurchase Program
In February 2022, Spok Holdings reported its fourth-quarter and full-year financial results and announced a new strategic business plan.
The company's total fourth-quarter revenue slipped by 7.8% year-over-year to $34.5 million. Its fourth-quarter 2021 net loss improved to $16.7 million, or $0.86 per share, compared to a fourth-quarter 2020 net loss of $46.6 million, or $2.44 per share. Spok Holdings ended the quarter with a cash, cash equivalent, and short-term investment balance of $59.6 million. The company is debt-free. (Source: "Spok Reports Fourth Quarter and Full Year 2021 Results," Spok Holdings Inc, February 17, 2022.)
Spok's full-year revenue went down by 4.1% year-over-year to $142.4 million. The company halved its full-year net loss to $22.2 million, or $1.14 per diluted share, compared to a net loss of $44.2 million, or $2.32 per diluted share, in the same prior-year period.
While management didn't explicitly say so, it seems like its new strategic business plan was designed to stave off any actions from Starboard Value LP. Either that or the goal is to make Spok Holdings Inc more attractive to Starboard Value and Acacia Research.
The priorities of the business plan are to maximize free cash flow and return capital to shareholders. This includes maximizing revenue and cash from its established lines of business, including the Spok Care Connect platform, which has an excellent track record of driving up revenues and enjoys a significant market leadership position. (Source: "Spok Announces New Strategic Business Plan," Spok Holdings Inc, February 17, 2022.)
Spok's board said it would streamline the company's operations by discontinuing its "Spok Go" platform and eliminating all of its associated costs. The board also said it would streamline the company's management structure, reduce its capital expenditures, consolidate its offices, and rationalize its external costs.
Furthermore, the board said it was prioritizing returning capital to its shareholders. To that end, it increased Spok stock's regular quarterly dividend by 150% to $0.3125 per share, for a yield of 15.8%. Spok Holdings Inc reassured investors this wasn't a one-off ploy, saying it intends to continue paying this dividend for the foreseeable future.
The board also authorized a share repurchase program of up to $10.0 million.
"After extensive analysis by our Board, management team and advisors, we are confident that this strategic shift will create significant value for shareholders while allowing Spok to continue to provide critical communications services to healthcare customers," said Vincent D. Kelly, Spok Holdings Inc's president and CEO. (Source: Ibid.)
The company noted that its review of its strategic alternatives will be ongoing, and that it hasn't yet resulted in a transaction. Management, however, remains open to all potential options to maximize shareholder value. The team remains in contact with Acacia Research and other potential acquirers.
Royce Yudkoff, Spok Holdings Inc's chair, noted, "As we made clear when launching our alternatives review, our goal is to ensure that we have a comprehensive process to permit all interested parties to participate fully and fairly and allow the Board to make an informed decision regarding actionable transactions." (Source: Ibid.)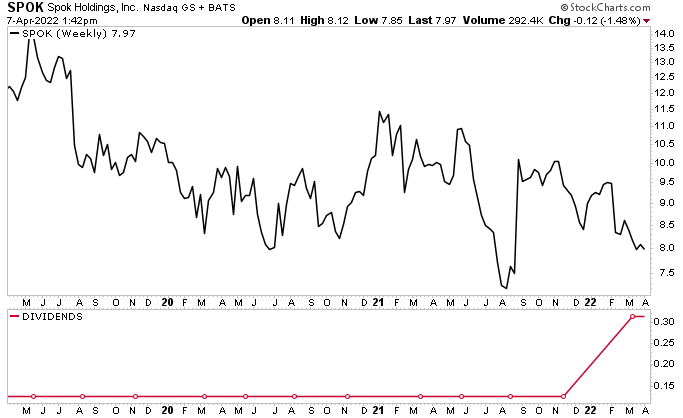 Chart courtesy of StockCharts.com
The Lowdown on Spok Stock
Spok Holdings Inc is a great company with a strong foothold in the health information services industry—but there's always room for improvement. Since being approached by an activist investor and hedge fund, the company has taken radical steps to improve its bottom line and return value to its shareholders. This includes juicing Spok stock's dividend by 150%.
Even if the company doesn't get acquired, the board has taken steps that are necessary to improve its quarterly results.
If this new direction makes Spok Holdings Inc a more attractive takeover target, it's nice to know that Spok stock is currently trading at a huge discount compared to the last acquisition proposal of $10.75 per share.