SNH Stock: Little-Known Landlord Yields 8.1%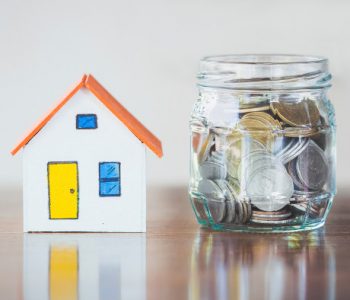 iStock.com/Nednapa
The Safest 8.1% Yield Around
Over the next few decades, few businesses will be more lucrative than senior housing.
Analysts predict that, by 2030, the number of people aged 65 and over will double. A great many will need some special living arrangements to help them with day-to-day activities.
This coming "gray tsunami" has turned Senior Housing Properties Trust (NASDAQ:SNH) into a cash cow. Units pay out a quarterly distribution of $0.39, which comes out to an annual 8.1% yield. But, while the business gushes profits, most investors have never heard of it.
Here's the story: Senior Housing Properties Trust owns hundreds of senior living communities across the country. Management has also built an impressive portfolio of office properties, leasing out building to clinics, wellness centers, healthcare providers, and other medical-related businesses.
The industry seems to be positioned right in the sweet spot of the U.S. economy. Each day, 10,000 baby boomers turn 65. Over the next decade, analysts project that total spending for medical services could almost double by $5.5 trillion.(Source: "National Health Expenditure Projections, 2016–25: Price Increases, Aging Push Sector To 20 Percent Of Economy," Health Affairs, February 15 2017.)
For Senior Housing Properties, an aging America means higher rents for medical-related facilities. Since 2003, management has boosted the annual distribution 10 separate times. Those payout hikes stopped in 2013, but only to free up funds for more investments.
Also Read:
Dividend Investors Shouldn't Ignore Senior Housing Properties Trust's 8%+ Yield
Management will likely keep those checks coming. The trust has borrowed only $0.40 of debt for every dollar of assets, and—for the most part—low-rate, long-term debt accounts for these liabilities.
This gives executives ample wiggle room. For the first six months of the year, the business generated $212.0 million in cash flow and paid out $185.7 million in distributions. On a percentage basis, this comes out to a payout ratio of 87.6%.
As a general rule, you like to see this number below 75%. But, in the case of Senior Housing Properties, we're looking at a relatively recession-proof business with steady cash flows. And, given that management has kept a clean balance sheet, you have a big margin of safety if profits dip.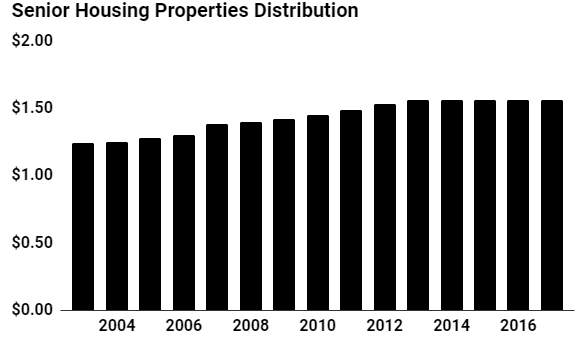 (Source: "Senior Housing Properties Trust (SNH)," Yahoo! Finance, last accessed October 11, 2017.)

Only a spike in interest rates could put a dent in this story. That would cause borrowing costs to rise, reducing the number of new properties that management could buy. The street, though, has mostly accounted for higher interest expenses in their forecasts.
But, for now, Senior Housing Properties' growing cash flows and reliable distributions make it one of the best income names around. Sure, most investors have never heard of it, but, with the number of American seniors growing by the day, this trust won't stay an obscure name for long.