A 25% Special Dividend From Apple Stock?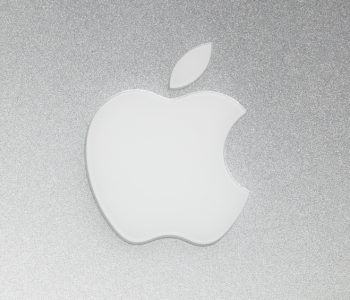 Will Apple Issue a 25% Special Dividend?
"Donald Trump could trigger the largest wave of dividends and buybacks in American history. And Apple stock could be the biggest winner."
That's what I told Income Investors readers last December 8. In that note, I recommended backing up the truck on Apple Inc. (NASDAQ:AAPL) stock, along with a basket of other large tech names.
I hope you took my advice. Since that article was published, Apple shares soared 47% in anticipation of a special dividend. A number of other stocks mentioned in that article have delivered double-digit returns.
And this could be just the beginning.
Last week, President Trump renewed his focus on what he has called "the biggest tax cut in history." On the campaign trail, Trump promised to slash the federal corporate tax rate to 15% from its current 35%.
The plan gets better as you dig into the details. In addition to a corporate tax rate cut, the White House has also proposed a tax holiday on foreign cash held abroad. If given the green light by Congress, the measure could shave trillions off of corporate America's Internal Revenue Service (IRS) bill and spark one of the largest waves of dividends in history.
Apple shareholders could make a fortune.
Last quarter, the company reported that it had $246.0 billion in cash overseas. Management parks most these funds abroad because repatriating this money stateside would trigger a big tax liability. (Source: "Condensed Consolidated Statements of Operations (Unaudited)," Apple Inc., August 1, 2017.)
Trump's bill could change that. Under his proposed plan, companies could return their international cash holdings to the United States by paying a low 10% levy. Based on some back-of-the-envelope numbers, that would save the company over $50.0 billion in taxes.
Apple's chief executive officer, Tim Cook, would likely pass on most of that cash to investors. In the event that Apple repatriates all of its overseas cash at once, management could pay out a 25% one-time distribution. More likely, executives would dole out their reserves though a combination of initiatives, such as dividend hikes and stock buybacks.
Traders see something big coming, and soon. Since December, Apple stock has soared 47%. Other cash-rich tech names—such as Pfizer Inc. (NYSE:PFE), Microsoft Corporation (NASDAQ:MSFT), and Cisco Systems, Inc. (NASDAQ:CSCO)—have also popped due to the rumors from Capitol Hill.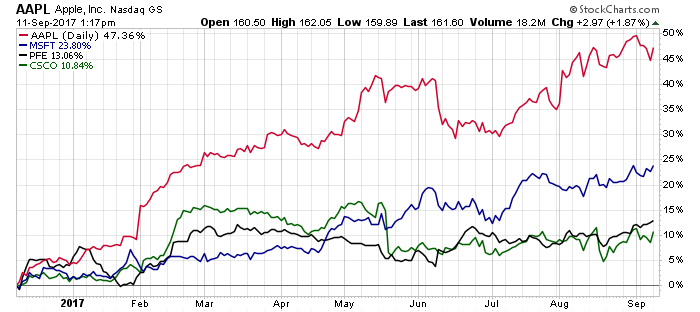 Chart courtesy of StockCharts.com
Of course, we can't call a special Apple dividend a sure thing yet.
The damage from Hurricanes Harvey and Irma will complicate any tax plan. The final bill will likely get watered down through negotiations in Washington.
That said, the recent stock rally says that traders expect something to get through Congress. For investors, that could mean a dividend bonanza in the months ahead. Keep a close eye on Capitol Hill.