Up 61% in Three Months, With More Upside Ahead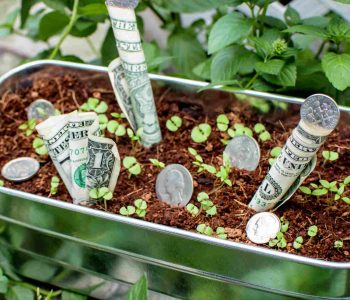 Scotts Miracle-Gro Co Cashing in on COVID-19 Pandemic
Heading into 2020, I thought Scotts Miracle-Gro Co (NYSE:SMG) could survive the COVID-19 pandemic. Sure, the maker of fertilizer and gardening supplies might report a soft quarter or two. But in March, I told Income Investors readers that, over the long haul, the business would reward shareholders with a respectable stream of dividends and capital gains.
But to see Scotts Miracle-Gro stock outperform the broader stock market by almost two to one? I gotta say, I didn't see that coming.
Since I first highlighted the business, SMG shares have posted a total return, including dividends, of 61%. At a time when most companies have struggled to keep the lights on, that type of performance stands out.
So what the heck is going on?
First off, marijuana doesn't appear to be the main catalyst. Scotts Miracle-Gro acquired hydroponics distributor Sunlight Supply in 2018, which positioned the company as the largest equipment dealer to cannabis growers across the nation. And while that business has prospered, it still only accounts for a small percentage of the company's total sales.
If anything, there is a familiar vibe to this success story. My analysis? Its Scotts Miracle-Gro Co's most boring businesses that have delivered the most exciting returns.
Partly thanks to the COVID-19 pandemic, millions of Americans have turned to gardening. The hobby had already ballooned in recent years as more people desired high-quality produce free of pesticides. But more recently, people stuck at home have been looking for a meaningful thing to do with their time.
That has triggered a bonanza for anyone selling gardening supplies. In June, Scotts reported a 30%+ increase in plant food sales, an almost-40% increase in "Miracle-Gro" branded soils sales, and a 50%+ increase in "Ortho" outdoor pest control sales. In fact, with the exception of mulch, the company posted double-digit sales growth in every consumer product category this year. (Source: "ScottsMiracle-Gro Revises Fiscal 2020 Guidance; Strong Demand Continues in Both U.S. Consumer and Hawthorne Segments," GlobeNewswire, June 8, 2020.)
"Consumers and retailers have remained engaged in the lawn and garden category and supportive of our brands despite the challenges of the COVID-19 crisis," wrote Scotts Miracle-Gro chairman and CEO Jim Hagedorn. (Source: "ScottsMiracle-Gro Announces Second Quarter Results Driven by Strong Growth in Both Major Reporting Segments," Scotts Miracle-Gro Co, May 6, 2020.)
"In fact, for the week ending May 3, we recorded our strongest seven-day period in company history with consumer purchases of more than $190 million at our largest four retail partners."
That has forced management to boost their sales guidance. For full-year 2020, ScottsMiracle-Gro now expects company-wide sales to jump between 16% and 18%. That compares to the company's previous estimate of six to eight percent growth. (Source: GlobeNewswire, op. cit.)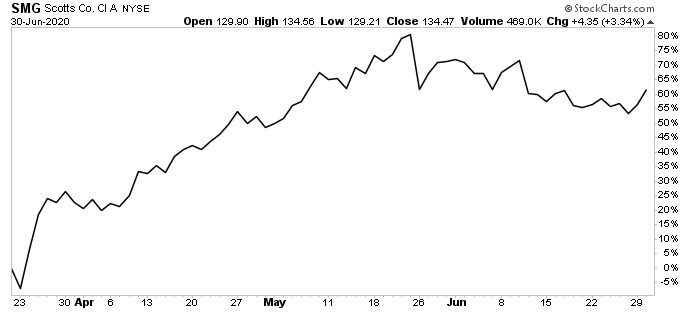 Chart courtesy of StockCharts.com
Which is a long way of saying that Scotts Miracle-Gro Co could be the surprise winner of 2020. Sure, the company's two percent payout might not whet the appetite of the most piggish of yield hogs. But thanks to booming sales, this income trickle could emerge as a raging river of cash flow.
Sometimes boring business can provide exciting returns.